In this guide we'll show you which webcam is the best for your current streaming needs.
A few particular webcam models stand out and have become favorites among casual and pro streamers alike. Keep scrolling below and we'll help you find the best webcam for streaming based on your goals, desired features and budget.
Feel free to use the chart to quickly review each webcam or the table of contents to skip to a specific cam.
Webcam:
Current Price:
Resolution:
Pros:
Cons:
Logitech C922x
CHECK PRICE
720p / 1080p
Great low-light correction.

60 fps at 720p resolution.
Performance issues with background removal.
Logitech C920
CHECK PRICE
720p / 1080p
Best image quality in its price range.


FPS drops in low lighting.
Microsoft LifeCam Cinema HD
CHECK PRICE
720p
Budget friendly.

Auto-focus feature.
Doesn't capture 1080p resolution.
Razer Kiyo
CHECK PRICE
720p / 1080p
Has lights, reducing the need for external lighting.

Smooth performance at 720p 60fps.
Have to physically adjust ring light (no software).
1. Logitech C922x Pro Stream Webcam
The top pick for streamers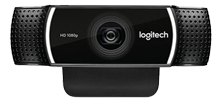 The Logitech C922x is the gaming focused successor of the much hyped C920. It does everything that the C920 does but better, along with a few new features that further set it apart.
Framerate drops are a somewhat common complaint with the C920, as it can drop lower than 30 fps when recording in 720p. The C922x steps it up by recording at 60 fps in 720p – doubling performance at this commonly used resolution.
The C922x's low light correction feature also improves upon its predecessor, with a noticeable upgrade in both image quality and performance when the lights in your room are low. Many streamers avoid dealing with the hassles of arranging a lighting setup, so this capability becomes an important consideration.
You've probably seen the C922x used by some of your favorite Twitch streamers who overlay a live video of themselves on their gaming stream – creating a more immersive broadcast.
This is accomplished with the background replacement feature which essentially functions as a green screen and lets you set a transparent background.

Even the best Twitch streaming cams like the C922x are not without their flaws. The background removal feature is software powered, so slowdowns are a possibility as a result of a higher processor load when it's being used.
However, newer gaming rigs should be able to run it effortlessly.
If higher quality background removal is something you want to add to your stream, then check out our guide for the best green screens for streaming.
The stock dual microphones on the C922x are sufficient for basic streaming needs, but expectations should be on the lower end.
Many serious live streamers will opt to invest in a separate condenser mic, as the audio quality of a Blue Yeti or other high-end mic is significantly better.
It's slightly higher in price than the C920 but accomplishes the challenging task of improving upon its near-perfection for streaming. It also comes with a free 3-month trial of XSplit's versatile live streaming and video mixing software.
This is our top recommendation for a comprehensive webcam that is sure to cover all of your streaming needs.
Check out our more in-depth Logitech C922 review here.
PROS
Crisp and smooth video 720p (60 fps) and 1080p (30 fps).
Excellent low-light correction and performance.
Background removal feature designed for game streaming.
Free 3-month trial of XSplit included.
CONS
Background removal can cause performance issues.
Mic audio quality is limited compared to external mics.
2. Logitech Pro Webcam C920
Best value cam for streaming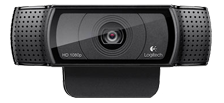 A vast number of experienced streamers list the Logitech C920 as their webcam of choice – for several good reasons. It's widely considered to be the all-around best value webcam for streaming.
It is cost effective, highly reliable, and offers the best image quality in its price range.
Although you might be a bit hesitant to pick this one up over the newer C922x, you can feel confident knowing that you're still getting one of the top streaming cameras if you decide to save a few bucks and grab the C920.
The C920 doesn't have fancy add-ons like background removal or lighting capabilities. It excels at the simple yet important requirements for a quality stream – such as consistently impressive visual quality at both 720p (30 fps) and 1080p (30 fps), rivaling webcams that cost more.
It's also one of the only cams in its price range with built-in hardware compression, meaning that it frees your computer's processor from the burden of video compression, helping to maintain a fluid broadcast.

Like the C922x, the included dual microphones aren't the best but are probably sufficient for your initial streaming needs whether you're on PS4, Xbox, or PC. If your audience starts to grow, you may want to invest in a better condenser mic.
As previously mentioned, performance and image quality issues in low lighting can occur with the C920 and were improved upon with the C922.
At only a slightly higher price point, purchasing the C922x over the C920 is highly justifiable, but if you want a camera that covers all the basics of what you need at a slightly lower price point, the C920 might be perfect for you.
For more details check out our in-depth Logitech C920 review here.
PROS
Built in hardware compression maintains stream quality.
Consistent & reliable video quality at 720p (30 fps) 1080p (30 fps).
Image quality rivals more expensive webcams.
CONS
FPS can start to drop in low lighting.
Lacks extras such as background removal software.
3. Microsoft LifeCam Cinema HD
Cheap webcam for streaming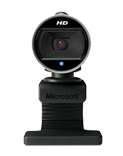 Coming in at a lower price point, the Microsoft LifeCam Cinema HD is the most budget-friendly webcam on this list.
It has a maximum resolution of 720p with high-definition video up to 30 fps.
It sits on a 360-degree swivel mount which is useful for rotating the camera around to find the most flattering angle.
TrueColor Technology automatically boosts the color quality and brightness of the broadcast.
It also comes with an autofocus feature which can take some time to adjust when the subject moves, which can be irksome if you're trying to maintain consistent stream quality.

For more control over your webcam quality and focus settings, consider some of these best DSLR's for streaming here.
Once it adjusts, video quality is clear and steady.
The included mic underperforms compared to some of the other top webcams for streaming, often allowing ambient noise through that other mics would cancel.
While the sturdy build, unique 360-swivel, and low price all work in the favor of the Microsoft LifeCam Cinema HD, its video and audio quality and frame rate are surpassed by the other models in this guide.
It is certainly a suitable option for streamers who are just testing the waters.
PROS
A budget friendly starter option.
Solid video quality once auto-focused.
A 360-degree swivel for multiple angles.
CONS
Auto-focus feature can be slow to adjust.
Noise cancellation feature has issues.
Lower framerate at 720p than other cams.
4. Razer Kiyo
The new kid on the block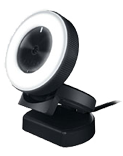 Chances are that you don't have an elaborate lighting setup like some of the more popular streamers.
Although you might rely on the low-light correction features of top-tier cams like the Logitech C922x, adding even minor lighting to your broadcasts can make a world of difference.
Razer addresses this need with its brand-new Kiyo webcam – presenting a tempting alternative to Logitech's renowned options.
It is the world's first desktop webcam with multi-step ring lighting, according to Razer.
The Kiyo showcases a snazzy looking circular design with twelve white LED lights in a ring formation around the lens.
The lights are adjustable with 12 different settings based on your desired brightness level.
It streams smoothly at 720p (60 fps) and 1080p (30 fps) like the C922x, giving you steady and crisp performance at both resolutions. A detachable desk stand is included so that you can find your optimal angle.

Razer actively sought out the opinions and feedback of Twitch, YouTube, and Mixer streamers when developing this cam, so it's one of the few on the market made specifically for your needs.
Considering the fact that they incorporated lighting into the design, an area that's often overlooked, it's clear they are thinking ahead.
The Kiyo is priced toward the higher end of the group – the same as the C922x, yet it lacks the C922x's included background removal feature. It also lacks software support, as the light settings are manually adjusted on the camera itself by twisting the ring.
Check out our Razer Kiyo vs C922 comparison article for more details.
Like many other cams, there are concerns with its microphone audio quality, as it is sometimes too quiet. This can be easily fixed by using a separate condenser mic, and perhaps it is the reason why Razer also just launched their Seirēn X mic.
Compared to the native mics of the Logitech C922x and C920, the Kiyo has shown to slightly underperform in both sensitivity and noise reduction.
PROS
Built specifically for the needs of streamers.
Cutting edge LED lighting for flexible streaming.
Excellent image quality at 1080p and 720p.
CONS
Native mic audio quality is not as high as comparable cams.
Lacks software capability for setting adjustments.
For higher quality video resolution, consider these mirrorless cameras for streaming.
Our Pick for the Best Streaming Webcam
As many streamers know, it often backfires when a company messes too much with a fan favorite, but Logitech made the right upgrade choices with the C922x.
Which is why if we were to decide which is the best webcam for streaming right now it would be the Logitech C922x.


Logitech C922x
Our top pick
By improving the performance of the C920 and adding background removal, the C922x remains the best webcam for streaming.
___


Microsoft LifeCam Cinema HD

Cheapest option
For those who want to spend the minimum to get started, the Microsoft LifeCam Cinema HD offers one of the lowest price points around. It is almost certainly better than any integrated camera, however it's best used for very casual streaming, as it is surpassed by the other three cameras across the board.
___


Logitech C920
Best value
The wildly popular Logitech C920 is still the top "bang for your buck" cam for any Twitch streamer who wants most of the capabilities of the C922x and with no need for the overlay.
___


Razor Kiyo
Best utility
The new Razer Kiyo offers an intriguing alternative to the C922x with its lighting capabilities.
It addresses the needs of streamers who don't want to deal with lighting setups but still want to look charming in all settings.
Your Thoughts?
Thanks for reading our guide on the best webcams for streaming!
If you have any questions, suggestions, or comments on anything related to the webcams we talked about then please feel free to leave a comment below.
And if you're looking for something a bit more high def, consider these DSLRs for your stream.