Is the Logitech C920 still one of the go-to webcams for Twitch streamers? Let's find out.
QUICK LOOK
There's a reason why this webcam is one of the, if not the most popular choices for streamers. It's affordable, offers high quality video, and is plug and play ready – super easy to use!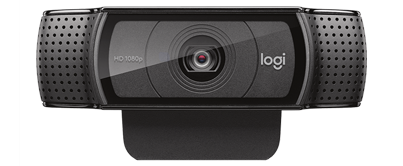 Logitech's C920 is the legendary camera that has launched the careers of many Twitch and YouTube streamers. It's amassed over 1470 reviews on Amazon alone with the average rating at an impressive 4.5 out of 5. The Logitech C920 is more like the "big shot" in the world of HD cameras.
Launched in 2014, the Logitech C920 is still one of the highest quality cameras at an affordable price point. Let us take a closer look at why this webcam has such a good reputation, and whether it lives up to the hype.
Logitech C920 Pricing and Hardware Specifications
Priced at $50 or less today, it had dropped significantly from its launch price point of $99 back in 2014. At less than $50, you could easily pick one up without having to overthink about its pricing, especially if you're starting to get serious about streaming, making it one of the better webcams for streaming.
Under its sleek black casing lies an HD CMOS sensor, capable of capturing 30fps in Full 1080p, or HD 720p. The C920 covers a 78-degree field of vision, allowing 2 or 3 people to fit in the same screen comfortably. It features quick autofocus, automatically detecting the primary foreground subject and following it as it moves around.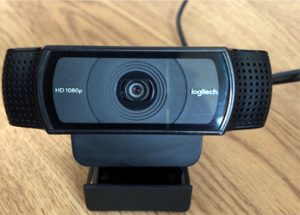 The auto lighting correction feature allows you to capture clear, high-quality video even in dim lighting, and the internal stereo microphones capture audio while dynamically removing ambient sounds.
The camera comes in a very compact package that easily fits into your laptop bag or pocket, making it easy to bring around. Its integrated stand is stable, which clips onto your monitor or laptop firmly and can be positioned quite easily to capture the best viewing angle.
Usage
The camera is plug and play, compatible out of the box with Windows 7 and above, or macOS 10.10 and above. Additionally, with the latest firmware updates, it is also compatible with Android-based devices from 5.0 Lollipop and above, if you would like to stream games from your mobile device.
The free Logitech Capture software is built to work seamlessly with this webcam, allowing adjustment of all its features including manual focus and white balance, image adjustments, and more.
Logitech C920 Features Testing
To find out what makes this webcam tick, we ran a series of baseline tests for the C920 for its most prominent features, including autofocus, light correction, and audio recording. Using Logitech Capture, we took some sample footage from our office and assessed the quality of the resulting video.
Auto-Focus
The first technical test was for auto-focus, and it worked seamlessly. Back when it launched, the C920 offered one of the best auto-focus cameras in webcams, and even today it does this job respectably well when compared to its competitors.
While waving our hand in front of the webcam, it quickly picked up on the primary subject in the foreground and followed the subject perfectly as we moved it around. There was no visible delay for this function, and we could see why it was well-reputed for this feature.
Lighting
Next up would be lighting adjustment, another critical feature of the C920. To begin with, we have to state that under optimal lighting conditions, the image quality is perfect, capturing video that is on par with more expensive webcams.
When we dimmed the lighting in the room, the webcam automatically adjusted the image dynamically without the need for any calibration and produced a clear and bright picture. This feature is especially impressive for a 6-year-old webcam.
Pushing this further, we attempted to use the webcam in a dark room, with no light besides the monitor lighting. The resulting image was average, but it did capture facial features, albeit a little dark. Again, for a 6-year-old webcam, it performed amazingly well in this aspect.
Framerate
Moving on to the framerate, the C920 captures adequately at 30fps, whether at Full HD 1080p or HD 720p. Image quality was good. However, we noticed that perhaps due to hardware limitations, videos captured in low lighting saw a slight dip in framerates. This drop in framerate is not ideal, but we couldn't reasonably expect more from a 6-year-old product.
Audio
Lastly, we tested the stereo microphones, which were somewhat disappointing. It offered scratchy and grainy audio, not working well enough to be used even as a compromise. Whatever purpose you may be using this webcam for, you will need a separate headset or microphone as the in-built microphone will not suffice.
Pros
High image quality – Recorded footage is excellent in quality, and lives up to its long-standing reputation as a budget quality webcam. Automatic color and brightness adjustments work as advertised, and were way ahead of its time back at launch.
Streamers will find a joy that your captured footage needs no third-party software to adjust and can be used as it is captured. Using this webcam for video conferencing is equally ideal, as the wide angle allows more than a single person to fit into the camera's view.
Easy to use – Compatible out of the box with all major operating systems and even mobile devices with a firmware upgrade, the C920 lets you jump straight into streaming without much hassle. No need to juggle with complicated settings or manual adjustments. Plus, it offers a minimal learning curve to start streaming professionally on Twitch or YouTube.
Best Value – There is quite simply no camera you can buy at this price point that offers such impressive image quality. Its performance is comparable to webcams almost double its price, with a decent build quality that has been reputed by users all over the world for withstanding the two-year warranty.
Cons
Poor Microphone Quality – This is pretty much expected for a webcam, as audio is not one of the main focuses for webcams until more recently. Sound is grainy and unusable, and for all practical purposes makes this a non-feature for this product, and you should never use this without a separate microphone.
Conclusion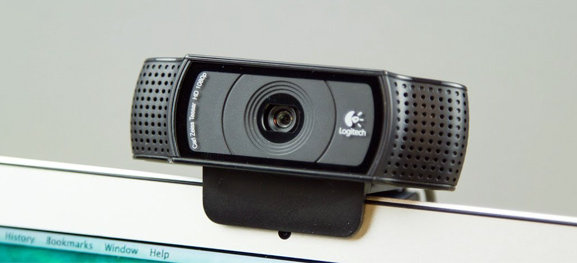 The Logitech C920 lives up to its reputation as a low priced pro streaming webcam that just does the job. There is almost nothing you can buy at this price point that provides this level of image quality – a feature more often seen in mid to high tier webcam products.
Image output at 30fps is very decent even by today's standards, making it an active contender even with its successor, the pricier C922.
Built to last a long time, users have reported the camera working perfectly well into five years with no signs of breaking down anytime soon. Take good care of it and handle it well, and it will serve you for years to come. So if that's something you would fancy, grab this webcam for peace of mind.
This webcam is excellent for budget streamers who want to embark on streaming as a career. You can't beat the affordability of this product given its specifications. Also suited for live video chats, the video quality is a good notch up from in-built laptop webcams.
If you want a value-for-money webcam, grab the C920 without hesitation, as it will live up to your expectations of a dedicated webcam at this price. If you're ready to take the leap into more serious streaming, buy the C920 today!
PROS
High quality video
Mounting screw for tripod usage
Easy to use
Wide field of view
Good auto-focus
CONS
Microphone isn't worth using
Not 60fps
Can be a little laggy at 1080p