In this guide you're going to find the best mic for your streaming needs.
You want something that's going to produce the greatest sound quality for your viewers and our list of microphones below will help you decide which mic is the best for your current streaming situation.
Scroll down below to find our top four mics, and feel free to use the table of contents for quick access to a specific microphone.
Microphone:
Current Price:
Pattern:
Pros:
Cons:
AT2020USB+
CHECK PRICE
Cardioid
Performs like a higher end microphone.

Low background noise.
The stand that comes with it is flimsy - best used with a boom arm.
Blue Yeti
CHECK PRICE
Multiple
Easy plug and play set up.

Record using 4 different patterns, giving you flexibility.
Picks up background noise fairly easy.
Blue Snowball
CHECK PRICE
Multiple
Can't beat the price for how good the sound quality is.
Sound quality not as good as higher end mics.

Can pick up background noise and static.


Razer Seiren X
CHECK PRICE
Super Cardioid
Specs designed specifically for streamers.

It'll look cool with your streamer setup.
Requires software install to use.
1. Audio-Technica AT2020USB+ Cardioid Condenser Microphone


The top mic for streamers
Ask most streamers and voice professionals who use the critically acclaimed Audio-Technica AT2020 or AT2020USB+ (the USB version), and they will tell you that it works like a dream in almost every situation.
This mic is renowned for its unrivaled recording sensitivity, convenient setup, moderate price and studio-level quality.
One problem with the standard AT2020 is that it requires a more extensive setup than most live streamers would like, with preamps and XLR cables being a necessity. The AT2020USB+ solves this problem with its USB output.
Although in the past USB microphones lacked the depth and the quality of their wired counterparts, the gap has been significantly narrowed. Mics like the AT2020USB+ are at the forefront of that technological advancement.
This USB mic isn't just used by Twitch streamers; it's also used by some of the top professionals in the world who record their voices for a living and enjoy its flexibility. It's mid-range in terms of pricing but performs like a much more expensive microphone.
The AT-2020SUSB+ offers a 16-bit 44.1/48 kHz sampling rate for premium quality with a frequency response of 20 to 20,000 Hz, offering more than enough sensitivity for streaming needs.
One thumbwheel on the mic controls the headphone volume while the other is used to balance the microphone's signal with the computer's stereo output. A built-in headphone jack allows you to monitor your sound while it's live with zero latency to make adjustments as required. Perfect for headphones without a mic.
As a condenser mic, it's designed to be highly sensitive to pick up everything around it. Unlike some of the other mics in this guide, background noise is significantly limited through its design. It captures the subtle nuances of your voice whether its higher or lower pitched and provides a very well rounded and full sound.
A Cardioid polar pattern is the only option for this mic, making it ideal for streaming since it's designed to perfectly capture everything in front of the mic, exactly where you'll be sitting. The pattern also limits noise from your keyword or computer fan.

Setting it up is a breeze – by simply plugging it in you'll see the blue LED light turn on and it's ready to be used. It comes with a small tripod stand, carrying pouch, swivel stand mount, and 10-foot USB cable.
With a stylish black aluminum case, it looks impressive and offers a neutral color to fit into your existing room décor.
This mic comes in at the highest price among our recommendations, but the unrivaled quality of its sound, lack of background noise, and widespread usage on the professional level make it a sure winner when you want to provide your viewers with the absolute best sound possible.
PROS
Sound is comparable to a high-end wired mic at a lower cost.
Superior clarity and vocal sound richness for streaming.
Simple plug and play installation.
Background noises are limited.
CONS
Highest price of the four mics in this list.


2. Blue Yeti USB Microphone
Best value mic for streaming
The Blue Yeti microphone is among the most popular and best mics for streaming because of its amazingly clear sound quality, multiple capture patterns, and competitive price.
As a top unique feature, it can record in up to four different patterns, giving you the ultimate in flexibility for streaming or other recording needs. The four patterns and their typical use are described briefly below:
Cardioid – as previously mentioned, this setting is ideal for recording directly in front of the microphone, so it's commonly used for streaming purposes.
Omnidirectional – captures all of the sound around the mic and is good for roundtable type discussions.
Bidirectional – captures sound at the front and rear of the mic and is ideal for recording interviews between two people.
Stereo – ideal for capturing live music recordings or a general realistic sound.
These four settings cover just about every situation you could encounter as a streamer, but it performs in the Cardioid mode really well, which is likely what you'll be using the most often.
You can listen to yourself in real-time with the 3.5 mm headphone jack, allowing you to make adjustments and hear exactly how you sound with no delay.
It also has controls for mic gain, headphone volume, pattern selection and muting. If you notice that your recording is starting to become a bit too loud or distorted, simply adjust the gain setting. Or mute it easily during breaks.
With plug and play functionality, you won't require any special drivers to start using this mic like the AT2020USB+, making it one of the easiest mics to get up and running.
This mic comes in an impressive number of color variations to choose from including silver, blue, red, teal, red, slate and white along with a unique retro style.
With a mid-level price point and significant discounts at many retailers, this mic doesn't push the upper limit of cost yet has many of the features that are commonly found on higher end mics.

Your viewers are sure to appreciate the sound quality and performance of the Blue Yeti mic. With its reasonable price, rich sound, reliability, plentiful features and build quality, it's a top choice for any new or established Twitch streamer.
Between the AT2020USB+ and this mic, you really can't go wrong. However, there's no question that this mic lacks some of the richness in tone and resolution that the AT2020USB+ has.
It may also pick up slightly more background noise, which can often be dealt with through adjusting positions or tweaking settings.
PROS
Four distinct sound pickup settings.
Excellent Cardioid sound performance for streaming.
True plug and play performance.
Multiple controls for easy operation.
CONS
Lacks the depth and sound resolution of higher end mics like the AT2020.
3. Blue Snowball
Best cheap option for streamers
The Blue Snowball is a good budget mic produced by the same company that makes the Blue Yeti.
It offers three patterns: Cardioid, Cardioid with -10 dB PAD, and Omnidirectional. The -10 dB mode is designed to capture louder sources such as amplified instruments.
It records at a sample rate of 44.1 kHz at 16-bit with a frequency response of 40 to 18,000 kHz.
Like the Blue Yeti, it doesn't require any driver installations to get started with. It also comes with a convenient desktop stand.

The Blue Snowball can be prone to picking up background noises and static, which can be obviously undesirable, and may have to be kept to the recommended distance of about 6 to 8 inches to mostly avoid the noise.
At a price point lower than every other mic in this guide. It is an acceptable option to get you started with streaming on YouTube or Mixer but lacks the sound clarity and features of the Blue Yeti or the AT2020 USB+.
Those mics are worth every extra penny you spend on them, but for the absolute minimum expenditure, the Blue Snowball is a viable streaming option.
PROS
Lowest price of the group.
3 sound pickup patterns.
CONS
Can be prone to picking up static.
Lacks in sound richness compared to other mics.
Lacks in features.
4. Razer Seiren X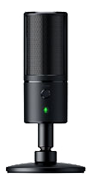 New mic worth considering
Released in October 2017 in combination with the Razer Kiyo webcam, the Seiren X offers some of the best mic technology available and was specifically made for the needs of streamers.
It's a continuation of the Razer Seiren microphone series, which has proven to be fairly popular among streamers but lacked the price competitiveness that the Seiren X now offers.
It's a sleek looking mic that will fit well into your current streaming setup, and it also happens to be very compact and portable, something that Razer thought about for the streamers who often travel to conferences, tournaments or other events.
It's designed to rival its top competitor in its price range, the Blue Yeti mic. Like the Blue Yeti, it has a 3.5 mm headphone jack for live monitoring of the recording.
Sound quality is also comparable to the Blue Yeti, making it a decent contender. However, it lacks the multiple recording patterns of the Yeti, sticking to its proprietary "SuperCardioid" pattern, a variation of the Cardioid pattern which is designed to record your voice clearly.
The stock mount that comes with the mic is very sturdy and will likely do the job. A built-in shock mount also reduces the impact of any knocks or vibrations that could impact the quality of the stream's sound when you get amped up.

The Seiren X is also designed with a small form factor so that it fits nicely in areas with limited space. This is also ideal whenever you need to stream while traveling and might not have much space to work with.
The controls directly on the mic are barebones, with a simple headphone volume knob and a mute button.
It also requires the user of Razer's proprietary software to get started, which adds a step to the installation process. However, the software allows you to change sampling rates between 44.1 or 48 kHz among other settings and ensures the mic can be adjusted to perform at its best.
This mic starts at a similar price range as the Blue Yeti but lacks its features and reputation for reliability. It may be worth exploring if you're a fan of Razer's products or want to try one of the newest models on the market.
PROS
Compact design.
Unique integrated shock mount.
Comparable sound quality to the Blue Yeti.
CONS
Requires software install.
Minimal controls on the mic.
Still unproven compared to the Blue Yeti.
Best Boom Arm for Your Mic
Etubby Scissor Arm Microphone Stand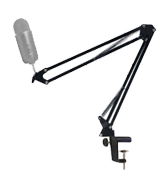 For optimal sound and to set your mic up in a more convenient position, it's also a good idea to get a boom scissor arm stand.
By setting your mic up further away from your mouse and keyboard with boom stand, it's far less likely to pick up background noise.
The Etubby Upgraded Boom Scissor Arm Stand is sturdy, easy to install, adjustable, and designed to work with heavier mics like the Blue Yeti as well as the other mics reviewed here.
It clamps to your streamer desk rather than taking up floor space like a standard boom stand. Then you just move the mic into position whenever you're ready to stream, and then simply push it out of the way when you don't need it.
It's reasonably priced and certainly one of the most useful add-ons you can purchase for your mic. Other boom stand options are available for slightly less, but some of them do not support the weight of heavier mics like the Blue Yeti, especially if you decide to add a shock mount.
Our Pick for the Best Streaming Microphone
Investing in one of the best streaming mics is worthwhile to improve your viewer experience and help your channel grow. No matter what streaming platform you broadcast on. Whether it's Twitch, YouTube, or Mixer.
Buying a higher quality mic will ensure that you won't have to replace yours for a long time and is well worth it if you are serious about taking your stream to the next level.
Which is why we'd suggest picking up the AT2020 mic for your stream if you're really looking for the best of the best.
Best Microphones Recap
Audio Technica AT2020USB+

Our top pick
At the very top of the list when it comes to sound quality and reliability is the Audio Technica AT2020USB+.
Although it lacks the multiple patterns of the Blue Yeti, it excels at capturing very robust and rich sound in the Cardioid pattern, which is what you'll be using the most.
___
Blue Snowball

Cheapest option
If you're looking to spend the least amount possible on an entry-level model, try out the Blue Snowball, which offers a sound quality that is noticeably lower than the other mics but will suffice for basic needs.
___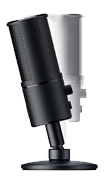 Razer Seiren X
Great for streaming
The Razer Seiren X is an intriguing new alternative to the Blue Yeti that features a concise and portable design and a similar price with new features like shock absorption along with its "SuperCardioid" pickup pattern for streaming.
However, the Blue Yeti will prove to be hard to dethrone in its position as the best mic for streaming in its price range.
___
Blue Yeti
Best value
If you're looking for a solid "bang for your buck" microphone that is a true streamer favorite and wildly popular, the Blue Yeti remains another top choice.
Although the sound quality isn't quite as high as the AT2020, it is still reliable and proven, and you'll save a few dollars.
___
Your Thoughts?
Thanks for reading our guide on the best microphones for streaming!
If you have any questions, suggestions, or comments on anything related to the four streaming mics we talked about then please feel free to leave a comment below.