Looking to amp up your streams production value by adding a green screen?
Then keep reading because we've compared some of the best green screens for streaming for all types of streamer room set ups.
You'll find options ranging from small and mobile, to something more permanent and heavy duty. All while keeping quality in mind, no matter your budget.
Green Screen:
Current Price:
Size:
Pros:
Cons:
Elgato
CHECK PRICE
4.85 x 5.9 ft
Super easy setup and take down.

Built-in stand and accordion frame
Pricier option.

Reports of possible tipping over.
Fancierstudio Kit
CHECK PRICE
10 x 12 ft
Comes with everything you need for clean background removal.
Thin screen material could cause lighting issues.
ePhoto
CHECK PRICE
10 x 12 ft
Comes with professional quality lighting.
Little complicated to set up for the first time.
Fotodiox
CHECK PRICE
5 x 7 ft
Lightweight and portable, providing quick out of the box background removal.
Tricky to fold down and put away.
Fancierstudio Reversible
CHECK PRICE
5 x 6.5 ft
The surrounding frame helps stretch out any wrinkles for best performing background removal.
Doesn't come with a stand, so you'll need to lean it against a wall or create your own support.
LimoStudio
CHECK PRICE
9 x 15 ft
Thick, durable material at a great low price.

Big enough to cover a whole scene in OBS.
Doesn't come with a stand, and is shipped with creases/wrinkles, so you'll need to wash/iron before using.
Webaround
CHECK SITE
52" diameter
Perfect for streamers with limited space.

Fast setup and take down.
Not very versatile.

Moves when you move your chair.
1. Fancierstudio Chromakey Green Screen Kit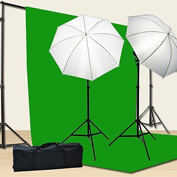 The Fancierstudio Chromakey Green Screen Kit includes a 10 x 12-foot chromakey fabric backdrop, an 8 x 10-foot aluminum backdrop support, and a pair of 33-inch umbrella light stands. It also comes with a carrying case, which makes it easy to transport if you want to stream at a friend's house.
Setup is simple. Insert the top bar of the frame through the top loop on the backdrop. Then mount it into the sides of the frame, and adjust it to your desired height. Smooth the cloth out so it doesn't wrinkle, and set each light stand so the shadows are as minimal as possible.

The only thing we didn't like about this kit is that the light stands and backdrop support aren't very sturdy. They're lightweight, and easy to knock over. Then again, they're also easy to carry and store. Whether or not this is a good thing depends on how you're going to use your green screen for streaming.
This kit is a good value for the money, which makes it an ideal option if you're a beginning streamer. Just add a pair of 105-watt CFL bulbs, and you're ready to fire up your streaming webcam.
PROS
Includes a backdrop support, 2 floor lights, and carrying case
Easy to set up
Good value
Portable
CONS
2. ePhoto ChromaKey Green Screen Background Kit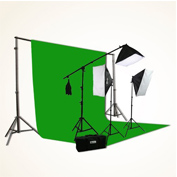 The ePhoto ChromaKey Green Screen Background Kit is another complete kit, with a backdrop that measures 10 feet wide by 12 feet long. It also includes a pair of floor lights, with large black and white shades, along with a larger boom light.
Each light includes 4 CFL bulbs, and features a pair of switches, so you can turn on two bulbs, all four, or none at all. That's a lot of lighting options on your menu – perfect for streamers who stream near a window during the day where lighting can fluctuate due to the sun.

That means you'll be ready to go in no time, without the need to shop around for lightbulbs or light shrouds. Turn on your webcam, set your mic level, and start streaming through your choice of chroma keying software.
This kit is on the pricey side, but it's sturdy enough to last you through many years of streaming. It includes a rugged carrying case for transport and storage.
PROS
Includes a backup support, 2 floor lights, 1 boom light, and carrying case
Easy to set up
Sturdy, rugged stands
Pro-grade light controls
CONS
3. Fotodiox Collapsible Chroma Key Panel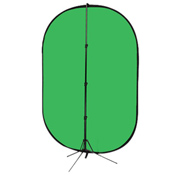 The Fotodiox Collapsible Chroma Key Panel is a two-sided, blue screen/green screen collapsible chroma key panel. This makes it perfect if you want to switch up your screen color – for example, if you want to select a blue screen because you're wearing a shirt with a bright green logo or icon.
A wire-frame stand is included with the panel. The stand is easy to transport and allows for quick, easy setup. It doesn't take up much floor space, and its weight is less than a pound, so you can set it aside in an instant.

The downside of this green screen is that it has a relatively small, 5 x 7-foot surface area. So if you're looking to set up a large scene that you can walk around in, like how Dr DisRespect does with his streams, then this wouldn't be a good choice for you.
However, if you're simply going to use it while sitting at your desk, then this is a great light-weight option.
PROS
Easy to set up
Reversible and collapsible
Lightweight and easy to transport
Good for recording in a small space
CONS
4. Fancierstudio Reversible/Collapsible Chroma Green and Blue Screen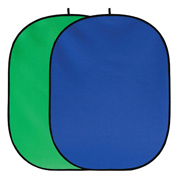 The Fancierstudio Reversible/Collapsible Chroma Green and Blue Screen is a collapsible chromakey backdrop that comes as a standalone unit. There's no stand, and no other hardware, so there's nothing to carry with you. The screen is reversible, with a blue and a green side, and it has a pop up design that allows it to collapse into a small, 2 ½-foot square sheet.
This is an inexpensive green screen for streaming, and its one of few in its price range that's colored correctly to disappear completely in any live stream. It will work with a wide variety of cameras, and you won't have to mess with your software settings in order to get the true chromakey green to function as it should.

On the other hand, this is a barebones panel. There's no mounting hardware, no light stands to keep your video soft and crisp, so depending on your streamer rooms lighting set up, you might need to pick up some additional lights.
PROS
Very lightweight
Collapses to almost nothing
Reversible
Inexpensive
CONS
5. LimoStudio Chromakey Green Muslin Backdrop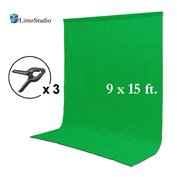 The LimoStudio Chromakey Green Muslin Backdrop is a tough, polyester backdrop that's wrinkle-free and ready to rock. The construction of the material is exceptionally thick, and it features a pre-stitched loop for inserting it through a hanging rod.
This is a standalone backdrop; you'll have to buy, build, or otherwise provide your own background support. But it's durable, and it's well-constructed enough to stand up to a lot of abuse from putting in those long hours streaming.
The LimoStudio backdrop

is relatively inexpensive. If you've already got a frame or other solid support for your green screen, then we'd suggest putting this one on your "to buy" list.
PROS
Heavy, durable material
Pre-stitched for a hanging rod
Inexpensive
CONS
6. Elgato Green Screen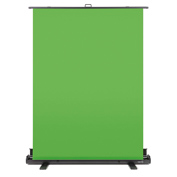 The Elgato Green Screen is an ideal choice for any streamer who wants to set up and tear down quickly and easily. It rolls up into a compact cylinder, which has feet on the bottom to keep it stable when it's open. When extended, the screen is backed by an aluminum accordion frame, which holds it stiff and straight, without any wrinkles or bumps in the fabric.
This stand also includes Elgato's 1-year warranty. If for some reason your camera or software doesn't read the green properly, no worries. Send it back, and Elgato will refund your money.

This stand is a great green screen for any streamer, particularly if you need to take down and setup every time you go live. The only significant drawback is the price. But you've got to pay for quality if you want to get quality, and Elgato delivers in spades. This is the best portable green screen we've looked at.
PROS
Unique roll-up design
Built-in stand and accordion frame
Lightweight and portable
1-year manufacturer's warranty
CONS

7. Webaround Green Screen
The Webaround Green Screen is a green screen unit that attaches to the back of any chair. It comes in a variety of colors and sizes ranging from 42″ to 56″.
Setup and takedown take around 5 seconds. The Webaround is made with a spring steel diameter that unfolds and pulls the material taut. The spring steel diameter also allows the Webaround to be folded neatly and then it can be placed into the included storage bag when not in use.

With the Webaround being placed on your chair back, you will need to keep in mind the range of motion you have. If you don't move around a lot and plan to stay within your streaming area during streams, it shouldn't be an issue.
The Webaround is a good solution for those that want to add a green screen to their streaming setup, but don't want to deal with the expensive, permanent, bulky green screen setups. When you are done creating content, you can fold the unit away and reclaim your office space.
PROS
Setup and Takedown take less than 10 seconds
Portable so you can fold it away when not in use
Inexpensive
Attaches to your chair
CONS
Less range of motion than other green screens
Our Pick for the Best Green Screen for Twitch Streamers
Of the six green screens that we've reviewed, if we had to recommend only one, it would be the Elgato.
Since most streamers are looking for something that's going to simply sit behind their chair, and is easy to put up and take down, the Elgato checks all those boxes and more.
While it is slightly more expensive, if you're at the point in your streaming career that you're wanting to up your production value with a green screen, then you're probably ok with spending a bit of extra cash for added convenience and quality.
Alternatively if you are wanting a green screen for some interactive scenes where you can at least move around a bit (like DrDisRespect), then pick up the Chromakey Green Screen Kit.
It's large enough for cool scene incorporation, and comes with lighting and a support stand, all at a reasonable price.
Best Green Screens Recap
Elgato

Our top pick
Easy to set up, and even easier to put away – the Elgato Green Screen provides top quality background removal capabilities and maximum convenience.
___
Fancierstudio Reversible

Simple & Portable
It's bigger than it looks, and is easy to move around. If you're looking for a simple green screen to stick behind your streaming chair then you can't go wrong at this price.
___
ePhoto

For larger scenes
Looking to get creative with your stream scenes, allowing you to walk freely around them while having an artificial image in the background? Check out this green screen.
___
LimoStudio

Cheapest option
There's a reason this budget friendly green screen has so many positive reviews. It works exactly how you want it for your stream, at an affordable price.
___
Fotodiox Pro


Best value
Quality materials make for an easy background removal set up. That, and its sturdy frame that comes with it to hold the green screen in place make for a great value option!
___
Chromakey Green Screen Kit


Bang for your buck
If a larger green screen and added lighting is on your list of items for your stream set up, then you might benefit from buying this kit.
___
Your Thoughts?
Thanks for reading our recommendations on the best green screens for streaming!
If you have any questions, suggestions, or comments on anything related to the green screens we talked about then please feel free to leave a comment below.