Fine-tuning the audio of your stream is essential to creating the right experience for your viewers.
How many times have you wished the streamer would turn down their music without having to alt-tab and ruin the gaming experience?
If you're trying to create a seamless streaming experience, you've come to the right place.
| Mixer | Current Price: | # of Channels | Pros: | Cons: |
| --- | --- | --- | --- | --- |
| GoXLR | CHECK PRICE | Four | Offers a powerful +48V phantom power with high customizability | Relatively pricey compared to other choices |
| 3 Channel Bluetooth Audio Mixer | CHECK PRICE | Three | Solid Performance with Wireless streaming options | Pretty plain in terms of sound options |
| Creative Sound Blaster K3+ | CHECK PRICE | Two | Small with many different sound options | Only has two channels |
| Pyle Professional Audio Mixer | CHECK PRICE | Eight | Great for hooking up multiple audio sources to stream | Weaker than other mixers with fewer sound options |
| Behringer Xenyx 502 | CHECK PRICE | Five | Portable and high voice quality | Barebones and offers little extra features |
1. GoXLR
The best choice for someone that's looking for the highest power and customization.
The GoXLR is an amazing piece of equipment. It is designed with streaming, particularly video games, in mind.
Most streamers only need a few channels for audio sources, making four a solid number for streaming.
More importantly, the GoXLR trades channel space for customizability and power. +48V phantom power means your audio will rarely fail and sound great for hours. T
here are multiple voice effects with the GoXLR: Reverb, Echo, Pitch Shift, Gender Bend, Robot, Megaphone and HardTune.
Mess around with these and you can create some awesome streamer moments!

The UI is easy to follow and intuitive, meaning you won't have to spend time looking for a specific switch or effect.
After a bit of practice, you'll be seamless mixing audio and adjusting as needed. Setting up a console stream or streaming PC has never sounded so good.
Despite being on the pricier end, you're paying for high quality and consistency. If you don't want to work with a bulky, standard audio mixer, the GoXLR is the choice for you.
Or if the price tag is a bit higher than you're willing to pay, check out these GoXLR alternatives.
PROS
Extremely high power
Plenty of customizability and voice-modification options
Highest sound quality of the other options
CONS
Expensive, especially when compared to more standard options
2. 3 Channel Bluetooth Audio Mixer

A solid option with high voice quality and wireless capabilities.
If you're looking for a more beginner-friendly mixer, this 3 Channel Bluetooth Audio Mixer is an awesome place to start.
With three channels, you'll be able to set up your microphone and primary game source as well as your streaming computer.
If you're primarily thinking about streaming a few games, this is a great option.
The 3 Channel Bluetooth Audio Mixer also has wireless compatibilities, meaning you could use your phone or other device to help set up features like music or a sound board.

Being able to combine sound from multiple sources without all the wiring is a nice bonus that comes with this mixer.
As long as you're not looking to make any large adjustments to your sound, this mixer gets the job done.
If you want something with more variables and features, you'll want to look elsewhere. The sound quality, while standard, isn't the highest among mixers on the market.
PROS
Affordable and easy to figure out
Doesn't require much set up for three channels
Comes with wireless capabilities
CONS
Doesn't have much customizability
Lacks depth and variation
3. Creative Sound Blaster K3+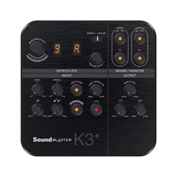 A highly customizable mixer at the price of a space.
The Creative Sound Blaster K3+ is one sweet mixer. It has high power and quality, meaning the best in terms of length and sound for your stream.
Your stream will sound like its in a recording studio with the amount of strength backing this mixer.
There are nine different reverb effects with adjustable knobs, meaning you can make whatever changes necessary for your sound.
Listening to some intense EDM in a high-pressure situation? Turn up the bass and treble easily without disrupting gameplay.
You also have the option to connect your phone, allowing you to stream karaoke or similar-style games without much hassle.

Plus, you can make some fun changes with the reverb settings to make singing a totally different experience.
The downside to the Creative Sound Blaster K3+ is that it only supports two channels. It'll be tough to juggle streaming from multiple devices if that's your style.
If you want plenty of audio sources, this might not be your buy. If you want awesome capabilities in quality with less sources, this is a good choice.
PROS
48V Phantom Power means high quality
9 different reverb effects with knobs
Not terribly pricey for quality of audio given
CONS
Only supports two channels
Not the easiest labeling and design to follow
4. Pyle Professional Audio Mixer
An excellent mixer for multiple-audio streams.
With variety and more chat-focused streams rising in popularity, its hard to leave out a classic mixer that focuses on quantity and possibility.
The Pyle Professional Audio Mixer is the best option for someone looking to stream podcasts, events, live music or anything a little out of the gaming realm.
Even within the gaming realm, this mixer will certainly get the job done of connecting and system to your primary PC. The eight channels can get any job done.

The only problem with having eight channel possibility is the lack of quality and potential customization. This mixer is by no means poor quality, but it struggles in comparison to some of the other options on the list.
The best part about this mixer is how durable and receptive the actual hardware is. I've seen people have the same Pyle mixer for multiple years and never have to replace it.
Investing in a Pyle Professional Audio Mixer means you'll have a mixer for anything, and it'll last you a long time.
PROS
Eight different audio channels
Durable and reliable
Great for streams outside of gaming
CONS
Extremely basic and not very customizable
Doesn't have the same quality that higher end mixers do
5. Behringer Xenyx 502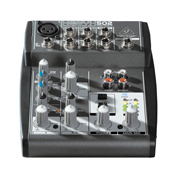 The best bang for your back when it comes to mixers.
The Behringer Xenyx 502 takes the most important aspects of other mixers and puts them together for the lowest price possible.
If you're unsure about what you want to stream or are just in the market for mixers, this is a great mixer to figure out your set-up.
Honestly, there isn't much to say about this mixer that isn't in the description. But that makes it all the better.
If you're a streamer who cares about setting up audio but don't want anything else, this is perfect.

For the price, a five-channel powerful mixer is extremely promising. You'll be able to comfortably stream any game, PC or console, with little issue.
Behringer mixers are also known to be consistent and long-lasting, making this a great mixer to start a stream.
PROS
Very cheap
Solid quality and comes with five channels
CONS
Not much customization
Lacks any wireless capabilities
Our Pick for the Best Mixer for Twitch Streamers
It's hard to recommend anything other than the GoXLR to someone willing to make the most out of their stream. The overall design and usage of the mixer is excellent.
The GoXLR can maintain the highest quality and just the right amount of audio channels for a PC streamer. Plus, the GoXLR has an app for anyone that wants to make changes digitally through another device.
You can cut a lot of cords and set up and opt for this mixer when you've made your decision to stream at the highest caliber.
Click here and take a look at this mixer yourself to see if it's going to be your next stream upgrade!
Best Mixers Recap
GoXLR
Top Pick

The best mixer when it comes to matching quality and customization. Our top choice for streamers willing to invest in their audio.
___
Creative Sound Blaster K3+
High Quality at a Fair Price

A very customizable and in-depth mixer. If you only need two audio channels, this is an awesome choice.
___
Behringer Xenyx 502
Best Budget Mixer

A balanced, affordable mixer. Great for starting streamers or someone who doesn't need as much variation in their stream.
___
3 Channel Bluetooth Audio Mixer
For the Minimalist


A solid option for someone looking to stream. Comes with wireless capabilities but lacks some variation of audio.
___
Pyle Professional Audio Mixer

Best for Non-Gaming Streamers


The ultimate audio source mixer. If you're looking to stream with a lot of audio sources, this is the mixer for you.
Your Thoughts?
So these are our top picks for the best mixers for your stream.
Please drop a comment below if you still want some guidance on which mixer to choose.