In this guide I'm going to be showing you how to add your overlay to OBS Studio.
OBS can be a little tricky to work with if you're not completely familiar with it yet, but once you've gone through this quick tutorial on adding an overlay to OBS you'll have mastered one of the most important steps in managing your Twitch stream.
It's a fairly straightforward process, so open up your OBS and let's get right into it.
If you're more of a visual learner, then I've put together a video guide for adding your overlay to OBS that you can watch below:
I'll assume you already have Open Broadcast Software Studio set up, but if you don't you can grab it here.
1. Select the Scene You're Wanting to Add Your Overlay to In OBS
If you have multiple scenes setup for your stream in OBS, then before anything you'll want to make sure you have the scene you're wanting to add your overlay to selected.
Just left click on the scene, then verify that you're on the correct scene by checking to see if that one has the blue background behind it.


Or if you want to create a new scene, you can right-click in the Scenes box and click Add – or click the plus (+) icon on the bottom left and click Add.
2. Add Your Overlay to OBS
Once you have your scene selected, you can now add your stream overlay to OBS under the Sources tab.
To do this, simply right-click anywhere within the blank space of the Sources box, then mouse-over the Add button, then left-click on the Image button that pops up.


Alternatively you can left-click on the plus icon (+) at the bottom of the Sources tab, then left-click Image in the window that pops up.


3. Name Your Overlay
A window will popup in OBS with the options to Create new, or Add Existing. Since this is your first time adding an overlay to OBS you'll want to select the Create new option.
In this window you also have the option to name your stream overlay. So make sure to name it something that'll allow you to easily identify it in your Sources tab. Something like, "overlay" is a good start ;).
Once you've done that, hit OK.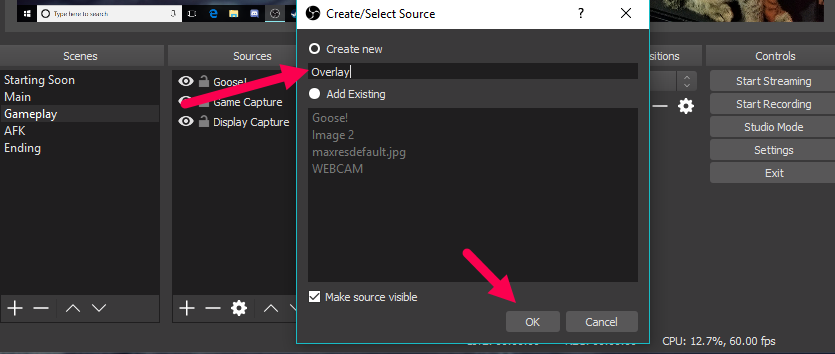 4. Upload Your Stream Overlay to OBS
On the next screen you'll have the option to Browse for your overlay image file. So click on the Browse button, then select your overlay wherever you have it saved on your computer.
For this example I've chosen to add my webcam overlay to OBS.
*If you're due for a new webcam overlay for your stream, then check these out.
Once you've found your overlay, and have it showing in your window like the screenshot below, then hit OK.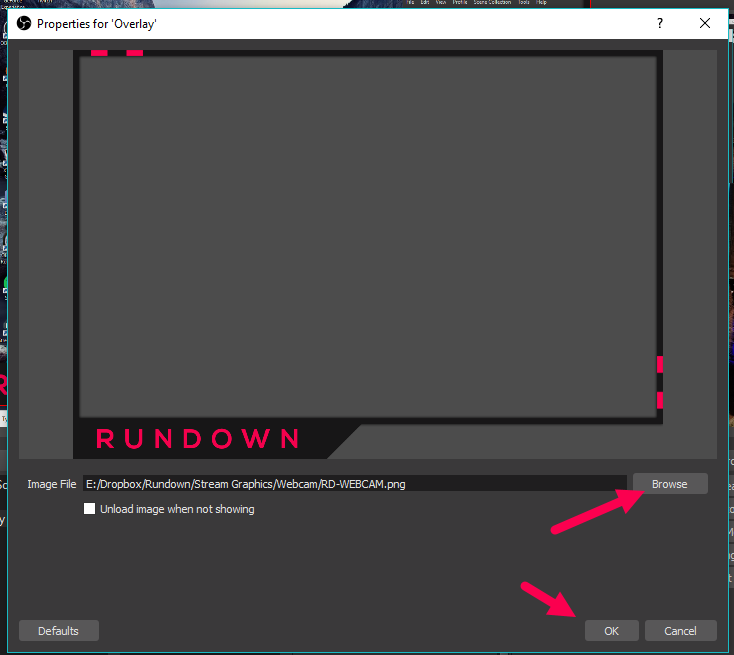 >> Click here for the best OBS settings for your stream.
5. Resize and Move Your Overlay
When you first add your overlay to OBS you'll probably notice that the image is too big and/or not positioned where you'd like it.
To resize and change the positioning of your overlay you can right-click on the actual overlay in your preview window, or on the file in your Sources tab…
And in the options menu that pops up when you right-clicked; mouseover the Transform option and there you'll find a bunch of options to modify your overlay.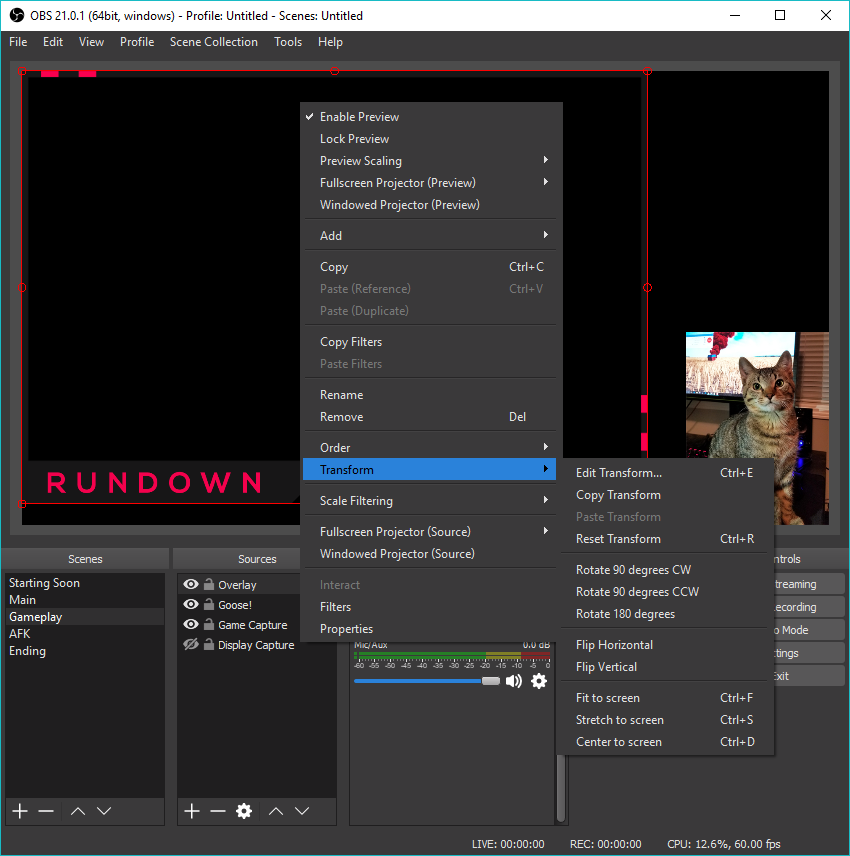 If you're simply wanting to resize and move your overlay around, then here's a quick way to do that:
> To move your overlay left-click and drag on the image in the preview window.
> To resize your overlay left-click and drag on any of the small red circles that are around your image.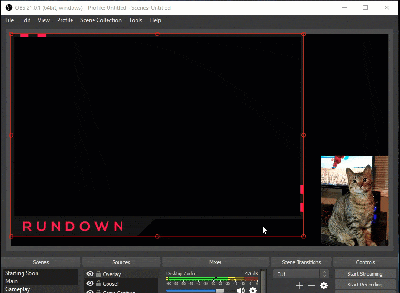 You also have a couple other left-click options when resizing your overlay:
> If you hold alt and left-click while dragging your overlay you'll be able to crop the image.
> If you hold shift and left-click you'll be able to resize your overlay without the aspect ratio being locked.
Once you've resized and positioned your overlay how you want it to look on your stream, then you're all done! You've just learned how to add your Twitch overlay to OBS.
Overlay Not Showing Up In OBS?
If your overlay isn't showing up in the OBS preview window when you added it, then it could be because your Image Source is below your Game Capture or Display Capture Source.
Think of each source as layers; the sources that are higher up on the list will show up over top of the sources that are below them.
So if you have a source that is taking up your full screen (like your display or game capture), then make sure every source that you want visible (like your overlay) is listed on top of those full screen sources.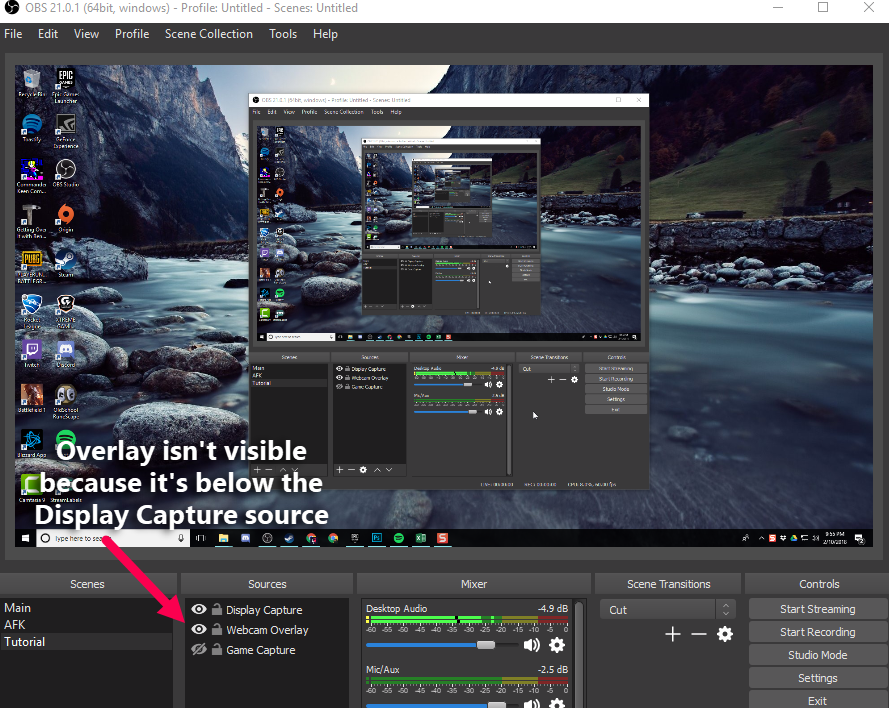 You're Done!
That's how to add an overlay to OBS Studio. Now that you know how to set up your overlay, you now know how to add other images that you might want to add to your stream as well. It's the exact same process :).
If you have any questions about adding your overlay to OBS please leave a comment below, and I'll see if I can help out.