Logitech's C922 Pro Stream Webcam is a camera designed for serious live-streamers. Succeeding the famous C920 webcam, Logitech put in even more attention into its new generation camera.
QUICK LOOK
For the money, this is the best quality webcam you can get for streaming. Clear image quality, better than most under low-light conditions, and provides a smooth frame rate.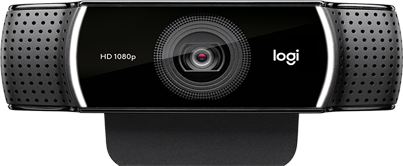 Often compared against Razer's Kiyo, the Logitech C922 serves the many customers who grew with its predecessor from casual streamers into serious professionals. Naturally, owing to its predecessor's reputation, the C922 has a lot to accomplish. Will this build into the C920 or overshadow it?
Let us first check out its specs before we take a more in-depth look into whether this gadget lives up to its pedigree.
C922 Price and Hardware Specifications
First of all, the C922 is priced as a semi-professional streaming webcam, just slightly above that of its predecessor. At this price point, it is not expected that anyone will pay for this just for casual use.
It is aimed at professional and semi-professional Twitch streamers or YouTubers, who want to up their image quality from in-built laptop webcams to something more professional.
Let's examine the hardware under the hood. Beneath a sleek black casing lies an HD CMOS sensor, capable of capturing at 30fps at Full 1080p, or 60fps at hyperfast HD 720p.
It covers a 780 degrees field of vision and features brighter images with HD autofocus and light correction, which brightens up images for greater clarity, even in poorly lit environments. With fast autofocus, you'll never have to worry about precise adjustments to get a clear image.
Lastly, it is fitted with full stereophonic microphones on both sides of the camera, to capture high-quality sound from the environment.
Unboxing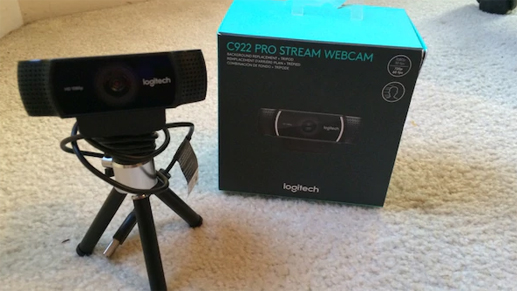 Unboxing the C922 was also a great experience. Beneath a well-protected box, lies the 5.71 oz (162 g) webcam itself with a 1.5m USB cable to connect to your laptop or desktop computer, a sturdy mini tripod in the same sleek styling as the webcam itself, an extensive user manual, and a bonus 3 month premium license for Xsplit (if that's something you might fancy).
Another package option that is exclusively available from Amazon is the C922x, which loses the tripod but provides a more extended 6-month premium license for Xsplit. The hardware comes with a 2-year factory warranty to give you peace of mind when using the webcam.
The camera itself is in a very compact package that can easily fit in your pocket. And the fact that's lightweight, you won't feel it dragging your shorts or trousers down as you walk. With its integrated stand, you can clip it onto the top of your monitor or laptop easily, positioning it to get the best angle.
Taking shots while holding a camera in a standing position is a tricky affair when the hands are the only parts involved. That's been taken care of courtesy of a tripod that extends to a maximum height of slightly over 7 inches, putting the camera at a comfortable viewing angle just slightly below eye level.
The long USB cable allows you to position it virtually anywhere, including from high vantage points.
Usage
The camera is essentially plug-and-play, compatible with Windows 7 and above, or macOS 10.10 and above.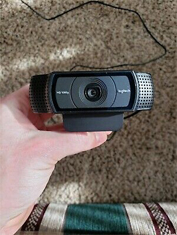 Additionally, it is also compatible with Android-based devices from 5.0 Lollipop and above, for those who might wish to stream on tablets or mobile devices. With a simple download of Logitech Capture, you can create content easily through their free software, which is intuitive and packs all the essential features a casual streamer might need.
Partnered with Xsplit, this camera works seamlessly with Xsplit for live streaming and video recording. With Xsplit being the market leader in this field, a free Premium License for Xsplit is a must-have for both casual and professional streamers.
C922 Webcam Features Testing
When using the webcam, we did a baseline test for all of its most prominent features, including autofocus, low light correction, stereo audio recording, and such. Using Logitech Capture, we started taking some simple footage, testing the quality of the resulting video.
Tripod
The tripod setup was easy to use, securing to the bottom of the camera and with a ball swivel, could be secured in any 360-degree angle on your desktop or elevated surface.
Adjustment of the legs was straightforward as well, rotate clockwise to loosen and adjust to our required height, and turn counter-clockwise to tighten. The tripod set the camera firmly on our desk, without any issue.
Auto Focus
The first technical test was for auto-focus, which worked seamlessly without a hiccup. It automatically picked up the primary subject matter and adjusted the focus on the fly as we moved towards or away from the camera.
When lifting my hand to wave at the camera, it picked up my hand as the subject and adjusted accordingly, almost immediately. While this may not be ideal in some situations, it does work exactly as advertised.
Lighting
Next, we turned off any additional lighting, leaving only the room's standard lighting, along with some daylight through the windows. Our filming spot was in a shadowy part of the room, so we could adequately test this feature.
As promised, the camera automatically adjusted the white balance, compensating for the lack of proper lighting. Again, this was also seamless, and you could barely notice the transition as the camera works its magic.
We wanted to see how far this could go, so we shifted to a completely dark room, with only light from the computer monitor. The C922 was impressive in this department, providing a clear image of my facial features despite the extreme lighting conditions.
Auto Background Removal
Next up for testing would be the auto background removal feature. You can access this feature through the packaged software, Personify ChromaCam, or your third-party software of choice.
The C922 is made to work well with either of those options. As we turned on this feature and started moving around to calibrate, it does seem to work as expected, and the results were comparable with other webcams in the same tier.
The C922 does seem to have a bit of trouble with hair, as the resulting image seemed to crop away too much of my hair, but not anywhere else. The resulting video was satisfactory, cleverly detecting what's human and what's not, and removing everything else. While it does this job decently, it's nothing to praise.
Frame Rate
Then, we tested the touted frame rate of the C922. Turning up a notch, recording at 1080p was clear, but at 30fps, it was not ideal for professional videos, as you could notice any movements with the trained eye. However, when switched to 720p at 60fps, recorded footage became smooth at the expense of a little more clarity at a higher resolution.
Microphone
Lastly, we tested the stereo microphone and recorded audio was clear for an in-built microphone, removing ambient noise properly as it should.
However, we also spotted an unusual quirk: due to the proximity, the microphone captured every single movement of the autofocus adjustments very clearly, which was far from ideal. You would think that such a feature should have gone through more rigorous testing for such a premium product. This quirk was one of the major disappointments when using the webcam.
There are two ways to address this issue, which is to either get a proper separate professional standalone microphone or headset with an in-built microphone or to turn off the autofocus feature.
The latter might be a viable option, as you seldom need to adjust the focus in a proper streaming setup. Whichever way you go, it's still a bummer, as you will need to forgo one of the marketed main features of this webcam.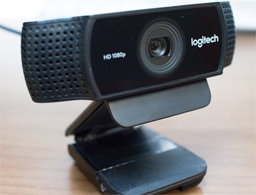 Pros
High image quality – Recorded footage is genuinely as high quality as you would expect of this product, with respectable automatic color and brightness adjustments that might save time. There is no longer the need to adjust with third-party video editing software after capturing your footage. This feature is even more valuable for live streamers, who do not have the option of post-processing their videos.
Easy to Use – Compatible with all the most popular operating systems with complementary software to boot, it is effortless to jump right in out of the box and start capturing video without any bells or whistles. The C922 is one of the most user-friendly webcams of its type in the market.
Compact – With its compact form factor, you can quickly bring it around wherever you go. Live streaming a video with just your laptop and C922 webcam in the outdoors is possible, opening a whole host of possibilities for streamers.
Free Xsplit Subscription – A free premium subscription for one of the most popular streaming software in the market is undoubtedly a plus. It will give a big leg up for streamers who are just starting or just starting to take streaming more seriously.
Cons
High Price Point – Its moderate to high price point means that there are many other options available that perform comparably for a lower price, including its predecessor, the classic C920 from Logitech.
Poor Stereo Microphone with Autofocus Design – This is a major deal breaker for us. When two of its most advertised features don't work well with each other, that is never a good sign.
The stereo microphone should have gone through more rigorous testing before being put on the shelves. Having to forgo one of the critical features in a product you paid a premium price for, is too significant a turn-off to ignore.
Conclusion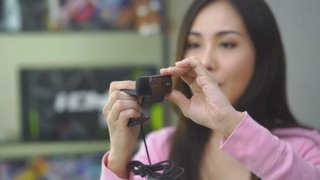 While not a revolutionary product, the Logitech C922 is something like a one-trick pony – it does one job very well, which involves producing a high-quality live streaming video. It is the best in its class in this aspect. There is no other product on the market providing better image quality at this price point.
However, even though it is the best in its class, it merely does a decent job in every other department. This is a problem since the C922 is priced as a premium product. This makes it very difficult for us to recommend purchasing the C922 when there are so many other options available.
Nevertheless, if you want a quick hassle-free jump into professional streaming, this might still be one of the options you can consider. Quick and easy to use straight out of the box, it will save you time for the money you have to shell out for it. It's a camera not made for everyone, but it serves a particular niche of customers well, and that's respectable by any account.
If you want more value for money, you can always look to its little brother, the C920, which offers slightly lower image quality, at a much lower price. All in all, Logitech is still a reputable brand when it comes to webcams, and the C922 should not be ignored as a contender in this market.
PROS
Great low-light performance
60fps at 720p
Crystal clear 1080p
Affordable price
CONS
Weak microphone (although you'll likely have your own standalone mic)
Background removal feature not perfect
Only 30fps at 1080p