One of the best ways to make your stream stand out is by using a webcam overlay.
As a streamer, you'll want to create a unique brand or "look" for your stream that can attract more viewers and make you more memorable.
You can do this in many ways, but a webcam overlay is a fantastic way to streamline the content on your stream.
Here are 8 of the best places to get a new cam overlay for your stream.
Fiverr.com
FREE WEBCAM OVERLAYS AVAILABLE? No

For quick customization, it's worth getting your webcam overlays from Fiverr. The prices may vary, but they will always start at $5.
What makes Fiverr different is the fact that you can get your graphic completely customized. You can work with the artist to conceptualize a design and have it realized fully. However, it is important that you search for trustworthy sellers if you plan to use Fiverr.
Also, remember that when working with sellers here, you often have to allow for certain lead times. Plan accordingly!
Own3d.tv
FREE OVERLAYS AVAILABLE? No

Own3d.TV offers many different materials for streamers, including Twitch BRB screens, and of course some webcam and face cam overlays. These overlays can be used on any platform, be it Twitch, YouTube, Facebook, Mixer, and more.
If you are using a green screen, they also offer many designs that are "open-top", meaning the webcam overlay is just a bottom bar. That way, your green screen is accommodated.
The webcam overlays available here are customizable to a degree, so if you want to change text or colors, you just might be able to.
One thing that sets Own3d.tv apart is the fact that they accept over 650+ payment methods, which means you can use whichever payment method is convenient for you.
Sample of Own3d.tv Webcam Overlay

This Minimal Webcam Overlay is a sample of what Own3d has to offer. Here, you get a really minimal and non-intrusive design where you can input your stream name.
It comes in 3 color options but since the .PSD file is included you can change the color if you have the means to. Additionally, this set also has an open-top webcam overlay for if you're using a green screen.
WDFlat
FREE OVERLAYS AVAILABLE? Yes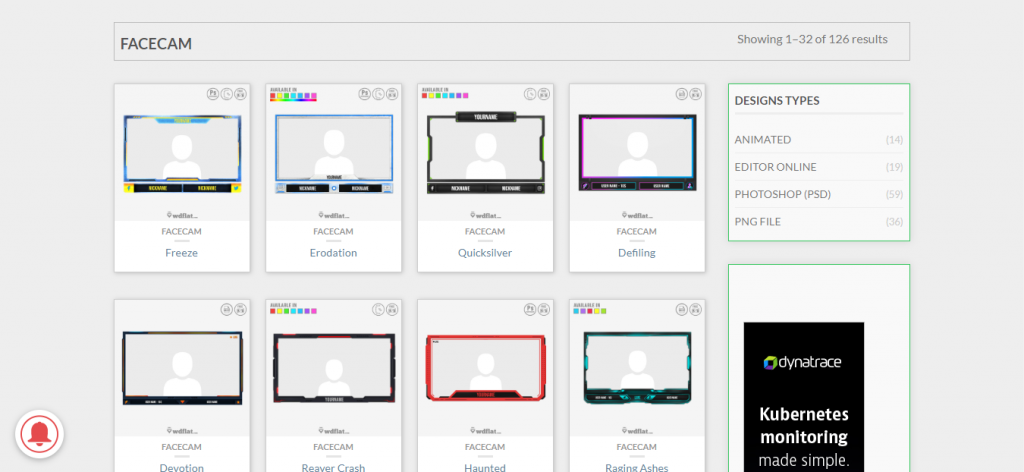 Next up is WDFlat, which of course is another resource where you can get plenty of graphics for your streams. What makes WDFlat different, however, is the fact that they provide most of their graphics for free.
Although the selection is not as varied, the fact that you can pretty much get these items for free is great on its own. There are some products that come in premium sets you can buy, however, if you would like to directly support the site.
WDFlat is mostly ad-supported, which is why you will get tons of advertisements on its website. However, these ads are non-obtrusive, so in all honesty, you probably won't even mind.
Plus, the fact that you can edit most of their graphics through their online editor makes it easy for you to customize graphics without needing Photoshop.
Sample of WDFlat Webcam Overlay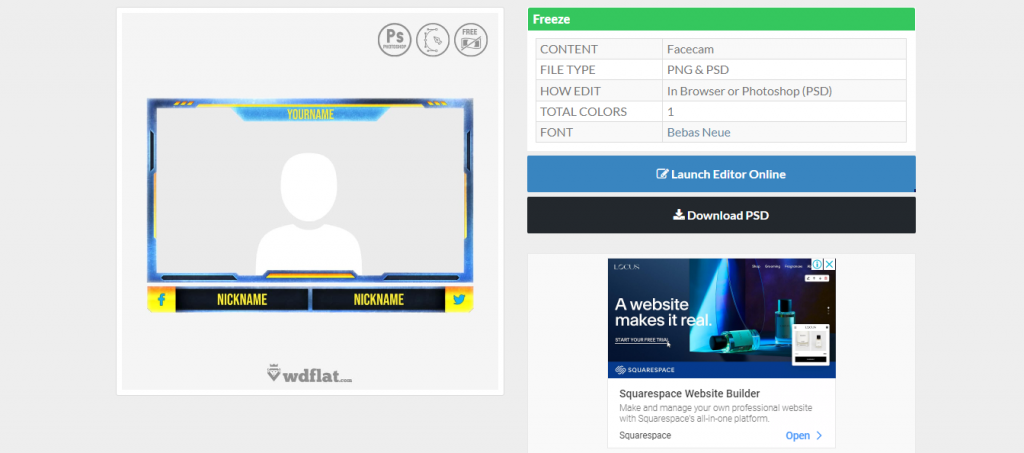 The sample you can see above is called 'Freeze'. As you can see, you can customize it to include your stream name, your Facebook page (if you have one), and your Twitter account (if you have one).
However, thanks to their editor (pictured below), you can change what you want to feature. Want to show off your YouTube channel and Discord server instead? You can!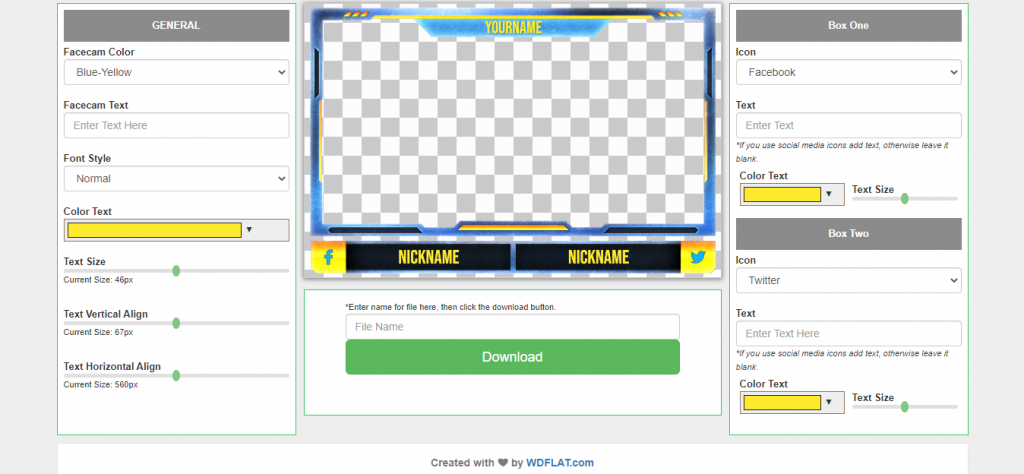 StreamplayGraphics.com
FREE OVERLAYS AVAILABLE? Yes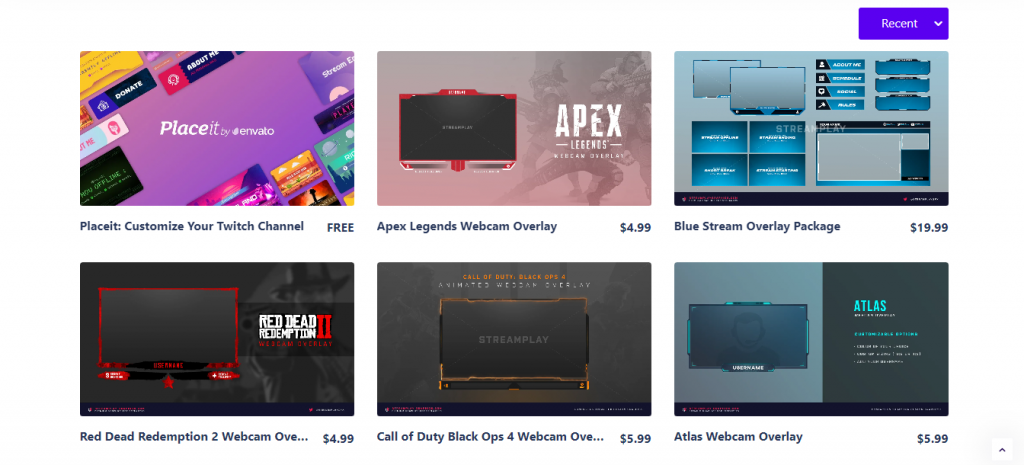 Streamplay Graphics offers standalone webcam overlays, but they also offer cam overlays that are bundled in with a package. What sets this website apart a little is the fact that they have themed face cam overlays for specific games.
In the screenshot above, you can see for example that they have overlays for Apex Legends, Red Dead Redemption, and Call of Duty. And so, if you would like to stick to a theme, graphics here might be a great choice.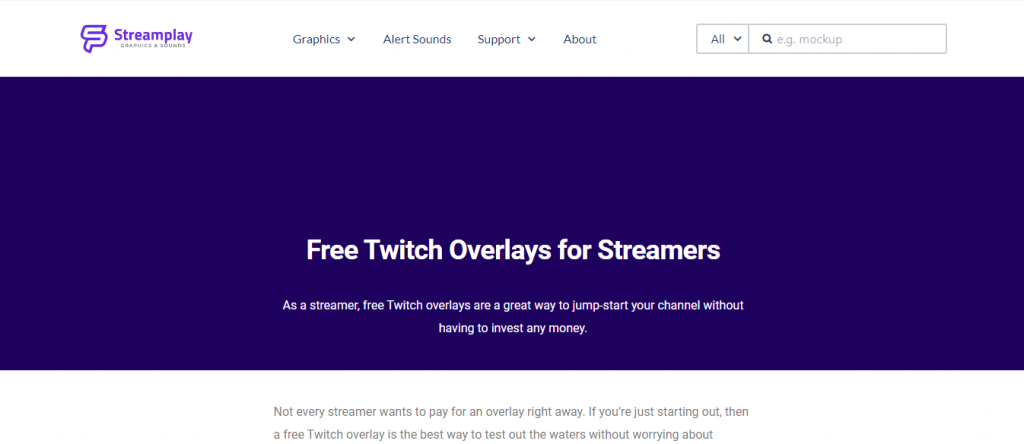 On this website, there are also a few limited free products available if you don't want to spend any money. However, with the graphics here being as affordable as they are, you probably won't mind spending a little cash to get the designs you want.
Sample Streamplay Graphics Webcam Overlay

The Atlas overlay is a fantastic example of what is available on this website. The graphic itself is affordable and includes a PSD file if you want to make your edits. Unfortunately, you will need Photoshop or other programs that can handle .PSD files.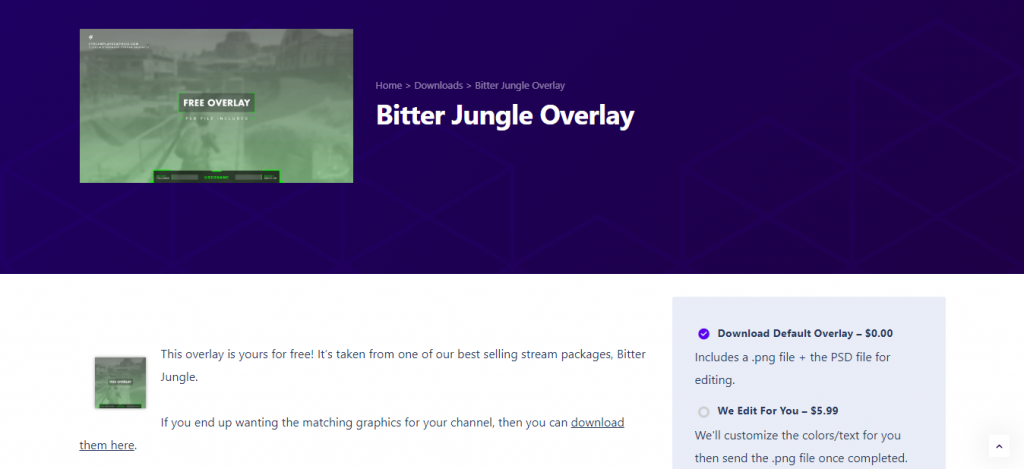 This is a great example of free graphics and overlays available on this website. The free graphics also include the .PSD file for your convenience!
TwitchOverlay.com
FREE OVERLAYS AVAILABLE? Yes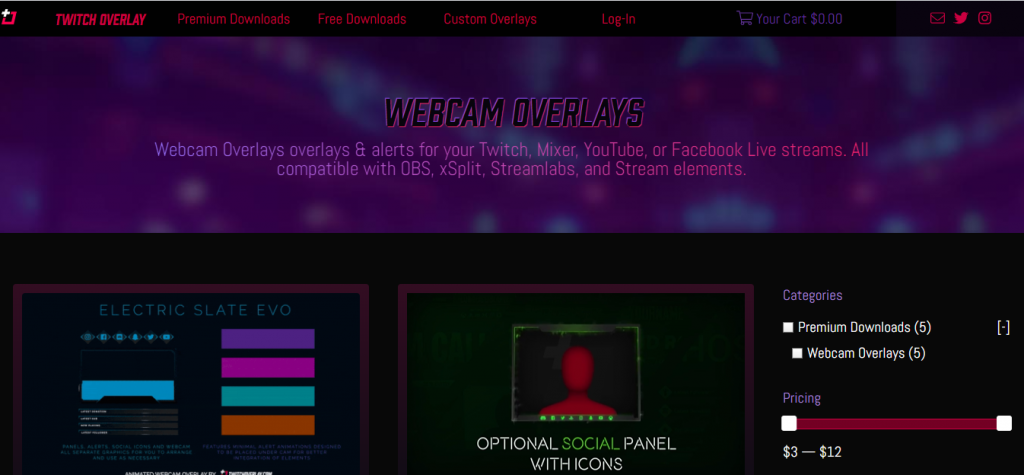 TwitchOverlay is another website where you can find various materials for your stream, regardless of your platform. They have a limited selection of Webcam overlays, but they do have some wonderful animated ones that can really set your stream apart from the others.
The graphics are also priced rather affordably, so you don't have to break the bank. This website does have some free content available as well, just in case you don't want to spend anything at all.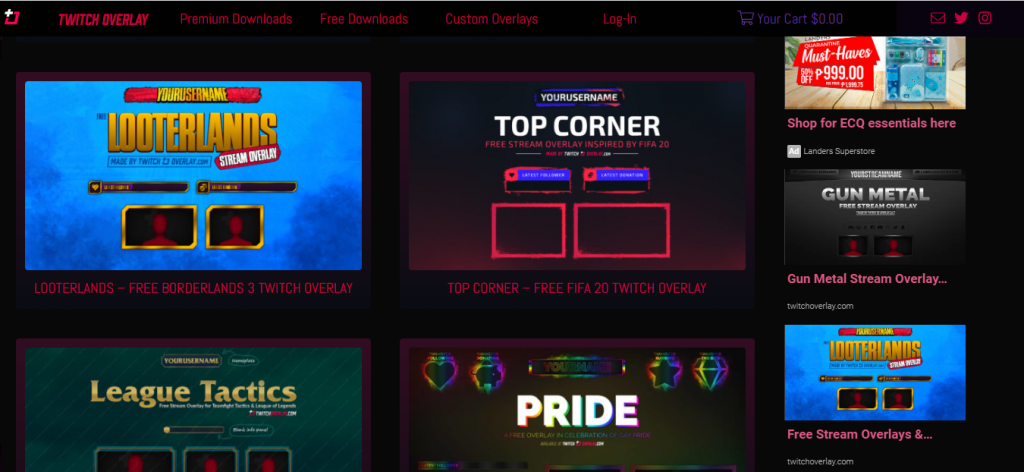 Sample of TwitchOverlay Webcam Overlay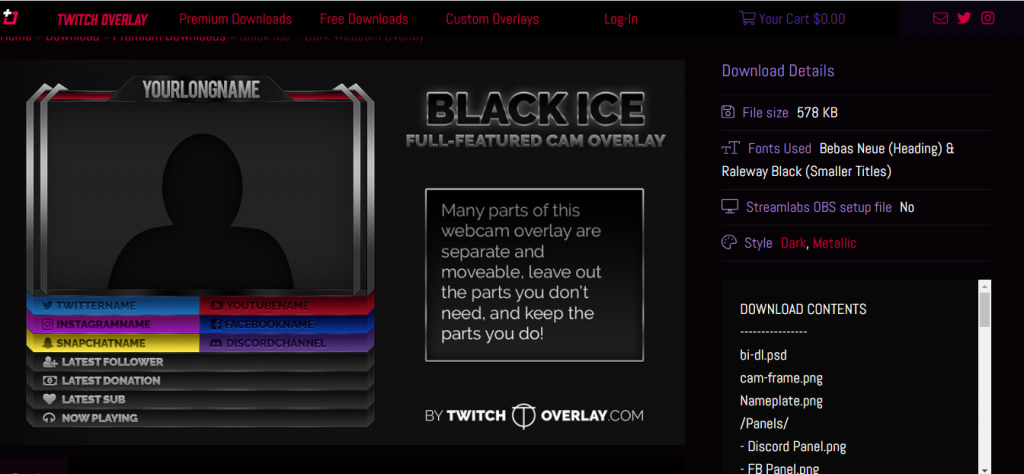 This overlay graphic, called Black Ice, allows you to fully customize which information you would like to display. The graphic is editable as it comes with a PSD file, but every single graphic is a building block you can include or exclude at will.
NerdorDie.com
FREE OVERLAYS AVAILABLE? Yes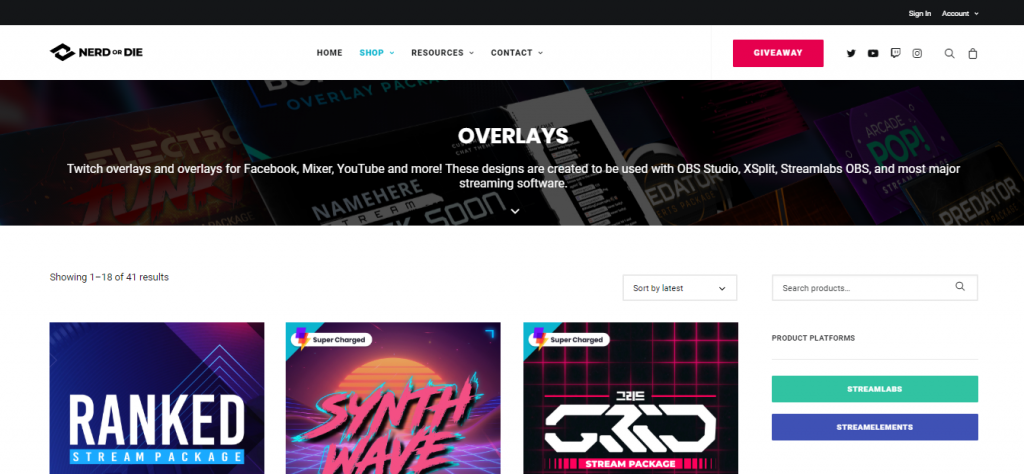 NerdorDie has plenty of materials available for streamers to use on their channels. Here, you'll be able to buy certain graphics piecemeal if you prefer. However, you can also purchase everything in a set to make sure that your stream looks sleek and uniform.
NerdorDie has fantastic graphics that are beautifully designed, so your stream will look great all around. On top of that, they also have free graphics available. In fact, there are even some products where you can name your price, starting at $0.00.
Sample of NerdorDie Webcam Overlay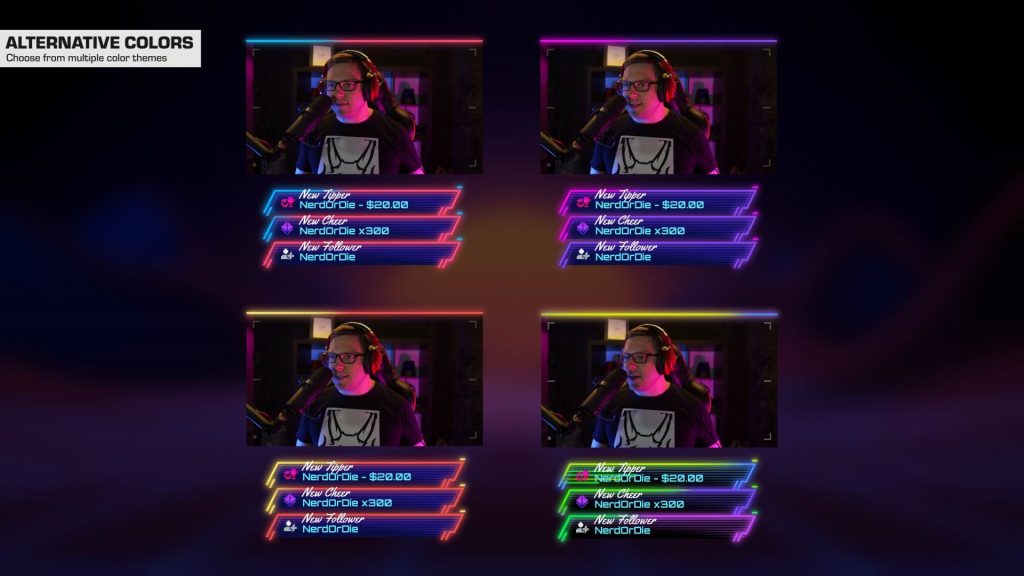 This Webcam overlay set is a part of the SynthWave package on NerdOrDie. However, if you prefer to purchase only the webcam graphics, you certainly can.
Placeit.Net
FREE OVERLAYS AVAILABLE? No

Placeit is famous for making anything and everything customizable – including Twitch webcam overlays. Here, you can find many templates which you can then customize to create whatever graphic you'd like.
You can purchase graphics piecemeal for $2.95 each (customized through their online editor), or you can purchase a one-month subscription for $14.95. A one-month subscription offers you the chance to create unlimited graphics for an entire month, which does provide much more value.
You can also purchase a year-long subscription for a significant discount, at a cost of only $99.95 billed for a year.
Sample of Placeit.net Webcam Overlay

This webcam frame overlay template allows you to customize colors, fonts, texts, and more. You can do the same for any other template they have available on the site!
Kudos.tv
FREE OVERLAYS AVAILABLE? Yes

With plenty of fun, professionally designed webcam overlays from Kudos, it'll be hard choosing between which overlay you'll end up wanting for your stream.
Most of their overlays come with animated and static options, with price points ranging from $5-$10. Making them super affordable for streamers!
Kudos also offers a free animated neon webcam overlay that looks sleek and will match most streamers branding styles.
Sample of Kudos Webcam Overlay

If you're into the retro pixel art look, then Kudos' Pixel Neon webcam overlay is what your channel needs. It comes with an extra header overlay and stream labels to match the overall theme for your channel.
Why Use a Webcam Overlay?
A webcam overlay can condense all the information you want to display, including new follows or subs, and so on. Putting all of this content together in one place can make your stream look a lot cleaner and less cluttered overall.
Alternatively, you can use a webcam overlay as a simple accent, like a pop of color or an easier way to identify your channel. Much like a starting soon screen, they're a great way to establish your streams branding.
Regardless of how you want to use a webcam overlay, there are many websites offering them online. Here are some of the best resources where you can find webcam overlays.
Face Cam Overlay Aspect Ratios
When you purchase or download your webcam overlays, one thing that you should keep in mind is the aspect ratio of your webcam.
You can choose a 16:9 ratio, which is what your screen will usually be if you are running 1080P.
This will also be the case if your webcam is running in a similar resolution. 16:9 is rather wide, however, so if you don't want to have too much of your background visible on your stream, you can switch to 4:3.
Additionally, you can also crop your cam a certain way if necessary.
Hope this resource of webcam overlays helps you find the perfect overlay for your stream!
Let us know in the comments below if there are any other resources we might have missed.