The 13 Best Desks for Streaming
If you ever want to see how crazy gaming rigs can get, head over to /r/Battlestations, and you'll get a look at some of the coolest, most creative builds of all time. They've got it all; the lights, the specs, the desks…
Wait… The desks?!
Yes. Desks. It might not be measured in gigabytes, and it's (probably) not water-cooled, but they play a super important role in your streaming room setup. Today we're going to go over great desks for all sorts of budgets, and needs, including size, shape, extra features and more.
Regardless of your budget for your streaming desk, you'll want to ensure that you're getting your money's worth and that your equipment is safe and secure.
There are plenty of options out there filled with similar specs and price points. So before we go on with the list, here are two different desk options at two very different price points.
Budget-Friendly Option
Coleshome 47 Inch Computer Desk
If you're just getting started and only have one or two monitors, you'll get plenty of space with the Coleshome 47 Inch Computer Desk.
On top of having a clean look and easy to install design, you won't break the bank on this simple, easy-to-use desk.
At less than $100 in price, you'll be getting a lot of desk for not a lot of Benjamins. I suppose it'd be singular, one Benjamin.
Big Spender Option
Thermaltake Tt Gaming Level 20 Gt Battlestation Computer Gaming Desk
Now, Let's say that you've got a larger budget to fit a larger or more specialized need. That is where this bad boy comes in.
Designed by Thermaltake, this desk provides a 27.5″ x 59″ desk to fit multiple monitors, peripherals, and even your computer, depending on your setup. Throw in the versatility of adjustable heights up to 40.7 inches, and you've got a stylish, dependable, and versatile anchor for your stream station.
The Final Verdict
All of the desks we've presented today are fantastic in their own ways. And honestly, you can't go wrong with any one of them so long as they meet your needs.
But if we were to recommend one desk in particular for streamers, it would be the Eureka L60 Gaming Desk.
I'm a sucker for an L-shaped desk, but this one is an excellent mix of a rectangular desk and L-shaped. With a sizeable 60-inch base, you're already getting a large desk that can handle monitors, peripherals, and potentially your computer as well.
But the additional display section gives you that little bit extra in terms of space. Your stuff won't be all crammed together, and you'll get plenty of space to breathe with your streaming equipment.
The other key for me is how well-designed the cable management system is. Sometimes "cable management" just means a single hole for everything to go through and no actual means of keeping things organized.
But with multiple grommets and cable run sections, you'll be able to keep your cords out of sight and organized.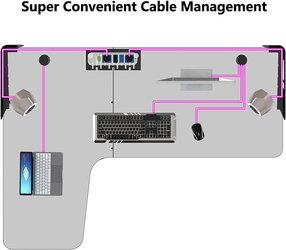 While this isn't the cheapest option, you won't be breaking the bank by any means. If you want to get the best of both worlds in terms of price, design, and features, the Eureka L60 Gaming Desk is a great buy.