If you ever want to see how crazy gaming rigs can get, head over to /r/Battlestations, and you'll get a look at some of the coolest, most creative builds of all time. They've got it all; the lights, the specs, the desks…
Wait… The desks?!
Yes. Desks. It might not be measured in gigabytes, and it's (probably) not water-cooled, but they play a super important role in your streaming room setup. Today we're going to go over great desks for all sorts of budgets, and needs, including size, shape, extra features and more.
Regardless of your budget for your streaming desk, you'll want to ensure that you're getting your money's worth and that your equipment is safe and secure.
There are plenty of options out there filled with similar specs and price points. So before we go on with the list, here are two different desk options at two very different price points.
Budget-Friendly
Coleshome 47 Inch
Computer Desk

If you're just getting started and only have one or two monitors, you'll get plenty of space with the Coleshome 47 Inch Computer Desk.
On top of having a clean look and easy to install design, you won't break the bank on this simple, easy-to-use desk.
At less than $100 in price, you'll be getting a lot of desk for not a lot of Benjamins. I suppose it'd be singular, one Benjamin.
Big Spender
Thermaltake Gaming Battlestation Desk

Now, Let's say that you've got a larger budget to fit a larger or more specialized need. That is where this bad boy comes in.
Designed by Thermaltake, this desk provides a 27.5″ x 59″ desk to fit multiple monitors, peripherals, and even your computer, depending on your setup.
Throw in the versatility of adjustable heights up to 40.7 inches, and you've got a stylish, dependable, and versatile anchor for your stream station.
Best Desks for Streamers
Now that we've covered opposite ends of the spectrum, let's really dig into this.
Here are the top thirteen desks we suggest you check out when building your streaming rig.
1. Seven Warrior Gaming Desk

Let's kick things off with a tremendous all-around desk, the Seven Warrior. This 60-inch wide desk is the quintessential example of "All the fixin's."
Along with the desk is a full-sized mouse pad covering the entire desk, side hooks for headphones, a gaming rack with USB charging, and even a cupholder!
| SPECS | |
| --- | --- |
| Top material | Microfiber from included mouse pad |
| Dimensions | 60"D x 27.6"W x 29"H |
| Weight | 68 Pounds |
| Shape | Rectangular |
| Color | Black |
Overall, this is an excellent desk for keeping your peripherals in place, everything spaced out, and you comfortable while you stream.
2. Casaottima L-Shaped Desk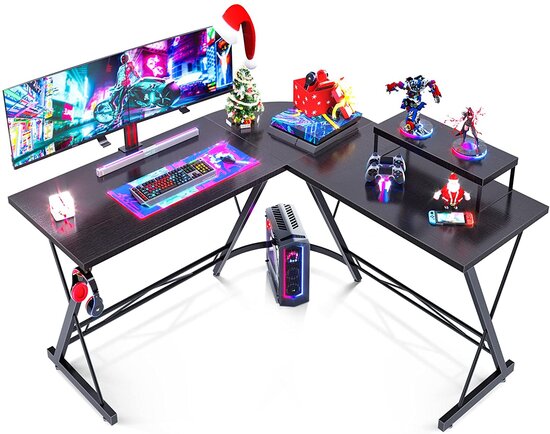 Let's say you want a desk that's going in the corner of your room, office, etc., but you want to use both sides? In comes the Casaottima L Shaped Desk, a fittingly named L-shaped desk that comes in a 51-inch and 66-inch variant.
The advantage of an L-shaped desk is its multi-use form factor and monitor stand. Want to keep your monitors on one side while also using the other side for work or your console setup? Go for it!
| SPECS | |
| --- | --- |
| Top material | Engineered Wood |
| Dimensions | 51"D x 51"W x 30.4"H or 47"D x 66"W x 30.4"H |
| Weight | 37.4 pounds and 46 pounds |
| Shape | L Shaped |
| Color | Black |
This desk is equipped with a monitor stand and iron hook to extend the desktop space and give you even more space to store items, leaving you more space for working, gaming, streaming, studying, or whatever else you need it for!
3. FLEXISPOT Gaming Height Adjustable Desk

Up next is the FLEXISPOT, a 63-inch desk. This desk comes with plenty of nice-to-have features, including headphone hooks, a full-size mouse pad, cable management netting, a cup holder, and custom height adjustment settings from 28 inches to 32 inches.
| SPECS | |
| --- | --- |
| Top material | Microfiber from Included mouse pad |
| Dimensions | 29"D x 63"W x 28-32"H |
| Weight | 61.6 pounds |
| Shape | Rectangular |
| Color | Black and Red |
What makes this desk so great is its combination of a large size with a lot of flexibility built-in. You'll be able to keep your space clean, wires in place, and yourself comfortable.
4. Arena Gaming Desk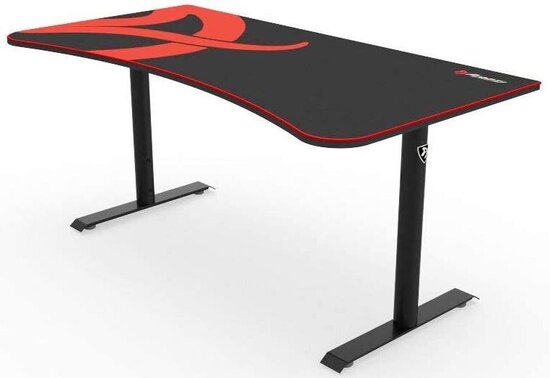 The Arena Gaming Desk by Arozzi is a hefty desk that will provide room for up to three monitors or several ultrawide. Sporting an inward curve design, you'll be at the perfect distance from your monitors while also having plenty of real estate for your keyboard, mouse, a stream deck and even your desktop, should you want to get it off the floor.
You can also adjust the desk's height up to four inches from 28 inches to 32 inches in height. Along with the included desk pad and cable management basket, the Arena comes with a monitor attachment system.
| SPECS | |
| --- | --- |
| Top material | Microfiber desk pad |
| Dimensions | 32"D x 63"W x 29"H |
| Weight | 85.5 pounds |
| Shape | Rectangular |
| Color | Black with Accent Options of Black, Blue, Green, Red, and White. |
This desk is fantastic if you really need to stretch out your peripherals and make space for multiple monitors.
5. Ikea UTESPELARE

Elegantly designed by the wonderful Swedes at IKEA, the UTESPELARE offers an atypical design with the typical high quality from IKEA.
This modular designed desk (that's right, a modular desk) comes with a rectangular and contoured configuration and an extensive cable management system on the backside.
Toss in an adjustable height from 27 to 30 inches, and you've got one classy, affordable, and high-quality desk for streaming with plenty of space.
| SPECS | |
| --- | --- |
| Top material | Particleboard, Melamine foil, Polycarbonate/ABS plastic |
| Dimensions | 31.5"D x 63"W x 26.75-30.75"H |
| Weight | Not Listed |
| Shape | Rectangular |
| Color | Black or Light Grey |
Plus, you'll get to use IKEA's awesome instruction manual to assemble the whole thing yourself! (Wait, is that a good thing?)
6. Thermaltake Computer Gaming Desk

The Thermaltake desk is a top-of-the-line option to fit larger budgets. One of the cool things about this desk is it provides the option for use as a standing desk! The height adjusts up to 40.7 inches with a non-motorized adjustable height system.
| SPECS | |
| --- | --- |
| Top material | Engineered Wood w/ Desk Pad |
| Dimensions | 27.5"D x 59"W x 28.9"H |
| Weight | 101.4 pounds |
| Shape | Rectangular |
| Color | Black |
With a maximum load capacity of 220 pounds, you can fit some serious hardware on this bad boy. Altogether, you've got a stylish, dependable, and versatile anchor for your battle station with this adjustable desk by Thermaltake.
7. Plastic Folding Desk

Everybody starts somewhere. Heck, even Ninja started off using this when he began streaming! If you are a pure utilitarian who wants something that will be easily moved, installed, and gets the job done, you can't go wrong with a plastic folding desk.
| SPECS | |
| --- | --- |
| Top material | Polyethylene plastic |
| Dimensions | 24"D x 48"W x 22"H |
| Weight | 19.2 Pounds |
| Shape | Rectangular |
| Color | Granite White |
Just remember that you're sacrificing features and nice-to-haves to save money. If that doesn't matter and you just need to plop your keyboard, monitor, and mouse down, then have at it!
8. RESPAWN Desk

Despite being one of the lightest decks on this list, the RESPAWN is a powerful desk capable of holding 200 pounds on top of it.
| SPECS | |
| --- | --- |
| Top material | Neoprene Mouse Pad |
| Dimensions | 31.5"D x 63"W x 28.54"H |
| Weight | 43 Pounds |
| Shape | Rectangular |
| Color | Black |
This premium option goes with a simple design and stealthy aesthetics while also providing a seriously comfortable experience with a five-millimeter-thick mouse pad that covers the entirety of the desk.
9. Corner Desk

This L-shaped desk is a classic example of more than meets the eye. While it doesn't carry any fancy attachments or built-in mouse pads, this desk from SHW is a practical option without any classic "streamer aesthetics."
| SPECS | |
| --- | --- |
| Top material | Engineered Wood |
| Dimensions | 51"D x 51"W x 28"H |
| Weight | Not Listed |
| Shape | L-Shaped |
| Color | Espresso |
This is an excellent choice if you want to fit something in the corner that will keep you organized. With plenty of space for two, three, or even four monitors (if you really need it) and built-in storage nooks, you're getting some serious bang for your buck here.
10. Sedeta

If Texas were a desk, it'd probably be Texas-shaped. Or it'd be the Sedeta Computer Desk we have here today. This desk has got some serious space, clocking in at 72 inches across its multi-tiered system.
But beyond its 55″ x 23.6″ main desk, the Sedata also comes equipped with a separate monitor stand/shelf, speaker stands, top storage shelf, and holders near the bottom to get your computer off the ground.
| SPECS | |
| --- | --- |
| Top material | Engineered Wood |
| Dimensions | 23.6"D x 72"W x 59.8"H |
| Weight | 71.4 pounds |
| Shape | Rectangular |
| Color | Black or White |
The Sedeta is a uniquely designed desk that really uses vertical space to give you plenty of storage for peripherals, lighting, cameras, and more.
11. Apex Electric Height Adjustable Standing Desk

Some people know what they want, and they won't stand for anything less. Or maybe they will stand. Especially if what they want is a standing desk.
Yes, the standing desk space is clearly here to stay, and if you've got the money, the ApexDesk Elite Series could be well worth your time for your next streamer desk.
In 60″ and 71″ variations, this dual-motor desk can easily go from 29″ to 49″ with a programmable memory controller. You've also got a ton of choices for your color combinations, all of which have premium wood styling.
In addition to the premium look and feel, it also comes with cable management grommets at the far left and right corners to keep everything nice and neat.
| SPECS | |
| --- | --- |
| Top material | Engineered Wood w/ Laminate Finish |
| Dimensions | 29.5"D x 60"W x 49"H or 33"D x 71"W x 47.4"H |
| Weight | 131 pounds or 144 pounds |
| Shape | Rectangular |
| Color | White and Black Frame with Multiple Wood Top Finishes |
If you want a premium experience, this motorized option might be the way to go.
12. Eureka L-Shaped Gaming Desk

And next up, we have the Eureka Ergonomic L60 Gaming Desk. This 60-inch desk comes with a little something extra with what it calls the "display area," making the 'L' part of the L-shaped desk.
Along with a pull-out keyboard dock, you'll probably have more space than you know what to do with it. The L60 comes equipped with a cable management tray and power-strip box to get that mess of cords we all have under control.
| SPECS | |
| --- | --- |
| Top material | Wood w/ Laminate Finish |
| Dimensions | 43.88"D x 61.13"W x 30.13"H |
| Weight | 63.9 pounds |
| Shape | L-Shaped |
| Color | Black |
Really, the Eureka L60 is a best-of-both-worlds desk that really stands out as a great option for streaming with a ton of features, ample dimensions, and a reasonable price that won't have you taking out a loan.
13. Coleshome Basic Desk

Like I said before, if you're just getting started, the Coleshome we have today is a great choice. It's got a great design, sturdy build quality, and you won't be spending hundreds of dollars.
If you're just getting started streaming or want a desk that can easily have a second life in an office, this desk is going to be a fantastic choice.
| SPECS | |
| --- | --- |
| Top material | Engineered Wood |
| Dimensions | 24"D x 47"W x 29"H |
| Weight | 26.6 Pounds |
| Shape | Rectangular |
| Color | Black |
This Might Interest You: The Best PC for Streamers
Things to Consider When Buying a Streaming Desk
When picking out your streaming desk, it's essential to consider the critical factors for what you need. Things like "how many monitors do I have?" "How much is this going to weigh?" "How many cables will I use?" And things like that.
So let's go over some of those critical factors.
Space Needed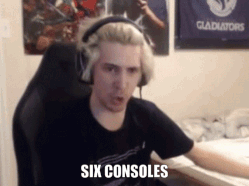 First, let's go over the size of the desk. Now, your first thought could be, "Oh, let's just get the biggest desk possible so I can put all my stuff on it!"
But that's not the whole story. Before buying the most enormous desk that you find on this list, do some planning.
Measure the spot in your room where you plan to use it. Consider how much space you're willing to give up for that desk when measuring.
Will you be able to move around easily, or will you be squeezing around?
Also, consider what you're going to put on the desk. Are you going to use a single 26-inch monitor setup and maybe a six-button Stream Deck? You won't need a super big desk for that.
Planning on going dual monitors, attached mic, DSLR camera, and a bunch of knickknacks strewn about? Yeah, you'll want to have as much real estate as possible.
Cable Management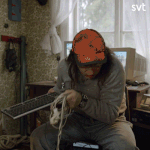 This one will be an investment today that pays off in the long run. Managing your cables is like keeping your papers organized. It's annoying, it feels like busywork, but it's worth it.
Nobody likes digging through a rat's nest of cables, and a built-in cable management system makes it all the easier to stay organized.
Or, if you want to do your own cable management addition to the desk, you might not consider that to be as big of a priority.
Or, maybe you just want all of your cables hanging out on display because you're too lazy to do anything about it and don't mind the knots they tie themselves into.
That's fine too, I guess.
Shouldn't my Desktop Be On My Desk?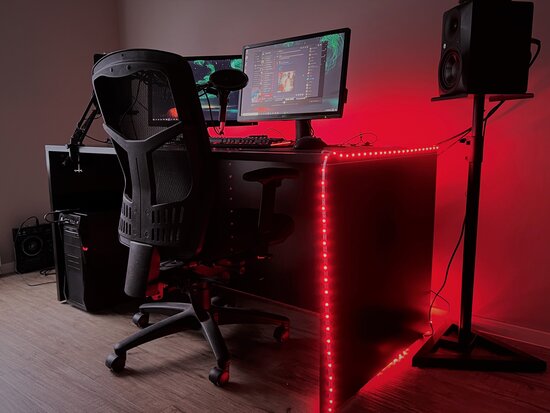 They're called a desktop, but how often are they really on the desk? Mine's not. But that's because my computer is nearly two feet tall and longer than my desk is wide.
If you're running a full-size computer and you want to maximize your usable space, you might just keep the computer on the ground. If so, be prepared to get rid of dust regularly. Especially if you've got carpet.
However, let's say you've gone with a Mini-ITX PC, and you've mounted your monitors. If so, you'll be safe placing it on your desk. It's all about what you need and what you're willing to compromise if need be.
Top Finish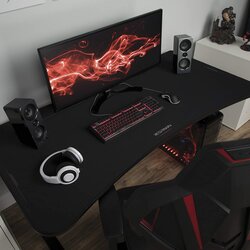 This might not seem like a super important topic, but it is. The material the top of your desk is made of will determine how everything else is set up.
Let's say that you've got a desk that is made of a really soft composite wood: You'll need to make sure any clamping you use for your monitor or microphone has some cushioning.
Otherwise, you're going to dig into the desk and leave permanent damage.
Let's also talk about full desk mousepads. Many desks will come with a full-size mouse pad for you to use. It's comfortable, looks nice, and provides that cushioning mentioned earlier.
Keep It Clean
I can not stress how important it is to clean your mousepad. If you don't, it's going to get dingy, lose its color, and collect dust, dead skin, and whatever other stains you get on it.
Depending on the type of material your mouse pad is made of, you will have different ways you can or cannot clean it.
The Final Verdict
All of the desks we've presented today are fantastic in their own ways. And honestly, you can't go wrong with any one of them so long as they meet your needs.
But if we were to recommend one desk in particular for streamers, it would be the Eureka L60 Gaming Desk.
WINNER

I'm a sucker for an L-shaped desk, but this one is an excellent mix of a rectangular desk and L-shaped. With a sizeable 60-inch base, you're already getting a large desk that can handle monitors, peripherals, and potentially your computer as well.
But the additional display section gives you that little bit extra in terms of space. Your stuff won't be all crammed together, and you'll get plenty of space to breathe with your streaming equipment.
The other key for me is how well-designed the cable management system is. Sometimes "cable management" just means a single hole for everything to go through and no actual means of keeping things organized.
But with multiple grommets and cable run sections, you'll be able to keep your cords out of sight and organized.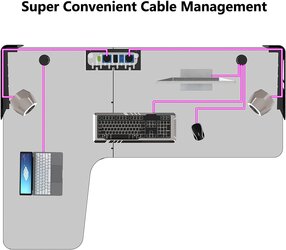 While this isn't the cheapest option, you won't be breaking the bank by any means. If you want to get the best of both worlds in terms of price, design, and features, the Eureka L60 Gaming Desk is a great buy.