If you are a streamer or content creator looking to spice up your Elgato Stream Deck's experience, then this article may be able to get you started down the right path! A great way to do this can be to upgrade the tiny buttons called stream deck icons.
Below we'll go over a brief synopsis of top four websites that offer stream deck icons, discuss what exactly each source offers, the cost (if any), and how to obtain/use the icons themselves.
1. Elgato Gaming Key Creator
These are not ranked in any particular order, however the Elgato gaming "Key Creator" seems to be the most useful on the list. My main reason is the level of personalization they allow you to take advantage of. But ALSO, it's FREE!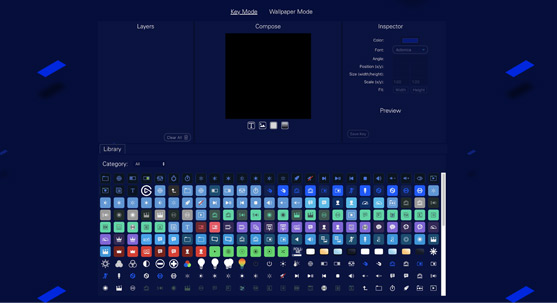 Obviously, if you are looking for the most fluidity when creating your new icons then why not just go straight to the source, right? Elgato has pretty much covered all the bases from an icon standpoint, with a high level of customization for them.
"Make Stream Deck yours"
"The only tool you'll ever need to customize Stream Deck keys."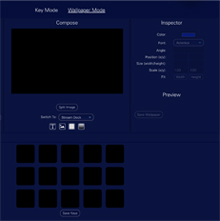 You can also upload your own images to use in "key" or "wallpaper mode," making it even that much more customizable.
With the wallpaper mode you can fulfill your unique interface needs by easily transmitting ANY image across up to 15 Stream Deck keys!
The icons and tools you see above are all free to use as well as download to your computer!
They also offer a free tutorial for first time users if you happen to feel overwhelmed by the user interface they provide.
2. Visuals by Impulse Stream Deck Icons


Visuals by Impulse is a graphic design company centered around streamers and gamers alike. They are currently offering nine unique styles of stream deck icons (examples above) for free on their website!
The categories include the following design variations: Champion style icons, Gingerbread style, Lava & Ice, Rainbow, Spooky, and Tactical.
You simply select which package you would like, add it to your cart (free of charge), & checkout! Once the order is filled, you will have access to download all the stream icons in that deck! Most of them even have multiple options on color schemes, as well as light/dark variations.


Impulse visuals seem to be customer oriented, and I must say that there are actually very many icons to choose from for this being a free service. Take advantage!
3. "Aurora" Stream Deck Icon Pack by Nerd or Die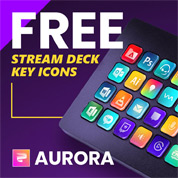 Aurora is an icon pack created by Nerd or Die with over 220 icons provided and claim to always be looking to add more! They lean towards catering to streamers, content creators and other related professionals.
In order to help you create the "ultimate studio controller," Aurora provides a key icon pack for the Elgato Stream Deck and Touch Portal for a suggested price of $2.00 USD.
However, since it is only a suggested price you can type in $0.00 in order to receive the icons for free. If it were me then I would probably just cough up the 2 bucks, since I appreciate being offered something useful to my craft!

The icons are compatible with the standard Stream Deck MK.2 and MK.1, Stream Deck Mini, Stream Deck XL, Stream Deck mobile, Touch Portal and a few more not listed. On top of all this, they also offer a demo video on how to integrate the photoshop (.PSD) template in order to fully customize your icon buttons (similar to the Elgato Gaming Key Creator).
4. Artificial Creations Stream Deck Icons


Livestream graphics designer, Artificial Creations offers a template pack "freebie" with over 100 icons that can be used for the Elgato Stream Deck! The claim to fame about this source is that they include icons from a vast majority of the current popular & major games. They even include some icons for well known classics.
This pack is similar to the last source we spoke about in the sense that both of them include a (.PSD) Photoshop file in order to customize your own icons and integrate the freebies into the exact form you desire!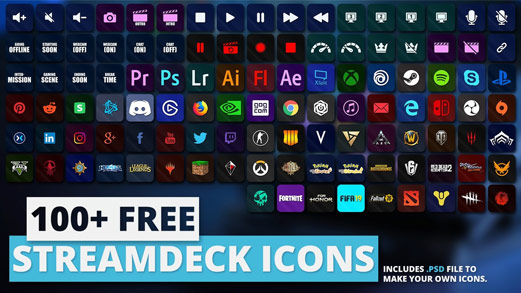 *You might also be interested in these Stream Deck alternatives.
Stream Deck Animated Icons
If you're looking to add a bit more fun to your stream deck keys, then these animated stream deck icons will certainly hit the spot.
Designed by VIVRE-MOTION you have over 5000 animated gif icons to choose from as part of the full pack.
Ranging in all types of RGB color and animation styles, your Stream Deck will look that much cooler in your stream setup!
While these icons aren't completely free, you can download a free preview to see how they look on your Stream Deck before committing to the full, modestly priced version.
Using an Elgato Stream Deck is kind of like owning a toolbox that you always have to fill with different tools based on the task at hand.
With the 4 sources listed above you should be able to customize your stream deck icons in accordance with whichever game, program, or "task" that you are trying to accomplish!
Written by Stephen A. Nava