When it comes to improving your stream, you've got a ton of options. It could be a matter of upgrading your equipment or setting up a regular schedule. It could also be setting up emotes and sub badges once you get that affiliate status.
However, what many don't do is use a Twitch starting soon screen. A starting soon video before you go live isn't exactly necessary, per se. However, it can help in many ways.
Why Use a Starting Soon Screen?
Starting soon screens serve one purpose, and that is to prevent that awkward wait time between you pressing the "start streaming" button and you actually starting the stream.
With a bit of background music, you can keep viewers idle in the chat while you get ready to actually switch to live. On top of that, you also get to add another element to your stream that you can design, which is always fun!
If you put enough thought into it, you can have a stream that looks amazing and professional to boot.
There are a few things to remember when you use a Twitch starting soon screen:
Try not to have your stream starting video too long, as any potential viewers may simply leave.
Don't play copyrighted music in the background as Twitch has recently started implementing the DMCA rules.
Mute your microphone while your starting soon screen is up to prevent any unwanted noise from getting picked up. Don't forget to unmute when you switch over to live!
If you aren't sure where to find starting soon screens, the below resources might be a great place to start!
Fiverr.com
FREE OPTIONS AVAILABLE? No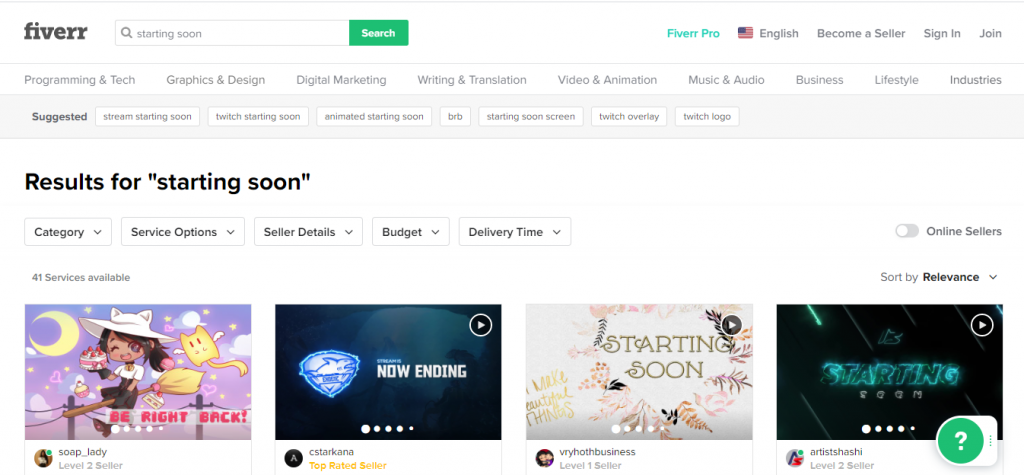 Fiverr.com is where everybody goes for custom content at reasonable prices. On this website, you can get pretty much anything you need for your stream, including a custom starting soon screen.
The difference of Fiverr is that you can fully customize your screen from start to finish. You won't have to work off a template that you purchase, you will be paying for a starting soon screen made by an artist from scratch. With your input, you can collaborate and achieve exactly the look you are going for.
Prices on Fiverr starts at – you guessed it – five dollars. However, before you spend your money, make sure you check the artist's ratings and lead time. This can help you to avoid any issues with unreliable contractors on the platform.
Placeit.Net
FREE OPTIONS AVAILABLE? Yes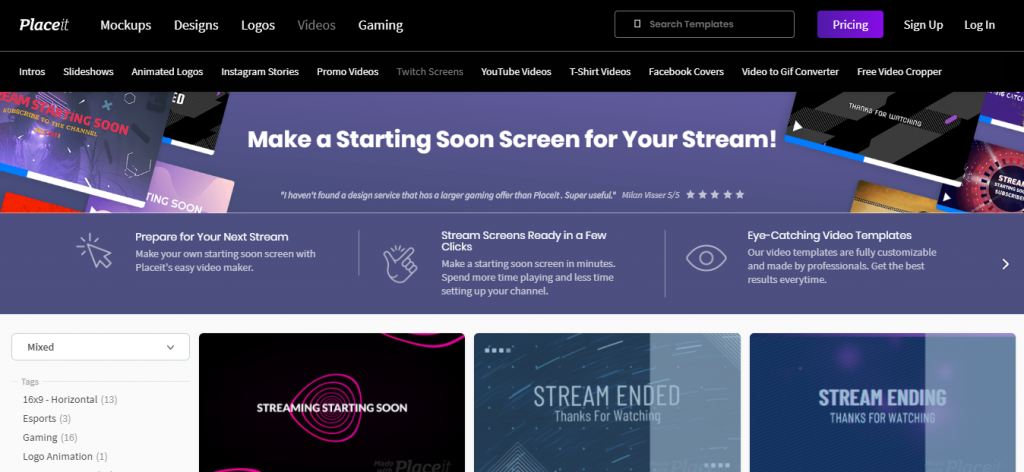 Placeit.Net is famous for pretty much being the hub for all things print or create on-demand. You can get everything from physical merchandise like mugs and bags to digital products like logos and of course, stream graphics. Naturally, you will be able to find a Twitch starting soon screen here as well.
The beauty of Placeit is that you can create your starting soon screen custom from one of their templates. They also have free options available, although you will have the Placeit.net watermark on it.
You can purchase the screens piecemeal for about $9.95 each. However, if you want to create unlimited Twitch graphics (such as panels, alerts, and so on), you can sign up for a one-month subscription at the price of $14.95.
Sample Placeit.Net Starting Soon Screen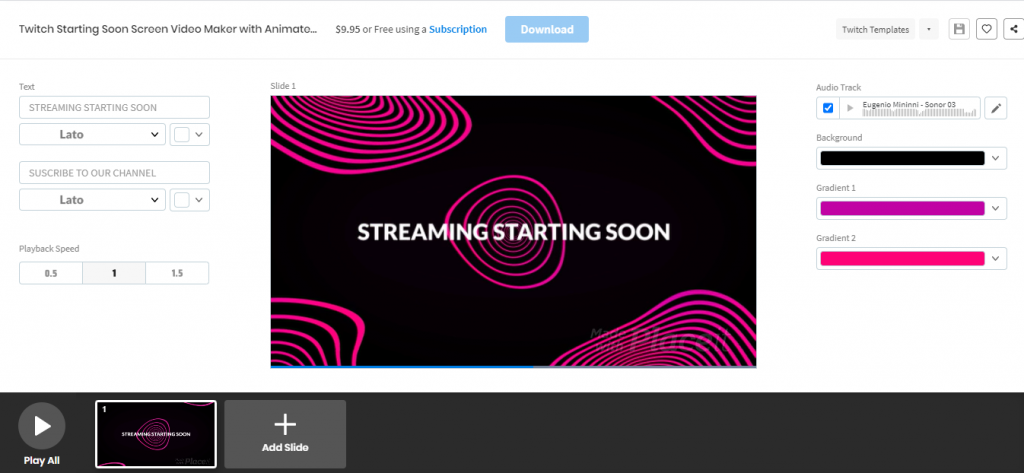 A great example of a starting soon screen from Placeit.net is this video animation you can fully customize and download for free. Again, it will have a watermark if you download it for free. Pay for the subscription and you can get the watermark removed!
TwitchOverlay.com
FREE OPTIONS AVAILABLE? Yes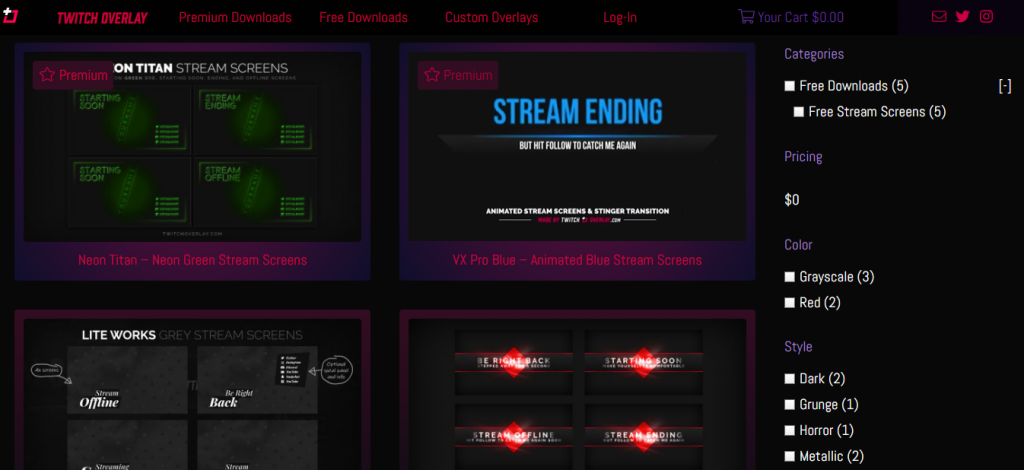 Another website that offers all sorts of material for streamers to use is Twitchoverlay.com. Here, you can get a few starting screens. Unfortunately, there aren't too many choices available. Nevertheless, you can get screens that are static or animated.
Some of the screens available here are available in packages, while others can be purchased on their own. Nothing is above $20, so it is all quite affordable. Unfortunately, you don't have a lot of customizable content available.
Sample Twitchoverlay.com Starting Soon Screen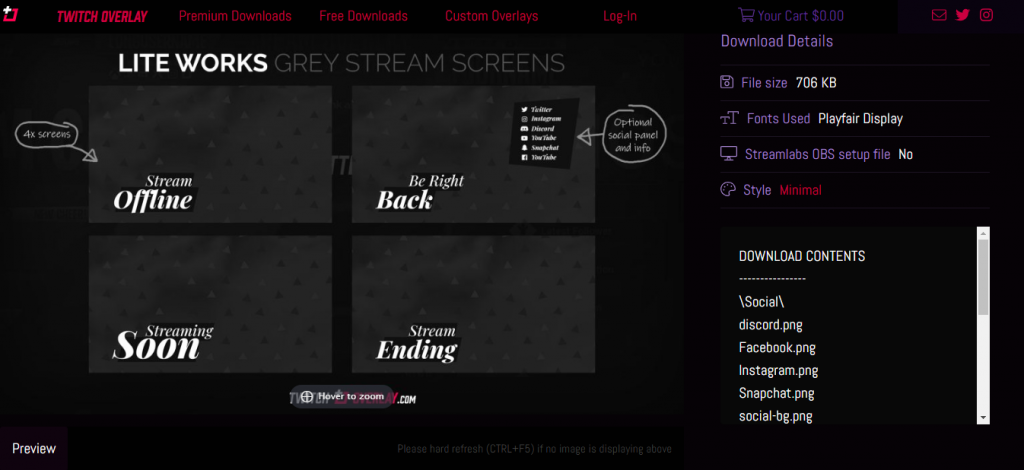 This Lite Works stream screen set offers you a great pack to use for your starting soon, be right back, stream offline, and stream ending screens.
Own3d.tv
FREE OPTIONS AVAILABLE? No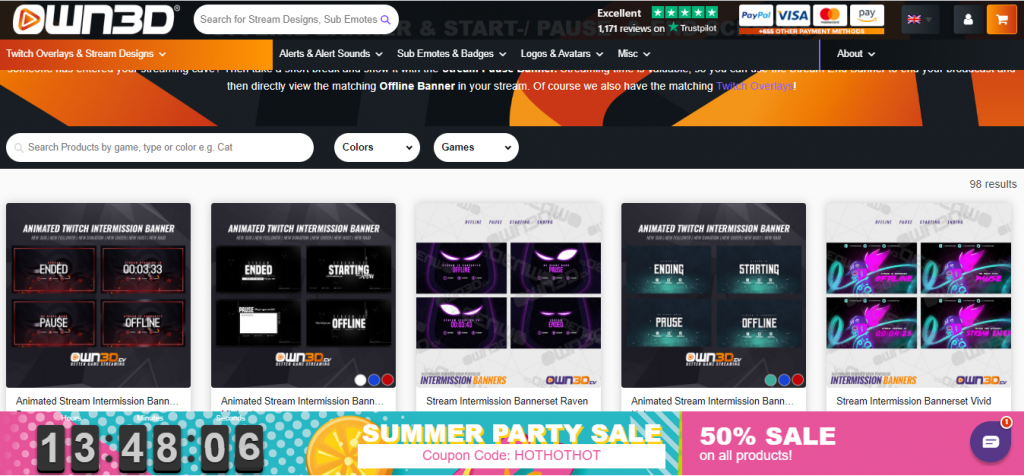 One of the most popular websites for stream resources is Own3d.tv. This website offers all sorts of graphics to help improve your stream and get your channel looking great and feeling professional.
They have starting screens that are quite customizable to help you get them looking exactly how you want them. Choose a template and change around whatever details you prefer.
A great thing that sets Own3d apart from other websites is the fact that you can use 600 different payment methods. Whichever method you want to pay with, they probably have it available. They also have over a thousand positive reviews on TrustPilot, so you know they deliver quality graphics.
Sample Own3d.tv Starting Soon Screen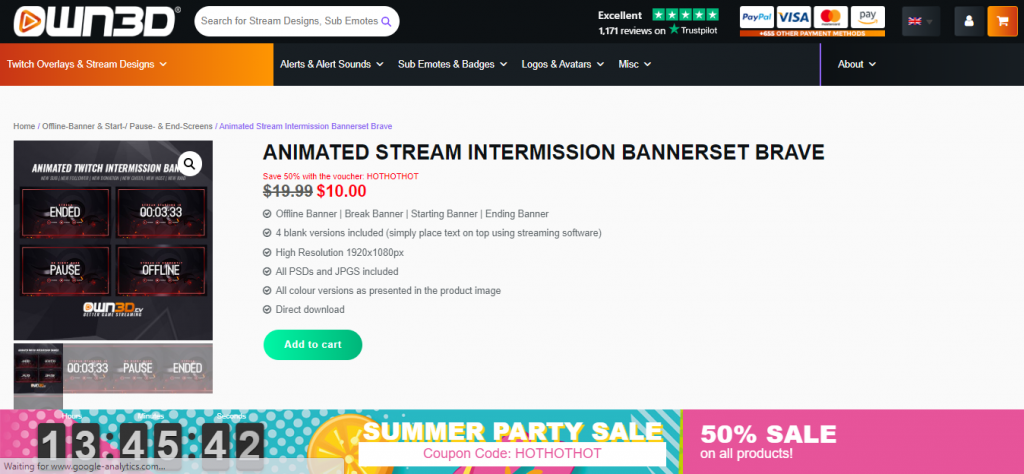 This animated stream banner set offers you a bunch of different screens that you can use to give your channel a unified look. At the cost of $19.99, this customizable set comes with .PSDs if you'd like to edit the graphic.
However, there are four different (animated) screens that are blank so that you can just add your text through your broadcasting software.
NerdorDie.com
FREE OPTIONS AVAILABLE? Yes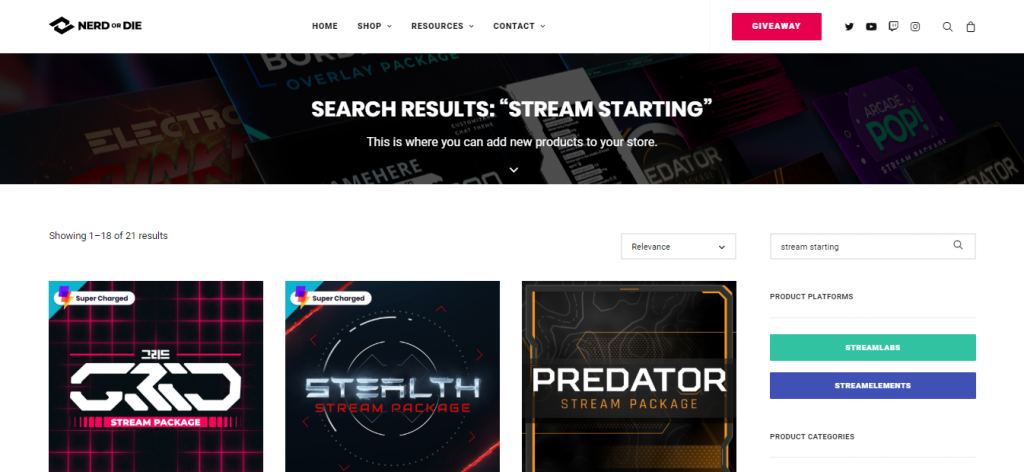 Designing your stream can sometimes be difficult, especially if you don't know what direction you want to go in terms of look just yet. This is why NerdorDie is a fantastic place to get your graphics and stream resources from.
They have beautifully designed graphics (both static and animated) in various themes, with quite a lot for you to choose from. Prices aren't bad (roughly around $10-30 depending on what you purchase), and you can buy things piecemeal or go for full packages.
On NerdorDie, you can also get some free (or really cheap) graphics like webcam overlays thanks to their "Name Your Price" packages. You can pay nothing – zero dollars – or you can choose to pay a small amount.
Recommended prices are often around $2 for the Name Your Price packs. Not bad at all, considering you can get customizable graphic packs this way!
Sample NerdorDie.com Starting Soon Screen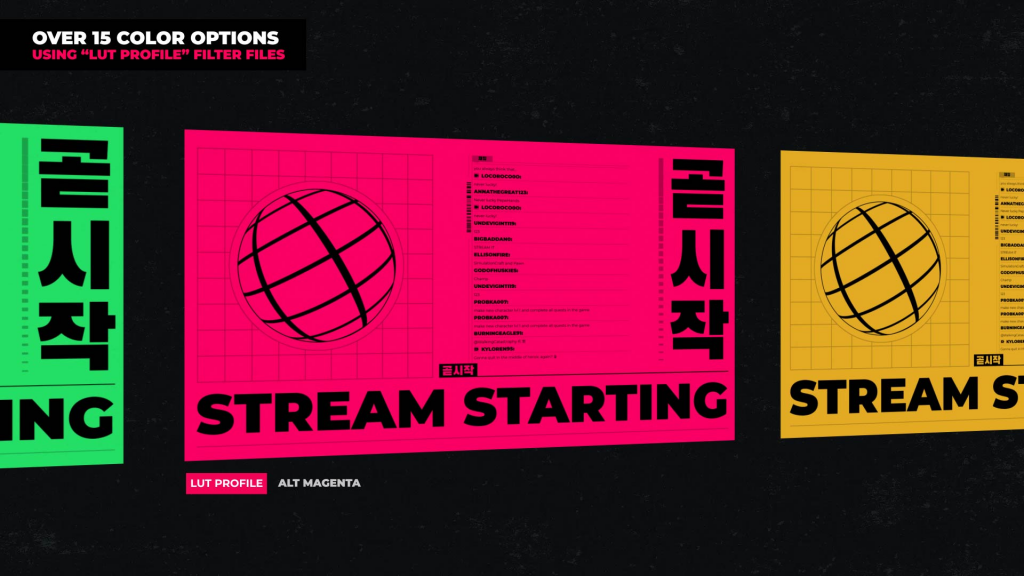 The "Grid" Stream Package on NerdorDie costs anywhere from $10 to $30 depending on what you are purchasing. It contains static material as well as some animated designs. You also get raw, editable files so that you can customize the graphics however you'd like.
Streamplaygraphics.com
FREE OPTIONS AVAILABLE? No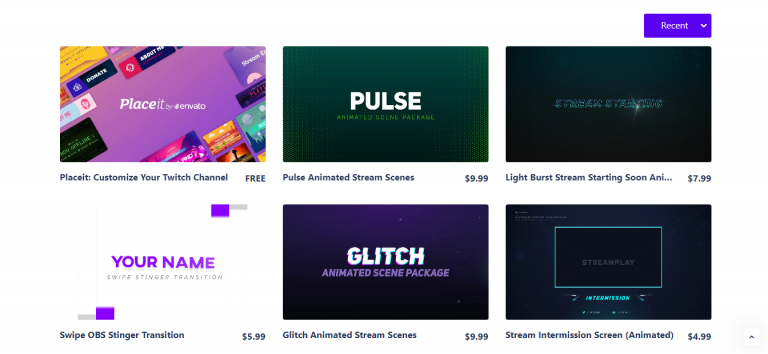 Streamplay Graphics offers really clean and streamlined designs that you can customize how you like. Their graphics can be purchased alone or in a package depending on your preference.
For their starting soon screens, they have some animated ones available. However, if this is not your style, you can go for one of the static designs, often paired with a BRB screen and other scenes useful for streaming. With everything ranging from $3.99 to $9.99 each, it's not a bad cost to pay for your improving your stream.
One thing that Streamplay Graphics offers is the ability to pay them a small amount (usually $2 or so) to edit the graphic(s) for you. If you don't have access to Photoshop or After Effects, this is a fantastic option.
Sample Streamplaygraphics.com Starting Soon Screen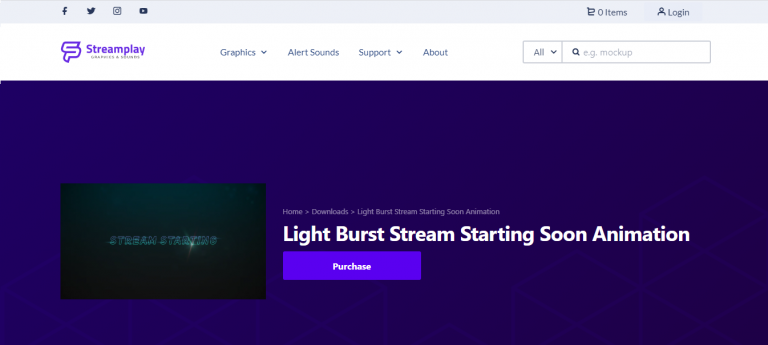 The Light Burst starting soon screen is an animated screen you can purchase for $7.99. Buying this will enable you to download the .mp4 as well as the Adobe After Effects file (in case you want to make any changes).
You can also choose the "We Edit for You" option and pay $9.99. For a small fee, you don't have to worry about anything else!
Kudos.tv
FREE OPTIONS AVAILABLE? Yes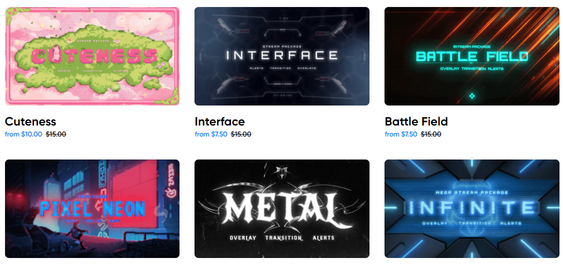 Kudos has a wide variety of themed graphic styles that will make a solid addition to any streamers channel. A majority of their offerings are in the form of stream packages where you get the whole shebang in a consistent theme.
You not only get the "starting soon" screen that you're after, but also a "stream ending" and even a matching BRB screen and offline banner.
Sample Kudos Starting Soon Screen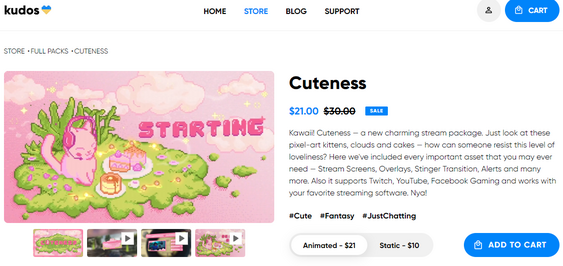 The Cuteness stream package from Kudos is a pixel art styled graphics package that comes with everything you need – starting soon screen included – to add a bit of fun to your channel.
There you have it! You've now got plenty of great options for getting a stream starting soon screen for your Twitch channel.
Let us know in the comments if you know of any other resources worth adding.