When you stream on Twitch, there are quite a few ways to make your channel stand out and showcase your personality. A cleverly designed Twitch BRB screen is the perfect opportunity to do just that.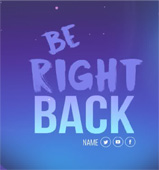 Without a doubt, graphics play a huge part in the branding of your stream and the impression it leaves on viewers (new and old). This is why many streamers, especially those who want to turn streaming into a livelihood or career, want their channel graphics to look unified and consistent.
It's true – a well-branded and visually pleasing channel will leave a better impression on new viewers, increasing their chances of coming back and growing your stream.
But what part does a Twitch BRB screen play in all of this?
Well, there are several reasons why BRB screens can be helpful. They help your channel look good and also help make streaming easier and more convenient for you.
Let's take a look at your top 7 options for getting your next BRB screen for your Twitch channel.
Fiverr
Free options available? No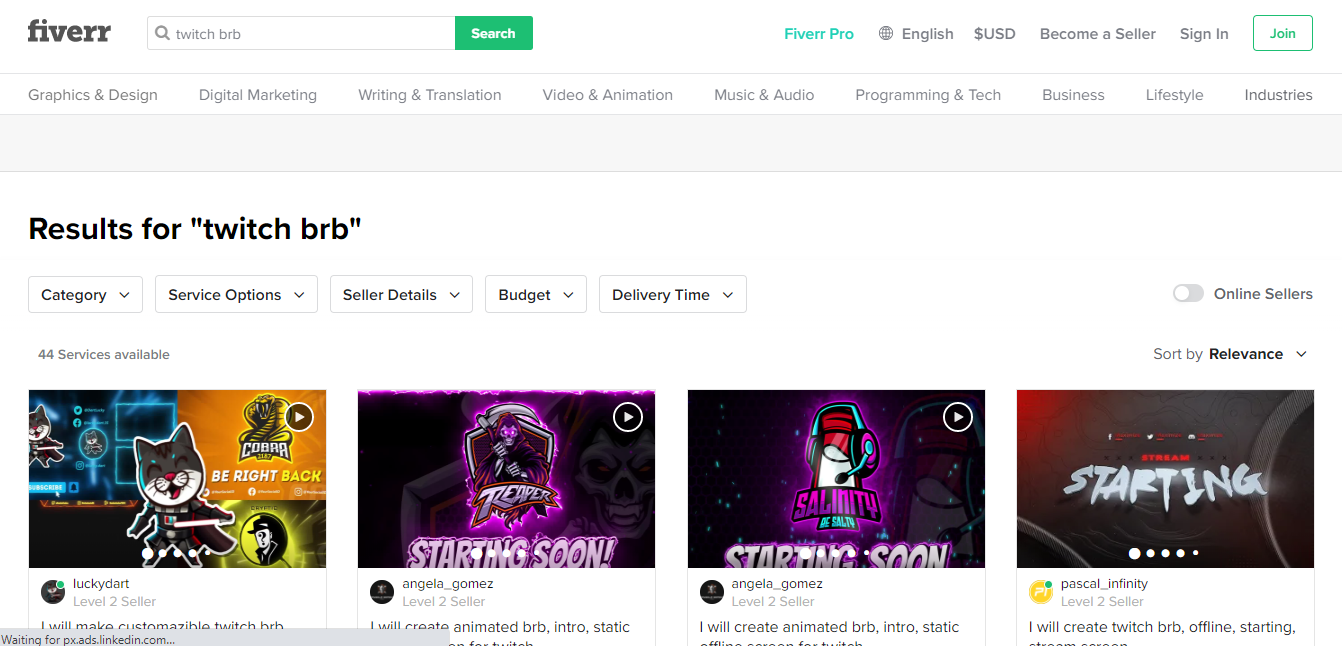 Fiverr is very well known as a resource for all sorts of things. Need a logo created? Fiverr has those available. Emotes? Yup, they've got them too. Overlays for your webcam, BRB screens, alerts, transitions, and more are all on Fiverr.
You won't be able to find any free content here since everyone has listed their gigs for specific prices. However, you'll likely find stream content at various prices, ranging from really affordable ($5) to rather pricey ($50 and up).
If you do decide to order something from Fiverr, it's always a good idea to check the seller's ratings and past work. Doing this will help give you peace of mind as it can prevent you from dealing with contractors that are less than ideal.
Streamplay
Free options available? Yes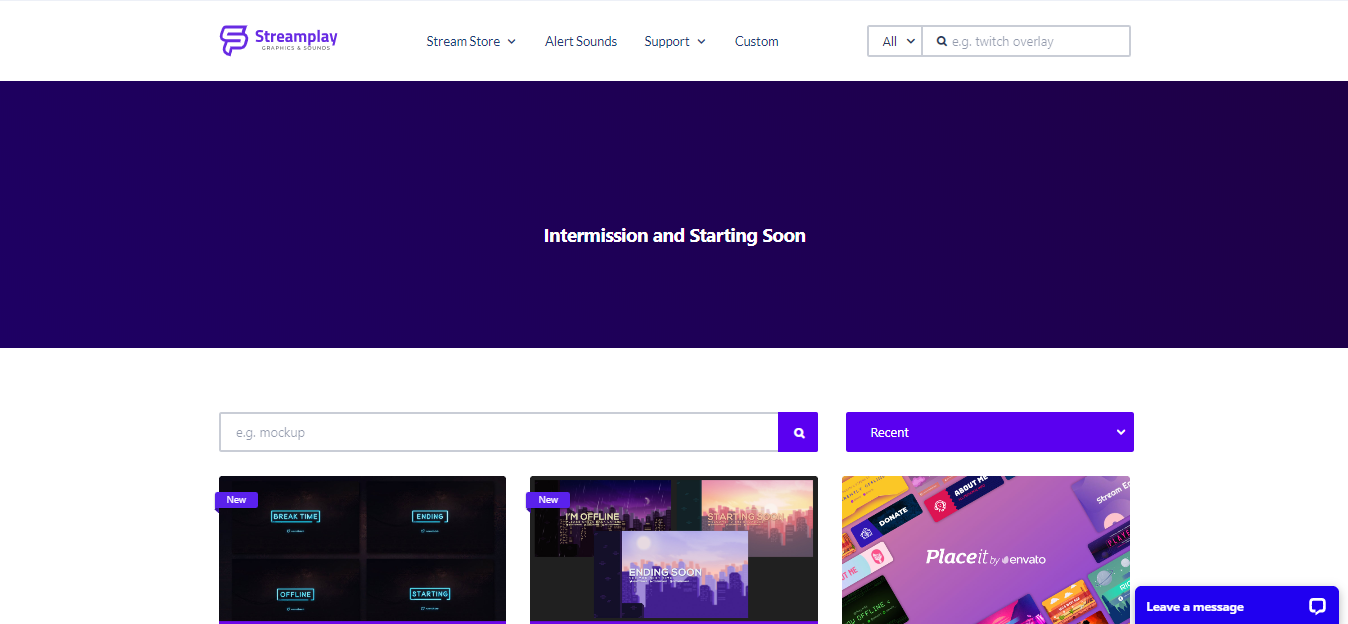 Streamplay.com is one of the most popular resources for stream graphics and overlays these days. Their streamlined website lists many thematic options that look and feel great for really affordable prices.
You can find literally everything you possibly need for your channel: alert sounds, Twitch overlays, stream packages, panel graphics, alert graphics, transition scenes, and more.
Prices are generally affordable for intermission screen setups, ranging from $3.99 to $9.99. The pricier BRB screens often have more features and more intensive designs and are often animated.
Purchasing from Streamplay.com gives you all the finished files and editable source files just in case you want to make some changes.
However, if you are unable to make the edits yourself, you can pay a small fee (ranging from one to ten dollars) for Streamplay.com to make the edits for you. All you have to do is tick the option "We Edit for You" as you add your choice to the cart.
Streamplay Sample BRB Screen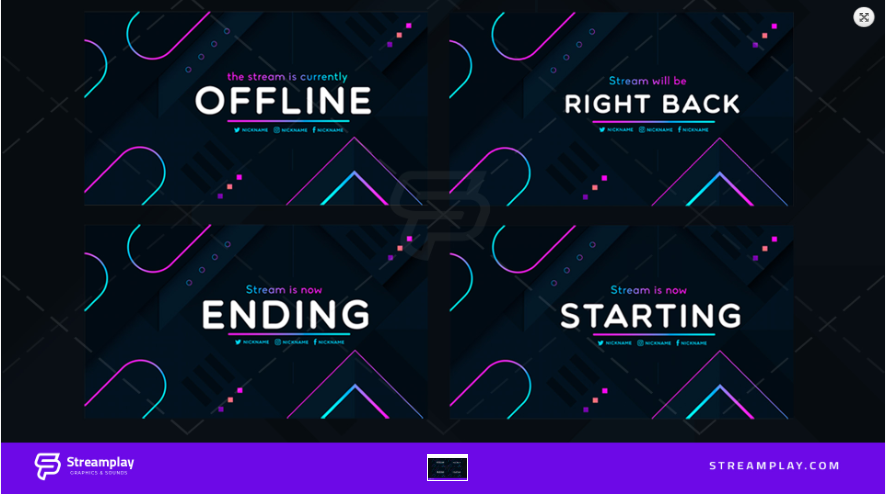 This Geometric Stream Scene set is an example of a beautiful pack of screens available from Streamplay.com. It comes with four scenes right off the bat, including a stream starting scene, helping you brand your channel easily.
On top of that, you can edit the scenes just in case you want to customize them further. The set costs $4.99, and if you want to get your graphics edited for you, you can pay the $6.99 "We Edit for You" price.
Nerd or Die
Free options available? Yes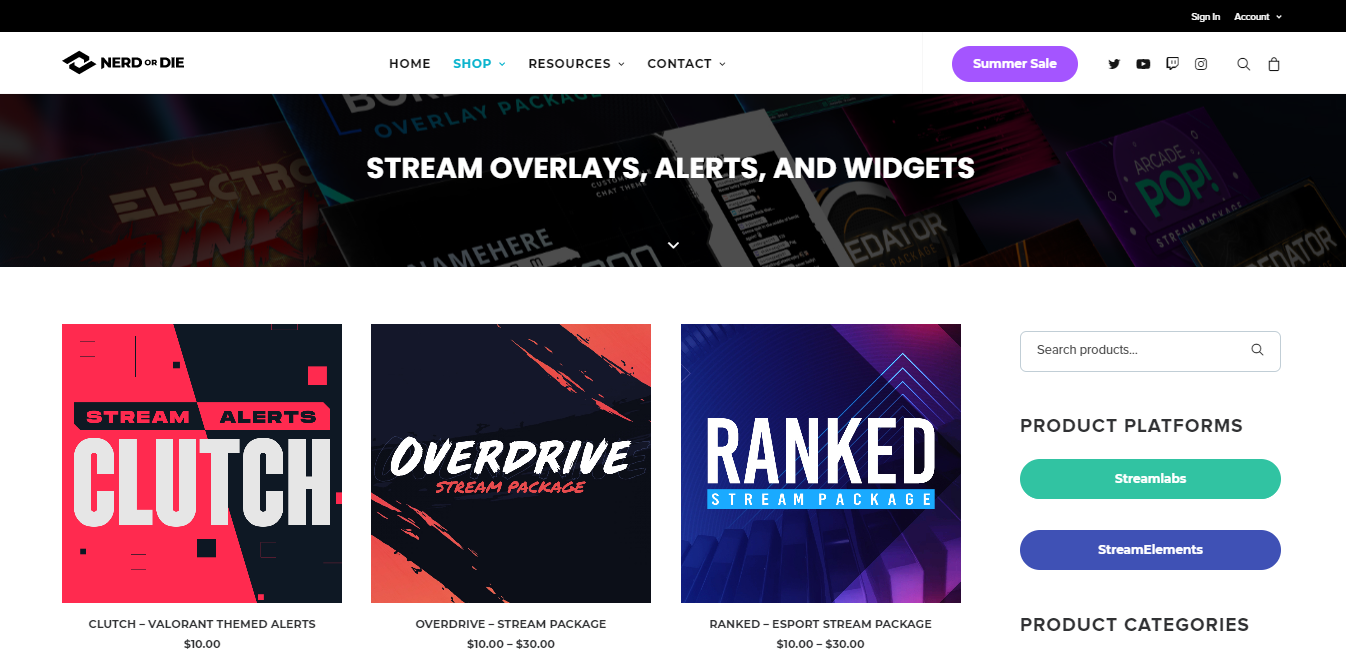 NerdorDie is one of the biggest names for Twitch and stream graphics resources. Their website is clean, simple, and easy to navigate, making it an absolute pleasure to shop.
On NerdorDie, you will find everything you need from Full Stream Packages to Overlays to Alerts and even sounds for Twitch alerts. Aside from the wonderfully designed graphics and resources, NerdorDie also stands out thanks to their free resources and overlay makers.
Another thing worth mentioning is that NoD.com also has full "Name Your Price" packages available. This means you can choose a package and offer as much or as little as you want.
Want to get the set for free? Offer $0 and get the download for free. Some packages have a minimum or starting amount you can offer, so look for the free ones if you don't want to spend any money.
NerdorDie.com Sample Twitch BRB Screen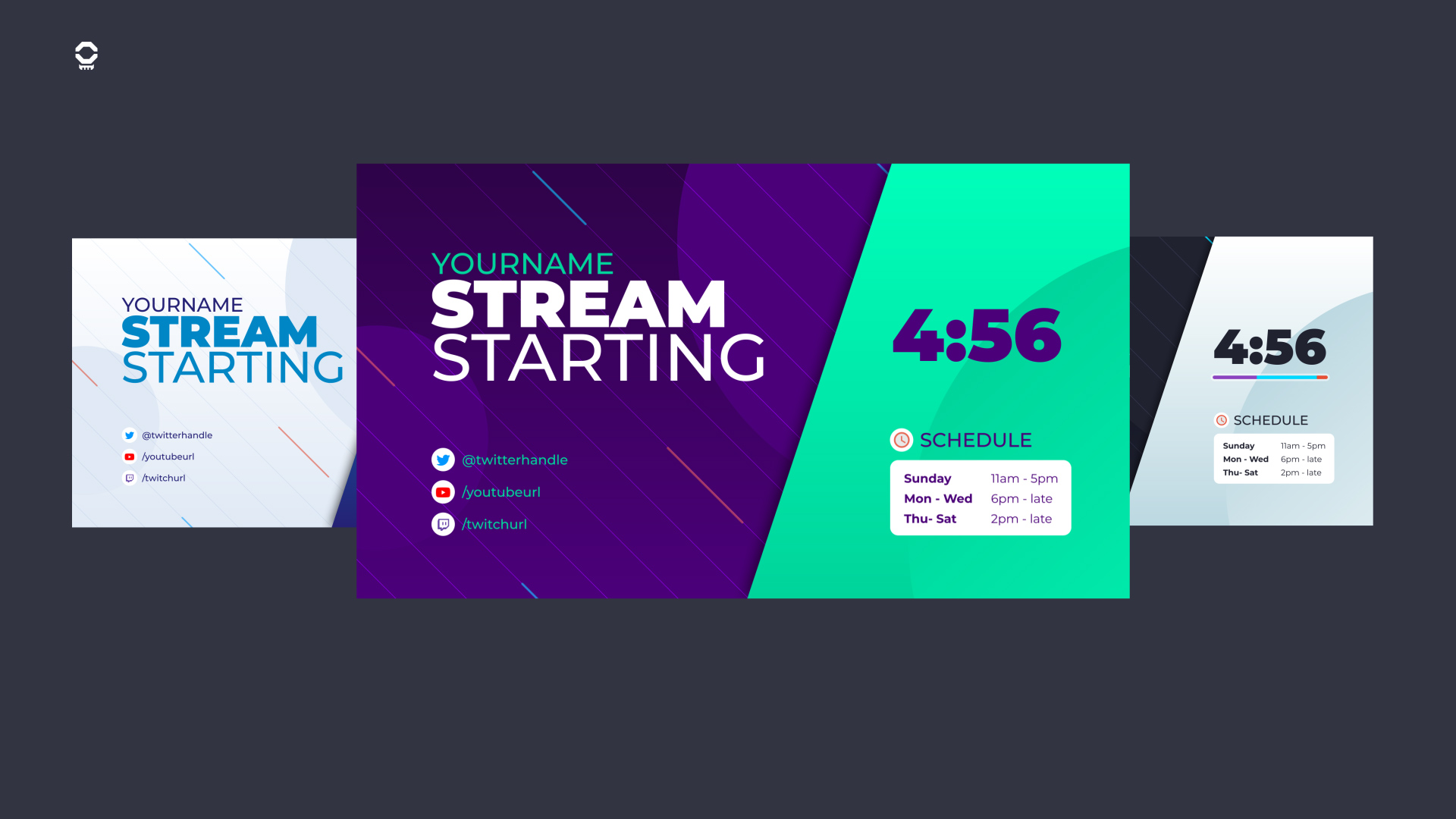 This Arcade Pop stream package is available for $40, although it sometimes goes on sale for $30. It includes everything you need from alerts to overlays and extras.
You can also purchase the pack with the corresponding source files to edit as you need. If you don't want the whole stream pack, you can buy things piecemeal for $10.
Own3d
Free options available? Yes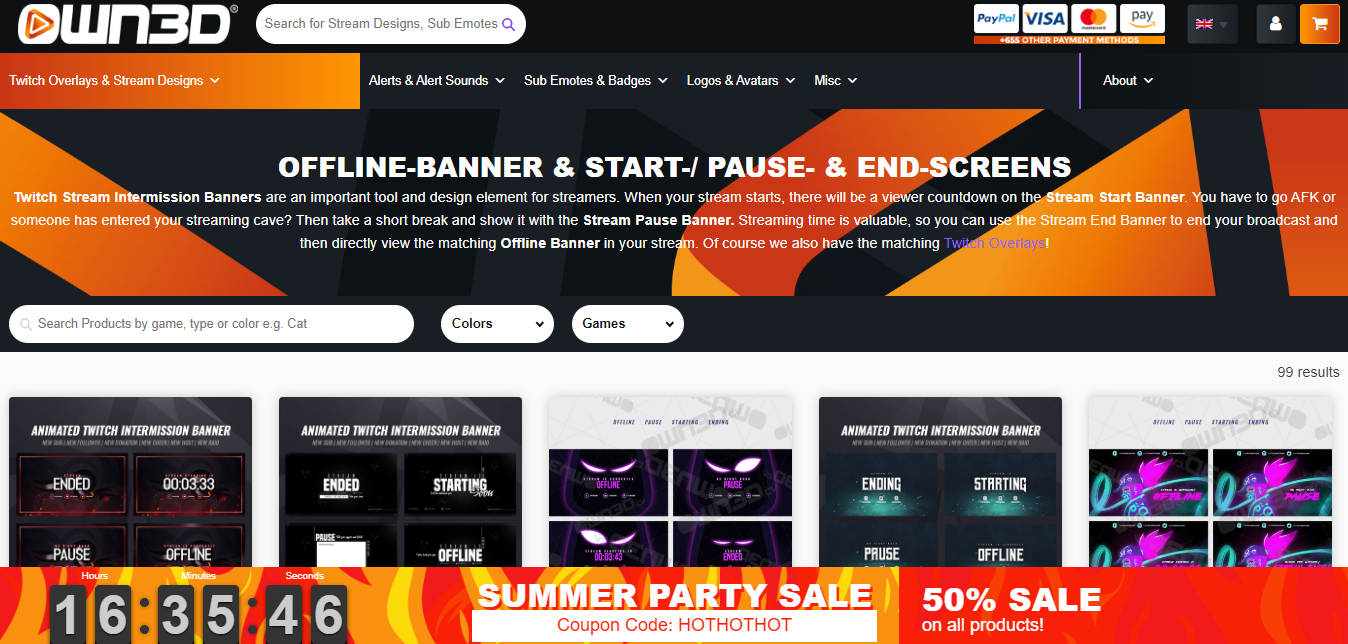 Another option for you is Own3d.tv, which quite honestly has tons of content available. Averaging 4.5 stars over 1,325 reviews on the website TrustPilot, Own3d is undoubtedly a trustworthy resource for your stream.
Although their website is not as clean and streamlined as others on this list, Own3d stands out for a few reasons. One, Own3d is very likely one of the only websites you will find that has everything for your stream. They have graphics, alerts and alert sounds, custom emotes, sub badges, logos, avatars, and more.
Shopping on this website is also incredibly convenient because they have over 650 payment methods available. This way, you can use whichever method works best for you.
Own3d has some free content; however, finding BRB screens might be difficult within the free offerings.
Sample Own3d BRB Screens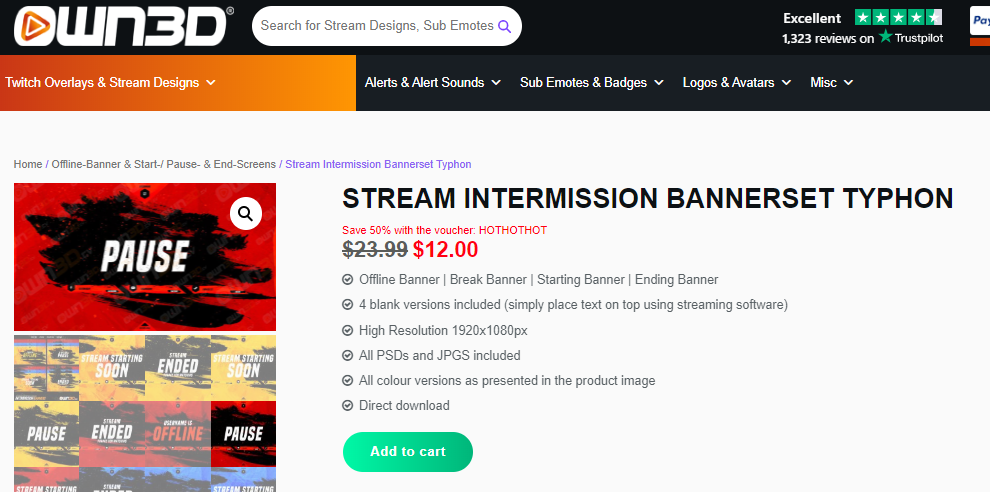 This Typhon Bannerset is a fantastic example of the type of graphics and Twitch BRB screens you can get on Own3d.tv.
TwitchOverlay.com
Free options available? Yes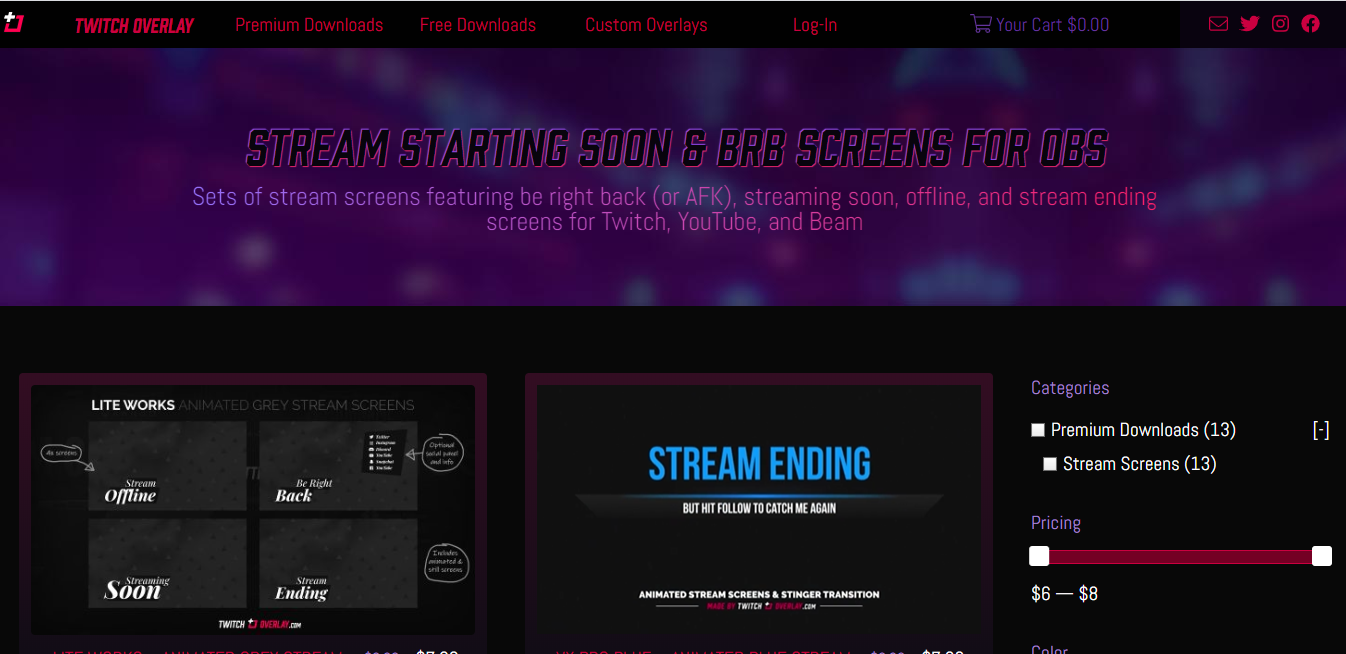 Twitchoverlay.com is a bit of a smaller website dedicated to making resources for Twitch streamers. Here they have static and animated scenes and channel graphics that you can use to brand your stream.
Prices are quite reasonable – you can even find packs of graphics for much less than $10. There aren't as many offerings here, and you won't find the graphics quite as complex or intricate as on some of the other websites mentioned.
Nevertheless, they have some charming designs that can help you brand your stream.
Another thing to mention is that Twitchoverlay.com has quite a few free options, which is fantastic if you don't have any cash to spare.
Sample TwitchOverlay.com BRB Screens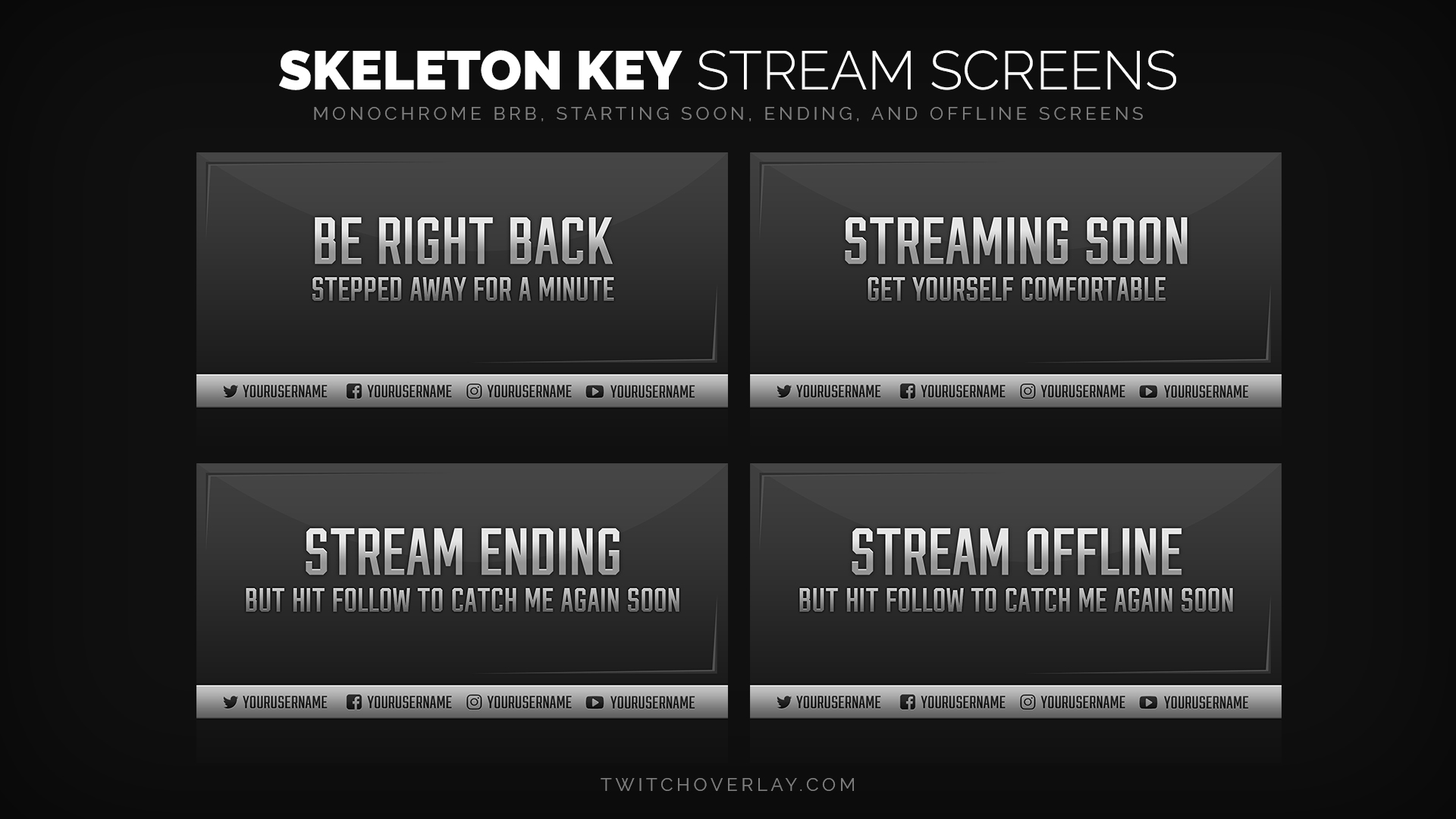 This Skeleton Key stream screen set is simple yet sleek. It's a set that includes a stream starting, Twitch BRB screen, stream ending, and stream offline screen.
Placeit
Free options available? Yes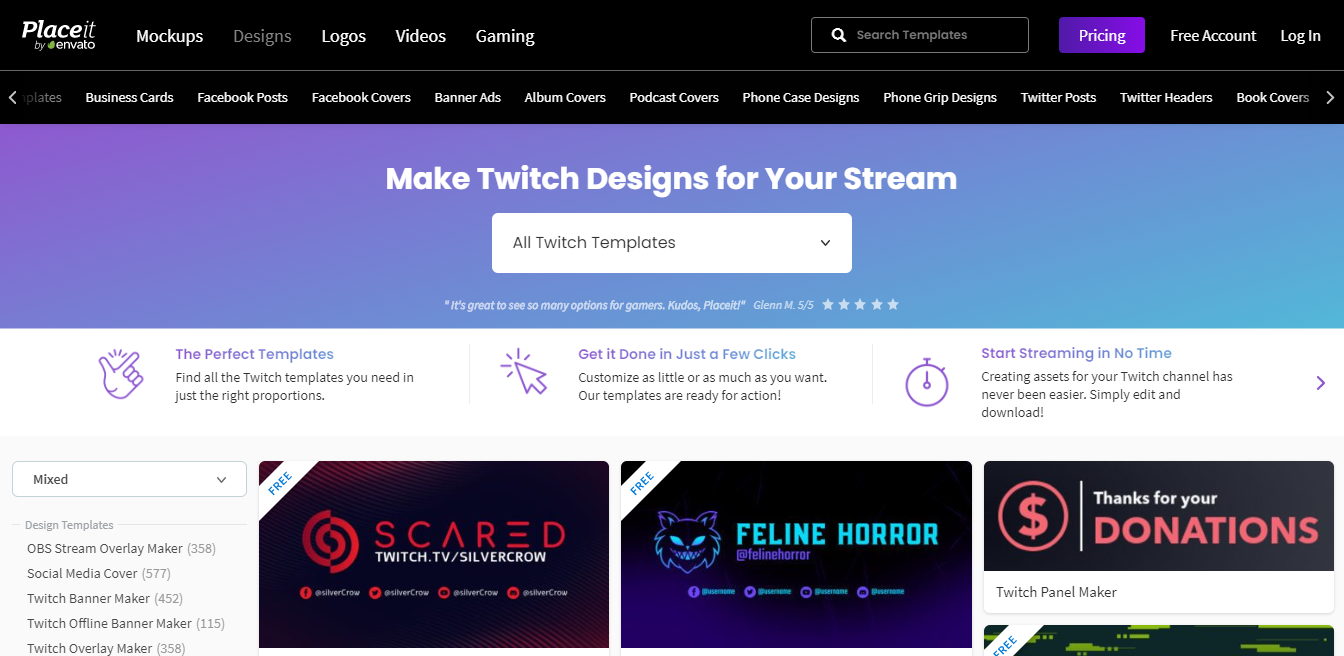 If you want to customize your Twitch graphics fully (without the need for any apps or editing software), then Placeit.net is the best choice for you.
Placeit is incredibly well known for being the website to go if you want to get customized designs (from templates) and various Print-on-Demand merchandise. Placeit also eventually added the ability to create custom streaming graphics, which is why they made it onto this list.
While there are some free options on Placeit.net, the best designs are, of course, the ones that cost a bit of money. Some free downloads leave the Placeit.net watermark on the graphic, which is not ideal if you want to make your stream look presentable.
Placeit.net has a unique model where you can purchase your customized graphics piecemeal for $2.95 each. Alternatively, you can subscribe for $14.95/month to get unlimited access to all of their designs. A yearly subscription is also available for $89.69.
Sample Placeit BRB Screens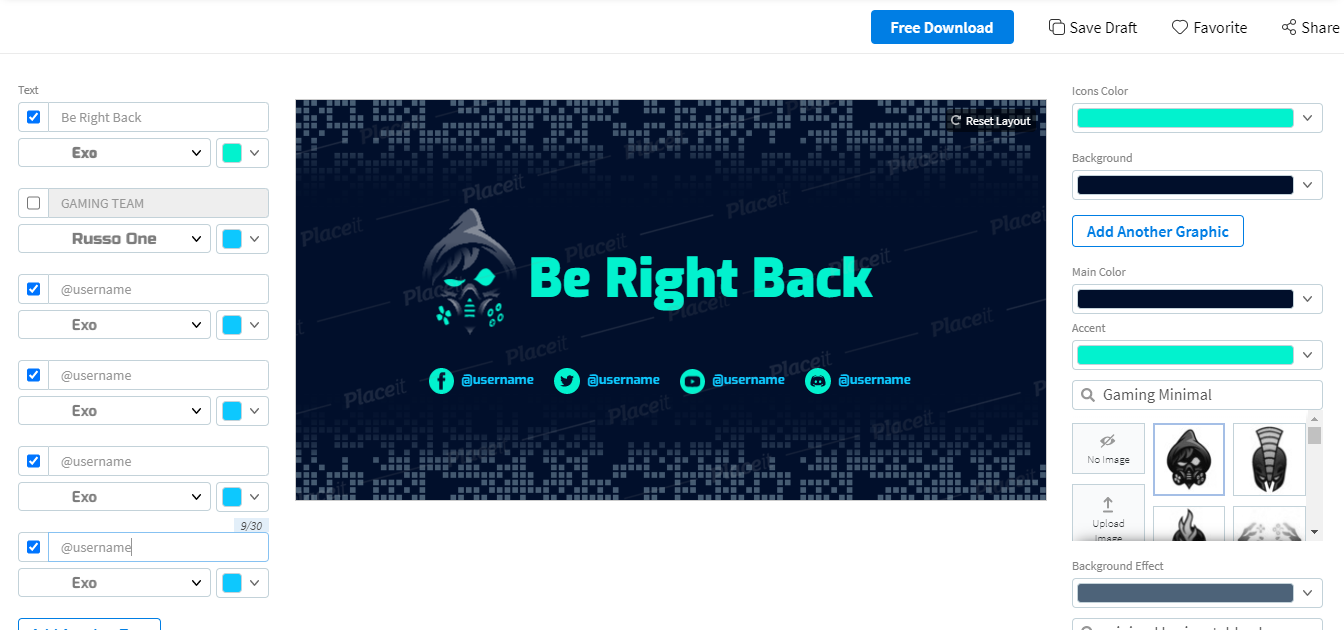 This pixel background screen is an excellent example of what you can customize on Placeit.net.
Visuals by Impulse
Free options available? Yes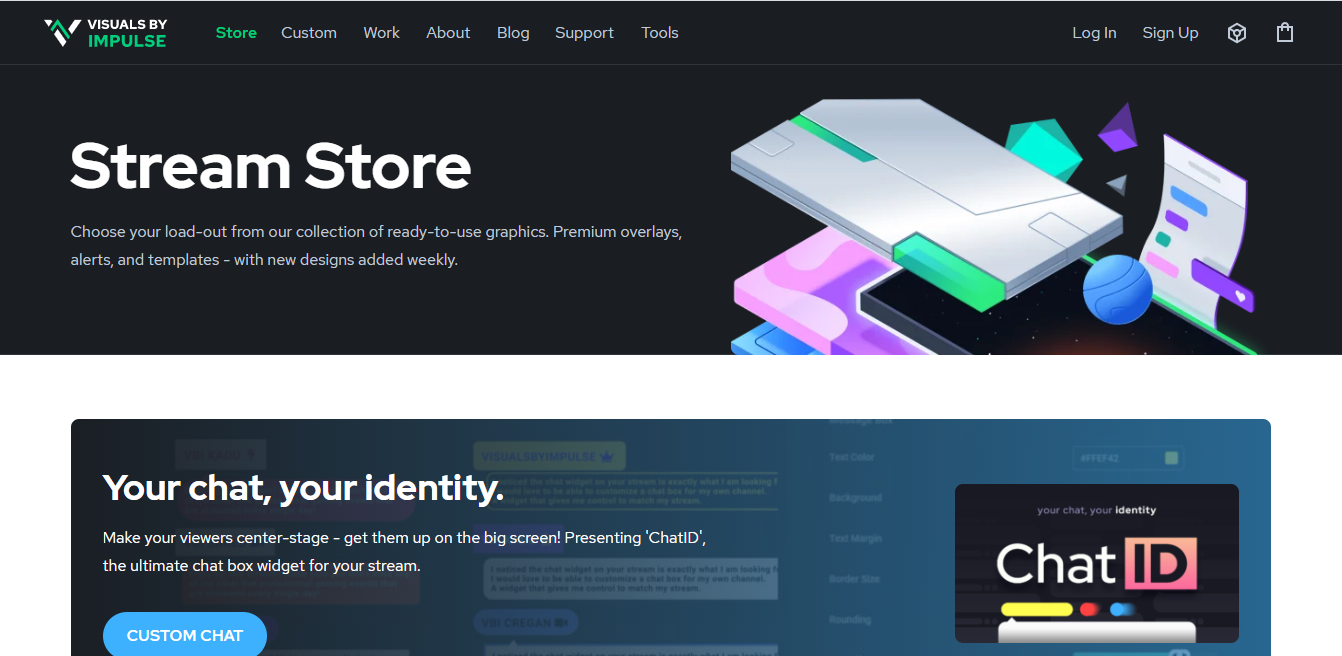 Visuals by Impulse is a company of gamers, streamers, and content creators who all know what streamers need. Theirs is a sleek website with beautifully designed and crafted stream resources to help make your stream look professional.
They have some free options available if you don't want to spend any cash. However, the best designs are, of course, the ones that cost a bit of money.
Stream packages on Visuals by Impulse are anywhere from $15 to $30. However, if you want a logo, you might have to be ready to pay a couple hundred bucks.
Sample Visuals by Impulse BRB Screens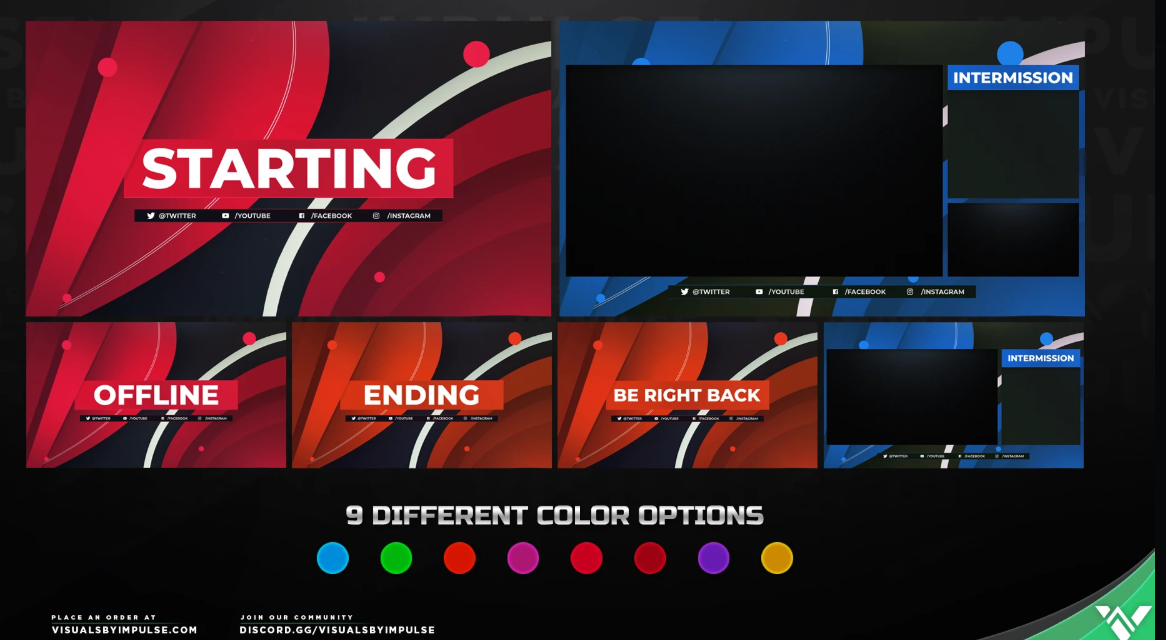 This Spectrum screen set is one of the fantastic offerings on Visuals by Impulse.
Kudos
Free options available? Yes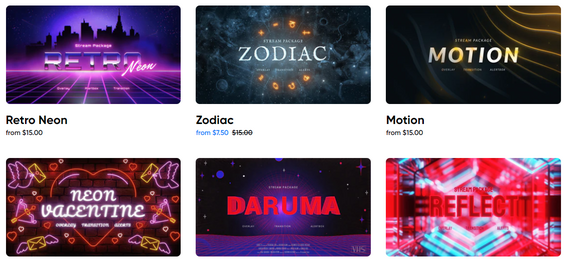 Kudos has a wide variety of styles to choose from when it comes to their stream packages. Each package comes with the necessities, BRB screen included!
Most of their products have an animated and static option with varying price points, so if you're just needing an intermission screen without any of the animated stuff you'll be able to save anywhere from $5-$15 bucks.
Kudos also has a few free stream packages available that come with matching BRB screens.
Sample Kudos BRB Screens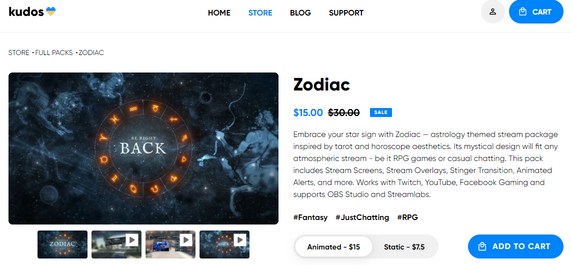 The Zodiac stream package from Kudos is a really cool astrology themed package inspired by tarot and horoscope aesthetics.
Why Use a Twitch BRB Screen?
While BRB or intermission screens aren't essential, you might still want to consider adding them to your production. After all, intermission screens help you by:
Allowing you to get up from your streaming and AFK without worrying what people can see in the background.
Letting you take a short break to gather yourself and un-tilt from a particularly frustrating game.
Making your stream look more streamlined and professional.
Allowing you to put announcements on the BRB/intermission screen so viewers can see it while you are away.
Helping to inform new viewers of who you are and what your stream is about.
Letting you display your social media handles and where else the viewers can find you.
If you're wondering where you can get some good Twitch BRB screen options, you'd be glad to know that there are tons of options.
Some are premium and cost a small amount of money, and others are absolutely free. You just need to know where to look! This article will help you find the best sources for your BRB screens.
Of these 8 options for BRB screens which one is your favorite?
Also feel free to leave a comment with other options you'd recommend that we haven't yet mentioned in this post.