So you want to visually improve your stream. Get some new artwork done, make your alerts on brand, and maybe even have a new model done if you're into Vtubing.
The only problem is you're not an artist. Like at all. So what now? Well, you have someone else do it, of course!
"But Streamsentials," I hear you say. "I've got like… five bucks. I can't get art done." Au contraire, mon petit papillon! (See Ms. Wiggins, I was paying attention in French.)
Fiverr is one of the most popular options for streamers looking to streamline getting graphics and other improvements done for their Twitch channels. You don't need to break the bank to improve your channel.
You can have high-quality work done on your channel at an affordable price using Fiverr. Let's look at what Fiverr is and how you can spice up your streams graphics with their services.
What is Fiverr?

Fiverr is the largest platform in the world for freelancers. With a nearly unlimited supply of different services, you can find the exact type of freelance work that you need to fit virtually any budget.
If you need art, you can get it here. If you want audio created, you can get it here. If you want videos professionally done to use for stingers or your channel intro, you can get it done with Fiverr.
The other great thing is that your budget will be met here. No matter what, you will be able to find somebody who can fit your budget. You can find a lot of artists who provide options for streamers, starting at $5.
It's almost as if that's where Fiverr got its name. You can also add on different options, extras or get your work done quicker if you've got a larger budget.
Types of Graphics Found on Fiverr

Logos
One of the most popular uses for Twitch streamers when it comes to Fiverr is getting your logo done. Your logo will be the cornerstone of your channel and your Twitch brand.
So you want to make sure that you have something that looks good. You can get excellent work done on Fiverr, and it's a great way to get a head start on your channel's brand.
Emotes
You know, your Twitch emotes say a lot about your channel. They're also the most popular way for your community to interact with you, and to show off some inside jokes or help shape the culture of your channel.
If you're ever stuck on ideas, we have a great article on Twitch emote ideas here to help you out.
Overlays
Overlays are a great way to dress your stream up. You can use it to highlight chat, lean into the theme of your streams, and just look cool.
Overlays are not as talked about when it comes to having art done, but they are super important. You'll typically pay a little more for these, but it's always worth it.
Banners & Screens (brb, starting soon, intermission, stream ending, offline)
The devil is in the details, and your offline banners, screens, and bumpers are a huge part of that. When using Fiverr, you'll usually be able to have a bundle deal of sorts.
You might pay $5 for a single banner and $15 for five banners. You can also try to get them animated or have variants created for different themed streams.
Alerts
When somebody follows you, subscribes to your channel, or donates, you want to show your appreciation and have them see the effort that you're putting into your stream.
Having custom alerts is a great way to do that. You can do a short animation, have a themed image done, or you could have unique alert sounds played that you commissioned.
Panels
Twitch panels are one of the few ways to communicate with your audience directly. You'll be able to tell them about your throne, direct them to social media, and again make them see what your stream is all about.
This is another type of Fiverr deal that will typically do a lot more for less if you get a larger order together. You might be able to save 20 to 30% per panel by doing a larger order.
Why Use Fiverr for Your Stream Graphics?
The biggest reason why you would want to use something like Fiverr for your graphics is that there are so many different options available. You can see the work that somebody has done right in front of you on their store page.
Additionally, because the sellers have to go through a verification process, if something goes awry, you have Fiverr there to mediate for you.
There are other services available for you to pursue when it comes to hiring an artist. But there aren't any options that offer such a wide variety of freelancers, a vast network of styles, and a significant degree of flexibility for pricing as on Fiverr.
Fiverr vs. Designing Graphics Yourself (DIY)
It can be tempting just to say, "I'm going to do this all by myself!" You might feel like you have to do it yourself because you've seen other streamers do it themselves. You aren't them. They aren't you.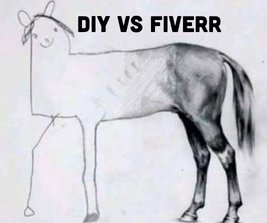 You might not be able to provide as high-quality work as you need to have. That's okay. You might not have the time to put into creating the assets that you want. And that is okay.
You might want something that looks and feels premium. That is okay! You might not have any time to work on these things, but you do have $20 kicking around that you can use to improve your stream.
You might have just gotten your first paycheck from Twitch, and you want to reinvest in yourself. Here you go! Here's your opportunity.
How to Use Fiverr to Buy Graphics for Your Stream
Using Fiverr to buy graphics for your stream is super easy. But we're still going to make sure that we break it down for you so that you can hop into their website and get started straight away!

Login to or register your Fiverr Account.
Search for the type of graphics that you want to use.
Use their filtering options to make sure that you're in the right category, have the right seller, and tailor things to your budget.
Browse the hundreds of different options you have for somebody that meets your criteria and has good reviews.
Review their portfolio and see what options are available with their pricing structure.
(Optional but recommended) Contact the seller and see if your project would be a good fit.
Set up your order and let them know precisely what you need!
5 Tips for Finding the Best Designers on Fiverr
Because anybody can get started on Fiverr, you'll run into some freelancers who might not be a good fit for you. So the best thing that you can do is make sure that you filter out the artists that would be a bad fit for you.
1. Use the Filters
With the filter, you can make sure that you're working with somebody who specializes in your specific need. You can also see where a seller is located or if they speak your language.


You might want somebody who is only top-rated, or you want to work with somebody newer because you think you can get a good deal.
2. Check Reviews
Reviews are going to be your best friend. People on Fiverr are honest about their experiences. It is unlikely for somebody to be highly-rated if their work is not up to snuff.
You will very quickly weed out designers who are unresponsive, don't take directions, or just aren't skilled enough for your needs.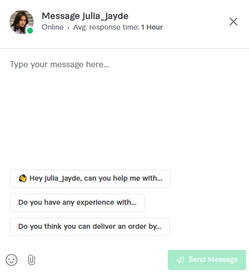 3. Message Designers Before Buying
It's always a good idea to message the seller before you contact them. They might not be able to take on many new projects because they're very busy. They might not think that they are a good fit for your needs.
They might tell you that they just don't want to work on your project. It's better to find out ahead of time than it is after you've already paid.
4. Look Through the Designer's Previous Work
This one might seem silly, but it needs to be said. Make sure that their style and the skill that they show are what you want.
Typically artists don't want to work outside of a certain design set, so you'll want somebody who matches what you're looking for.
5. Look for New Artists
Sometimes you can find high-quality designers for cheap if they are new to Fiverr (they'll offer cheaper work to start building up reviews before increasing their prices).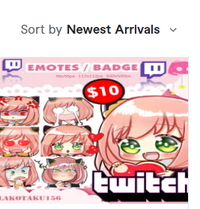 I mentioned it earlier, but I'm going to say it more explicitly. A great way to find rising talent who provides fantastic work is to sort by Newest Arrivals.
Somebody might have a lower price because they aren't as well established, and you'll be able to get work that is incredibly high quality for a really low price.
This isn't me saying that you should take advantage of these artists. I'm simply saying that you might find a good deal.
---
And there you have it, Fiverr is a great way to get fantastic graphics done for your Twitch channel at an affordable price.
You can get a lot of great work done quickly, see a huge variety of artists only a few clicks away, and you can make sure that you're not going to break the bank getting what you want.