If you're looking for a way to crop your webcam in OBS Studio (or any image), then you've come to the right place.
In this short guide, I'll be showing you how to crop in OBS Studio so you can make sure everything fits perfectly on your stream.
Here's a video guide if you're more of a visual learner:
There are two ways to go about cropping the windows capture in OBS; one being faster, and the other still pretty fast but gives you more precise cropping opportunities.
Let's start with the fastest method:
OBS Alt Cropping (Easiest and Fastest)
The fastest way to crop in OBS Studio is by using the Alt method. Here's how it works:
Have your webcam or other overlay image source selected in OBS, then simply press and hold your Alt key on the keyboard, then left-click and hold your mouse button on one of the red circles that appear around your source in the preview window and drag in the direction you want to crop.
Alt + Left-Click + Drag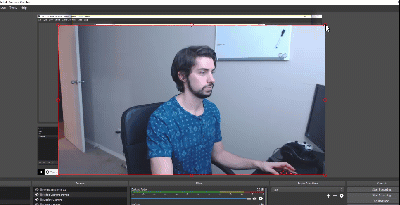 Edit Transform Cropping (Easy and Precise)
Another way to crop your webcam in OBS is to use the Edit Transform option, found in the Transform option when you right-click on your Source. This can help with getting the perfect fit around your cam overlay.
So select the source you're wanting to crop, then right-click on the image in the preview window or the Source found under the Sources box, then mouse over Transform, then left-click on the Edit Transform option that pops up (CTR+E for a shortcut).

Once you're in the Edit Transform settings window, look near the bottom and you'll see a Crop setting with four different options; Left, Right, Top, Bottom.
Now you can either input numbers into these boxes, or click on the up and down arrows to precisely crop your webcam.
Crop Complete
That's it! You now know how to crop your webcam in OBS Studio. If you have any questions, please drop them in the comments below.
Consider a Green Screen
If you're trying to crop some unwanted mess in the background of your streaming room, then using a green screen can help solve that issue, while giving your stream a professional look.
We've put together a quick green screens for streaming guide here if you wanna do a little bit of research.