With the new decade coming in strong, we thought it'd be a good idea to share an up-to-date guide on all of the important Twitch image sizes for your channel.
The graphic dimensions we'll go over are Twitch panels, profile banners, offline screens, profile pictures and thumbnail recommended sizes.
Twitch Panels Size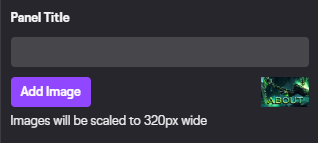 Your Twitch panels are one of the few images that have viable, varied options for sizing. While we recommend 320 x 100 pixels, anything from 320 x 75 to 320 x 600 pixels will fit into your description. The files must be under 2.9 MB to fit.
Don't be afraid to mess around with different height dimensions. The only thing we highly recommend is to make sure all of your panels are identically sized, unless it is intentional. Sometimes you really want something to pop!
Twitch Profile Banner Size


Your Twitch profile banner is a little different from last year. Now, the recommended size is 1200 x 480 pixels to accommodate the recent changes Twitch has been making to their UI. The max size is 10 MB.
Your profile banner is a chance to make a first impression before anyone even experiences your stream. Make sure you find a graphic that fits your content and demographic! Plus, this is an awesome place to remind visitors about your social media and other areas of contact.
Twitch Offline Banner Size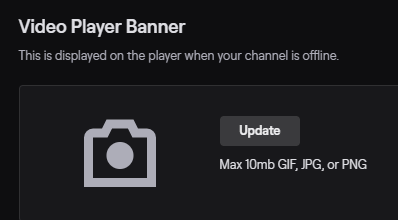 Your Twitch offline banner is where your viewers will be directed when you're offline. We recommend 1920 x 1080 pixels to insure the best quality. You'll see options of previous VODs here, so this place is just as important as your stream. The max size is 10 MB.
You'll want something with your information and a snapshot of your personality. We suggest something that pops, like fan art or something unique!
Twitch Profile Picture Size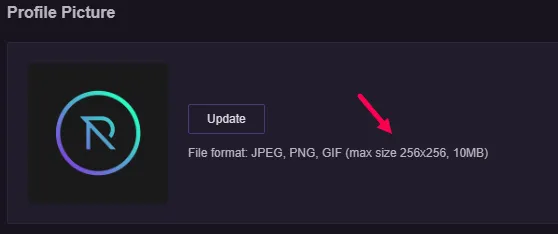 Like most profile pictures, 256 x 256 pixels is the standard 1:1 ratio square icon. It can fit pretty much anywhere it is needed. The max size is 10 MB.
Your Twitch profile picture is the best place to put a logo or brand symbol, or just something that you like! Since this image will be visible to your followers on their Followed Channels tab, it's important to make sure you have a graphic that's consistent with your brand so your twitch channel is easily recognizable.
Twitch Thumbnail Size

You'll want to make sure your VOD thumbnails are 1280 x 720 pixels. This is to insure the best quality for the size, since most of the time your thumbnail will be compacted down. The max size is 10 MB.
While there are plenty of default thumbnails which are still shots from your VOD, you can always upload a custom one if you're up to it. This is a great place to focus on if you're a VOD heavy streamer.
And there you have it! A compact guide for understanding all the essentials about your image sizes for Twitch.
Follow this guide and you'll have no problem setting up or updating your profile. Make sure you re-visit your profile banner and see if you can use the extra space well!