The Best 6 Stream Deck Alternatives
The Elgato Stream Deck is a great addition to any streamers setup. It's easy to use customizable control pad that can be used to bring up images and animations, send out alerts, messages, launching media and so much more.
The Elgato Stream Deck is compatible with Elgato Game Capture, OBS, Twitch, Twitter and TipeeeStream on both Windows 10 and macOS 10.11 and beyond.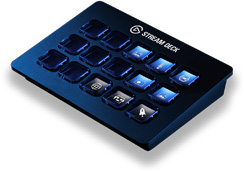 Powered by USB 2.0, the Elgato Stream Deck is the perfect companion for streamers that allows them to interact with their system and their audience without stealing the focus from their game.
While the stream deck is an excellent tool for streamers, it's simply not for everyone. The high price tag is enough to lure away the streamers that just started streaming on Twitch or YouTube.
Thankfully, we've comprised an extensive list of stream deck alternatives to help you get the most out of your streaming set-up even if you're working on a tight budget.
1. The DIY Method
If you strip off the fancy LED switches, the Stream Deck is basically a just a customizable keypad. A Reddit user decoded this and made his own stream deck alternative with an external number pad like this one and a key remapper software.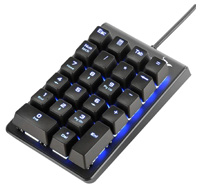 The whole thing can be assembled under $15, with the only essential item being the num pad and a free key remapping software.
The original poster recommended Antsoft's Key Remapper for its intuitive navigation, but since it's a paid software, any other free key remapping software can be used for the same purpose.
We recommended assigning 'F13', 'F14' on the external number pad so keys won't interfere with your main keyboard functions. Then assign the the 'F13' and above keys to the specific functions, such as launching the chat, sending out animations on Youtube and so on.
A minor drawback of the DIY method is that you'll need to memorize the keys and the functions assigned to it. A simple way around it is to replace the original keys on the number pad with custom keys. A set of transparent keycaps will cost you about $7.
Slap on an icon pack from Nerd or Die under the transparent keycaps and you shall have the exact set of keys as you'd find on a vanilla stream deck equivalent.
Alternatively, you can also print custom stickers that you can simply stick on top on the existing keys. The alternate method will save a few bucks and allow some space for customization.

The insane affordability comes at its own cost, ironically. For starters, configuring the buttons and then assigning them to perform custom functions will take a lot of time.
So the initial set-up will be quite long, especially if you go down the custom key route. Let's not forget the fact that the aesthetics of an external number pad can never come at par with LCD screens.
2. Elgato Stream Deck Mini
The Elgato Stream Deck Mini is everything you love about the Stream Deck in a small and affordable package. Instead of fifteen programmable LCD buttons, you'll have to compromise for six.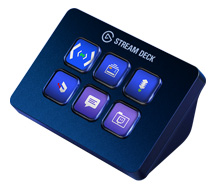 You'll be able to create folders and streamline the commands so you don't have to sort through any fuss while streaming. The LCD buttons provide infinite customizability and the easy to use Elgato interface is a blessing.
While you're compromising nine keys, you have to pay only a small fraction of the price as compared to the full-scale version. So if you're looking for a cheap stream deck alternative, the mini version could be your best option.
It's an amazing starting point if your streaming channel is picking up some heat. If you choose to upgrade the fifteen key model down the road, then you'll be able to pair the two together, essentially lending 21 customizable LCD keys at your disposal.
Sure, the twenty-one keys may be overkill but more is always better than less.
However, it's not all sunshine and rainbows. For starters, six buttons are quite limiting and, for most streamers, just not enough. Theoretically, you can sort the commands and functions into folders accessed by particular buttons.
However, in real-life terms it's practicality is limited. The LCD buttons take a moment to animate while you're flying through the folders which may cause a delay while streaming.
While the full-fledged Stream Deck ships with a tilt stand that you can adjust as per your preferences, the mini has no such function. It's fixed on your desk, that too at an awkward angle for most people.
3. Mobile Apps
A plethora of mobile apps is available that serve the same purpose as a Stream Deck by converting your mobile phone into a control panel. Here are our top picks for mobile alternatives for the Stream Deck.
Matric App
Available on Android devices, the Matric App turns your smartphone into a media deck. The app has native supports for OBS studio.
The simple yet effective Windows app allows you to customize decks as well as create multiple decks for different situations. Unfortunately, neither the client nor the server app is available for Apple devices.
Macro Deck

The Macro Deck is a simple, easy to use but less efficient alternative to Matric. The app turns your mobile into a deck, but the customizability is limited.
On the other hand, since the customizability is limited, it's easy to configure and set-up the app. Macro deck server is available for Windows and the client app can be found on Google Play Store.
Up Deck

Up Deck is a free, highly customizable alternative that is compatible only with OBS. The app is available both on Android and iOS devices and you don't need to install any server app on your PC.
All you need is OBS Studio and you're ready to roll with Up Deck. Originally, Up Deck was made for tablets in order to use the extra screen space but it works just fine on most of the phones as well.
Deck Board

Deck Board's focus is an easy to navigate and customizable system. A native OBS support paired along with Twitch support can be found here.
The free version of the app is limited to 12 buttons, while the paid version gives you access to 30. Unfortunately, Deck Board is not available on Apple devices.
Touch Portal

Touch Portal is a free to use stream deck alternative available on Windows, Mac, Android and iOS devices. Native support for OBS and Soundpad are the highlights here.
The free version has pretty much everything you need. The paid version opens the doorway to 110 buttons, which is honestly just overkill on a mobile device.
4. StreamPuppy
StreamPuppy is an app built for Twitch streamers in mind. The server app is available exclusively for Windows, while the client app can be downloaded on Android as well as Apple devices.
It's got pretty much everything a Twitch streamer needs, laid out in an easy to use format. Chat-Activated Button Triggers, Voice-Activated Triggers, Stream-Event Triggers and Stream Clip Button are a few to mention.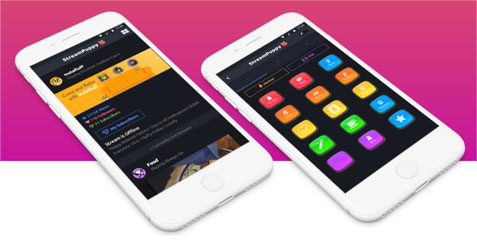 The app is linked with your Twitch account and your preferences are stored on the cloud, you don't need to set it up again if you're switching PCs.
Customizing the app is a child's play, simply create a hotkey via the app the configure the same in the Windows app.
The free version of the app has pretty much all the features you'd need, but you're limited to a minuscule 6 buttons. If you upgrade to the streamer version, which costs $39.99, you get access to 45 configurable buttons laid across 3 pages, which is still quite cheap when comparing the stream deck price.
5. Stream Deck Mobile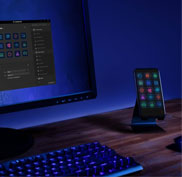 The Stream Deck Mobile mobile lends you the complete functionality of the Elgato stream deck without investing in any hardware. We're talking about a fully customizable fifteen key set-up with the same server software that Elgato offers with its hardware.
So the customizability is the easiest on the market. The app is free to download but limited to a 30-day free trial. Following the expiry of trial, you'll have to pay $2.99 per month or $24.99 per year to use Stream Deck Mobile. Unfortunately, there is no lifetime license.
The phone is connected with the app on the local network and works wirelessly. Siri is supported on Apple devices, so you don't even need to touch your control panel to get your chat bot to do the work for you.
While the app works flawlessly on Apple devices, there have been a few complications with the Android version. Users reported that the app lost connection with the PC as soon as their phone went into sleep mode.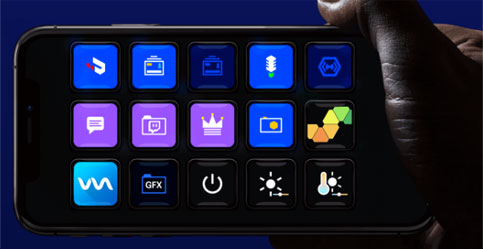 The loss of connection was followed by the disappearance of buttons, leading the users to reconfigure the whole thing from scratch.
A simple workaround is to put your Android device in 'Never Sleep' mode. However, that's not a long term solution and we hope that the developer will soon fix the problem.
6. Streamlabs Deck
Streamlabs is technically a full-blown broadcasting and streaming app for your mobile phone, but if you're using the Streamlabs OBS on PC, then the Streamlabs Deck app can be used as a remote controller similar to the Stream Deck. The app is easy to use but offers limited usability.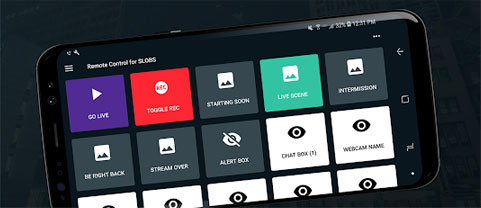 For starters, if you're using any other OBS than Streamlabs, this app is virtually useless for you.
If you're using Streamlabs OBS, the remote app allows you to switch between scenes, like your starting soon screen for example, start and stop streaming as well as recording, hide and show sources and play and mute audio.
Unfortunately, you can't use its launch animations, send alerts or do any custom function. The mobile app is not quite customizable either.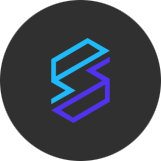 There you have it! The best Stream Deck alternatives for streamers looking to save a bit of money, while still being able to use many of the same features and functions that the Stream Deck provides.
Got any other suggestions to use instead of a Stream Deck? Let us know in the comments. 🙂