As a streamer, there are a few things that you can do to improve your stream or Twitch channel for current and future viewers. Whether or not you take streaming "seriously," Twitch panels are a great way to welcome people into your domain.
There are many reasons why panels are important—for one, they help to make your stream look great by providing it with a cohesive "look." On top of that, Twitch panels also help to answer many common questions that your viewers may have.
You can also use panels to showcase any information you would like to share about yourself, alongside any benefits people may have for following/subscribing. Panels are also a great way to post up common chatbot commands, as well as thank any supporters you have. And so you see—Twitch panels can make a huge difference when people are visiting your channel for the first time.
Where to Get Twitch Panels?
If you aren't quite sure how or where to get started getting your panels, this guide will let you know some of the best resources available to you. Some of these sources have free Twitch panels, while others have premium sets you have to buy.
There are also some websites that let you customize your panels, both premium and free. Take a look at this list below to see which website is best for you!
And if you're stuck on how to design your panels, try these Twitch panel ideas.
Fiverr.com
FREE PANELS AVAILABLE? No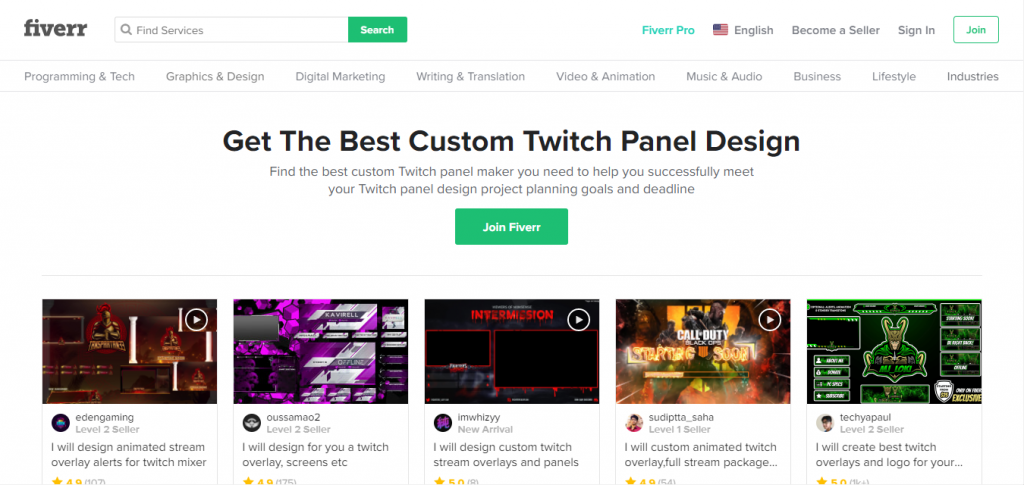 No list of Twitch Panels resources would be complete without an honorable mention of Fiverr.com. Here, you can enlist one of the many contractors to create panels exactly to your specifications.
That way, you can have your stream exactly how you want it. Prices may vary, and when you order from any contractor you have to take a good look at their delivery times. That way, you don't end up waiting too long if you are in a rush.
This website is great if you want custom panels for relatively affordable prices. However, know that when you purchase from Fiverr you must always look at their previous ratings and their samples. Otherwise, you might end up with a subpar contractor!
NerdorDie.com
FREE PANELS AVAILABLE? Yes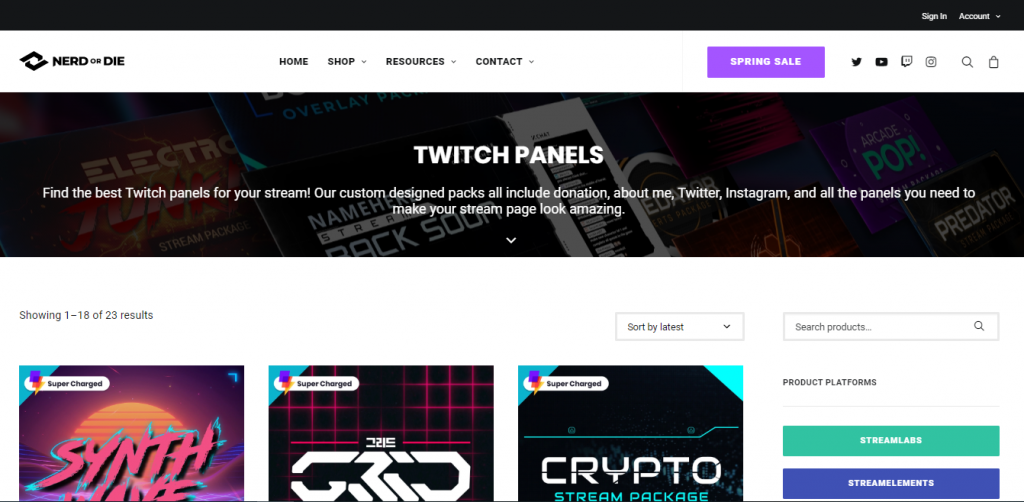 NerdorDie.com is an extremely popular resource where many streamers get their channel graphics and overlays. Here, you can find graphics for any platform you stream on, whether it is Twitch, Mixer, Youtube, or Facebook. According to NoD, they have helped more than 2 million streamers improve their streams—and their testimonials are full of happy customers.
On this website, you can purchase Twitch Panels in themed sets. You would generally have to purchase a stream package costing $30, though these packages include everything you will need from overlays to alerts to panels!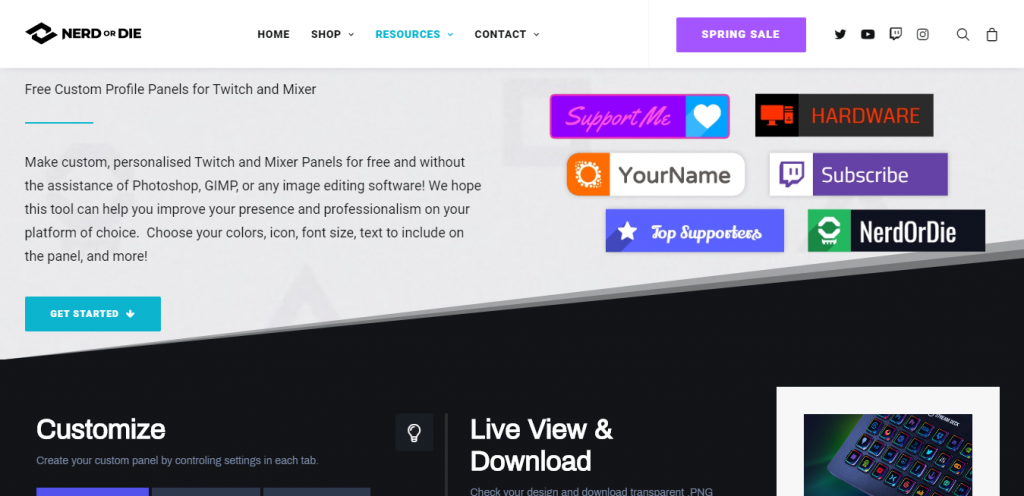 What makes NerdorDie stand out from the rest, however, is the fact that they have plenty of free resources that can be invaluable for new or small streamers. On this website, you will find many tutorials to help you set up your stream, alongside plenty of free graphics you can use until you are ready to invest money into premium options.
The best part is the fact that you can create your own Twitch panels through their Free Twitch Panel Maker, which allows you to customize your panels to a certain degree.
Sample NerdorDie Twitch Panels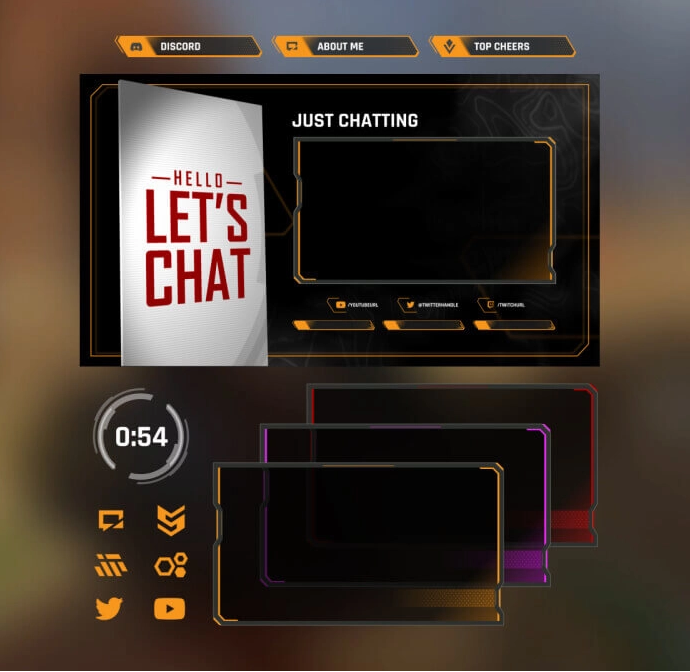 NerdorDie has plenty of stream packages, such as the Predator package which contains literally everything you want or need. You can purchase parts of it piecemeal, or buy everything including the source files so that you can start making changes if you need to.
Own3d.tv
FREE PANELS AVAILABLE? No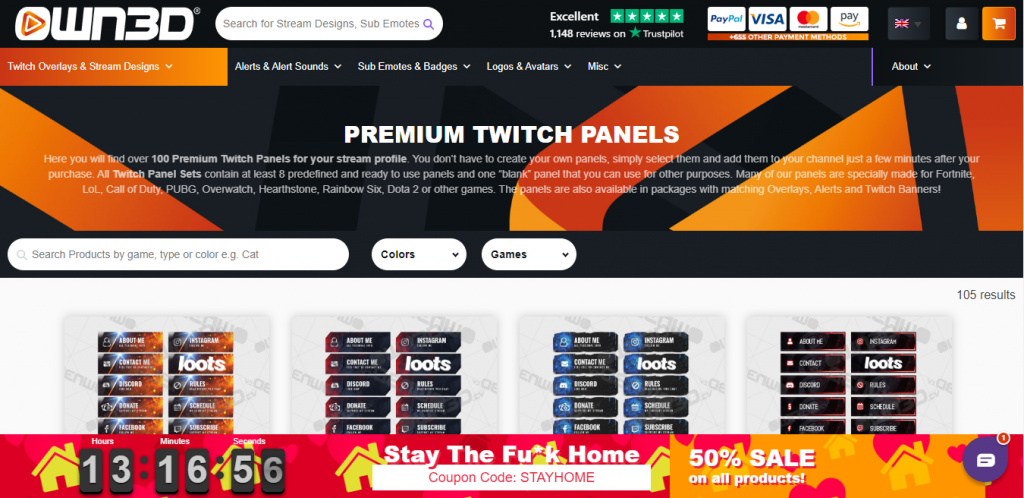 Another website where you can get some of the best Twitch Panels is Own3d.tv, which again is a popular resource for Twitch Streamers. On this website, you can find over 100 different sets of Twitch panels you can purchase for your own stream. Many different styles and colorways are available, so you certainly won't be lacking in options as you search for something you like.
One of the reasons why this website is great if you want to purchase panels is the fact that they have over 650 payment methods available. No matter how you want to pay, Own3d will accommodate you, so you can get your panels no matter what. Upon purchasing a set of panels, you do also get an editable .PSD file so you can customize panels if you wish.
Sample Own3d.tv Panels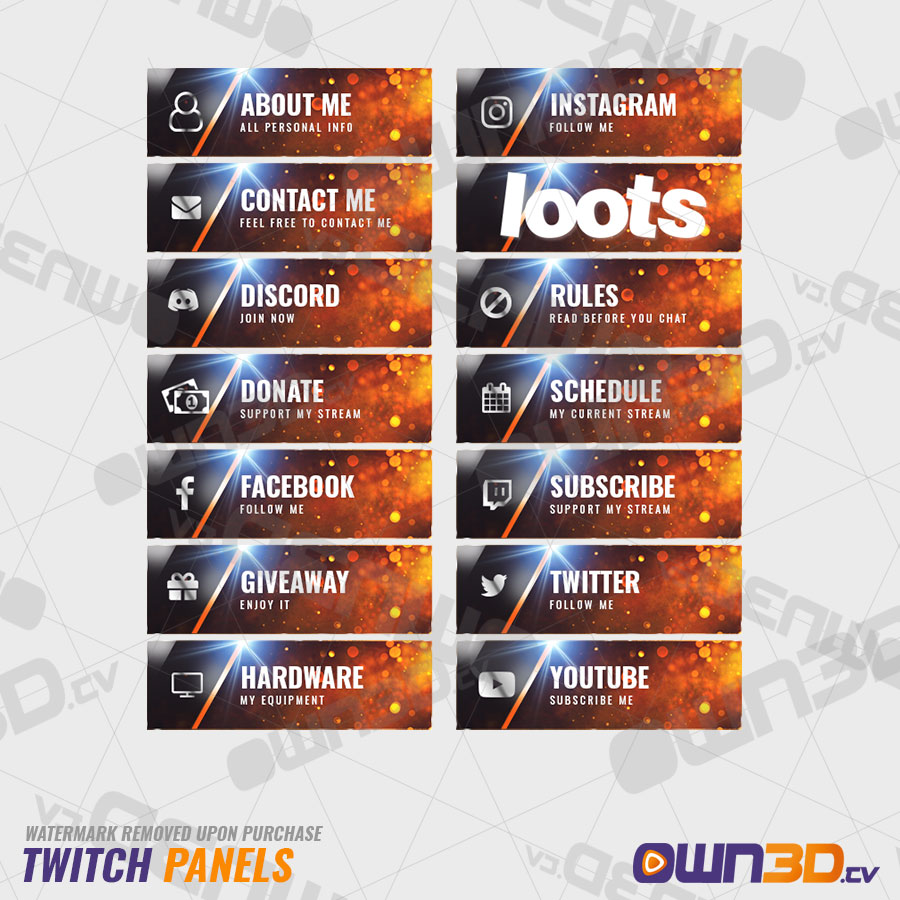 An example of the panels you can get from Own3d.tv is this set named 002. You can use the panels out the box if you prefer, but you can also choose to edit the .PSD file to enter your own text or change the colors if you wish. Prices for panels may vary, with some costing up to $23.99. However, Own3d often holds sales, so keep an eye out!
WDFlat.com
FREE PANELS AVAILABLE? Yes, yes, yes!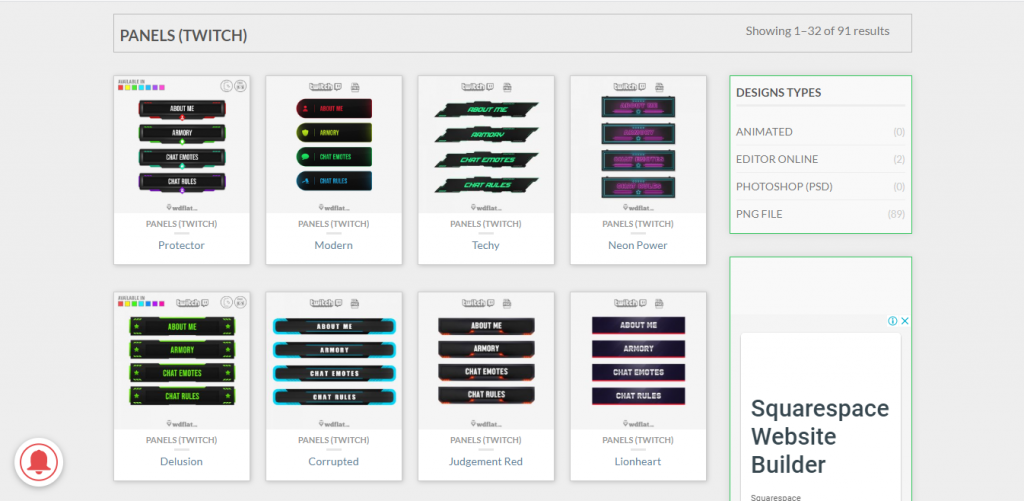 If you visit WDFlat.com, one of the first things you'll notice is the fact that everything listed on their site is FREE, except the premium and stream packages sections (of course). It appears that WDFlat is supported mostly by advertisements, which is where they get most of their revenue for the free panels that they provide.
When you go to the Panels section on WDFlat, you can pick one of the styles you like and pretty much edit it with the free tool they provide. You can make changes to the colors, the icons, the fonts, and the text. Once you are done, you can name the file and download it. And that's it—it's pretty much ready for uploading!
Sample WDFlat Panels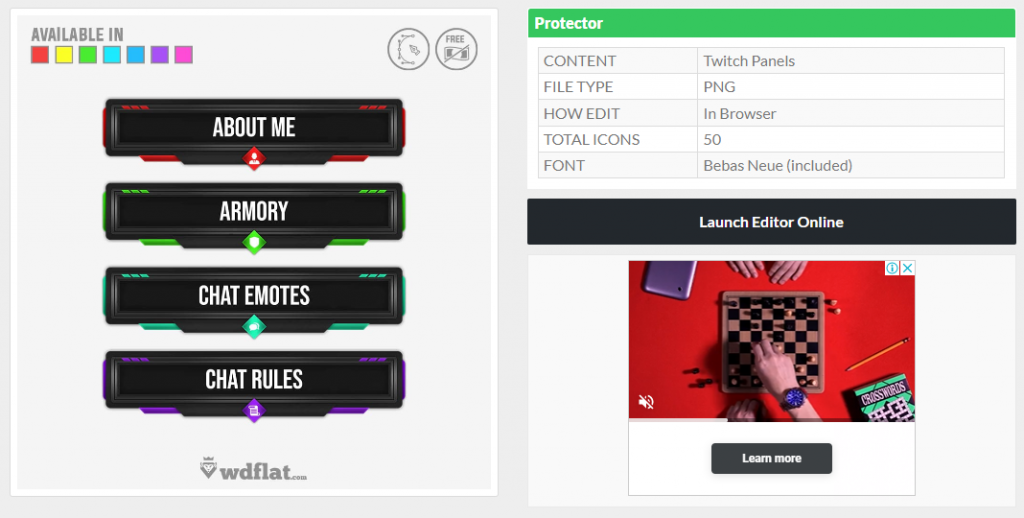 Above, you can see the Protector set of panels from WDFlat. As you can see, navigating to its page brings you to the Launch Editor Online link. Click this, and you can customize the panels however you would like to!
Twitch-Designs.com
FREE PANELS AVAILABLE? No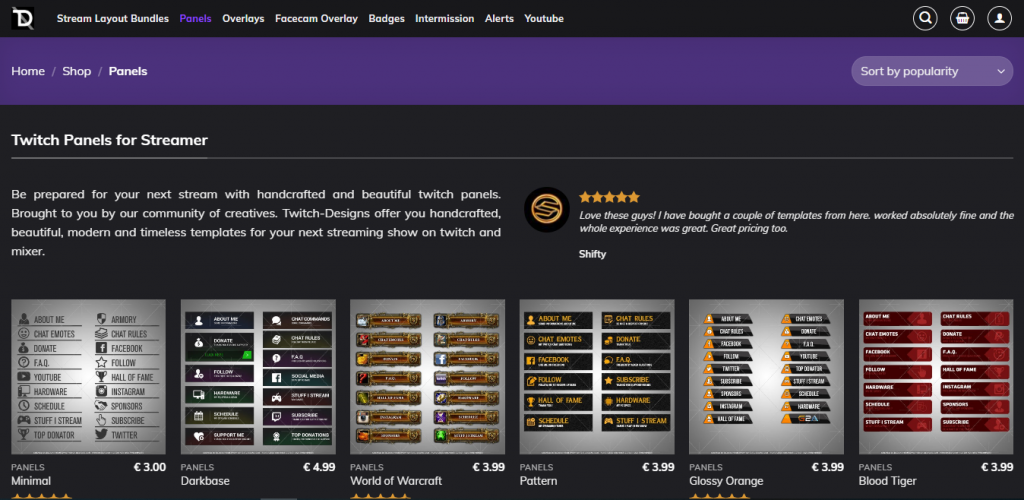 Twitch-Designs.com has plenty of streamer resources available for very affordable prices. They are a website created by design and web development creatives with the aim of providing fantastic content. Use some of these graphics to complete your channel's branding.
Not much sets this website apart from others, and as far as current listings go, you also cannot customize the panels you purchase. However, they are quite affordable, and each set can include 20-30+ panels you can choose from.
Sample Twitch-Designs Panels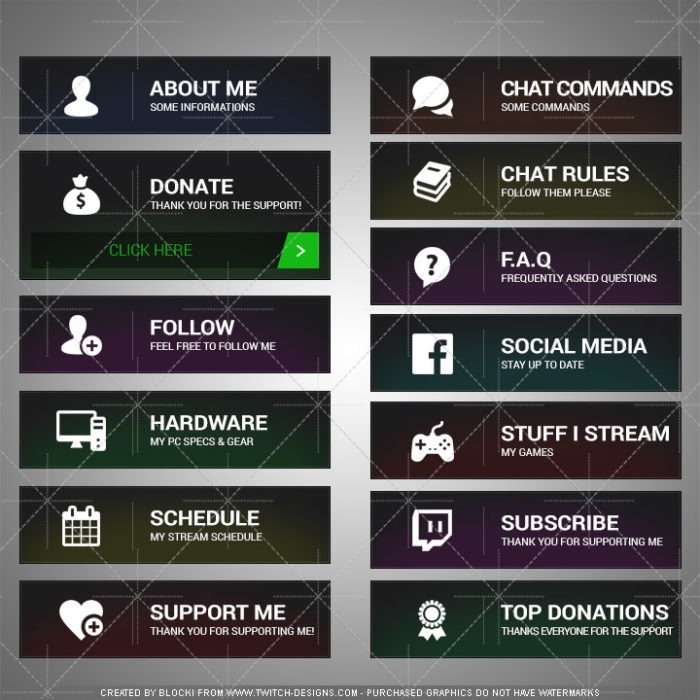 One sample that you can see on this website is Darkbase, which includes over 34 graphics that you can use on your channel. It's available for under 6 USD, but is listed at 4.99 Euros.
Twitchoverlay.com
FREE PANELS AVAILABLE? Yes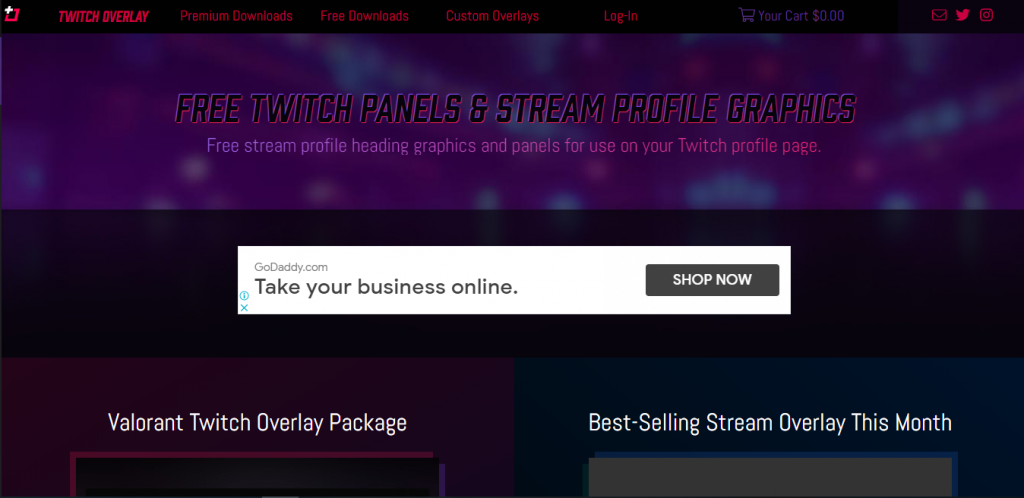 If you want to customize your channel but also don't want to spend a ton of money to get it done, you can check out Twitchoverlay.com. They have plenty of premium graphics up for sale, but they also have free sections for panels, overlays, alerts, and more.
Stream packages that include everything you could possibly need are also available from $20+. And, if you'd really like to make sure that everything on your channel is fully designed and controlled by you, this website also has a custom overlay option.
It's worth mentioning that the premium panel choices here only cost a mere $3 per set. However, the choices are relatively limited.
Sample Twitchoverlay.com Panels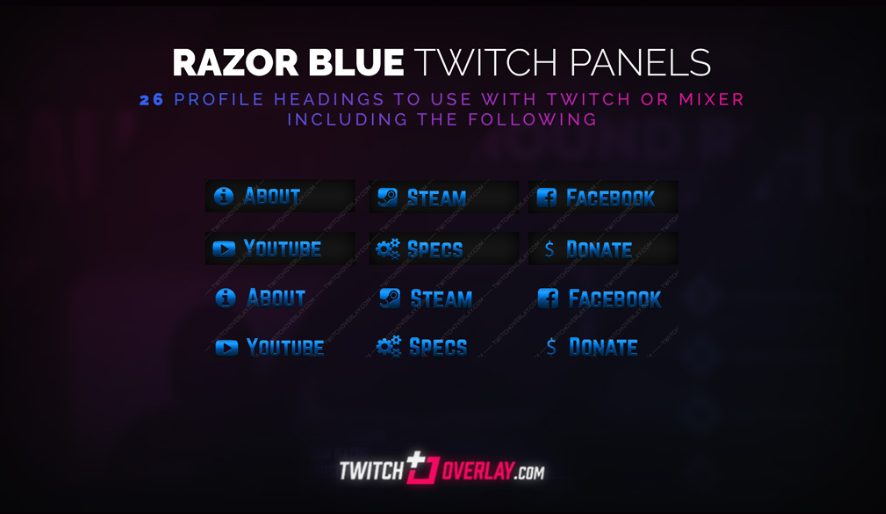 One set of panels you can see on this website is Razor Blue. Included in your $3 purchase are 26 different panels that you can use on your channel.
Placeit.net
FREE PANELS AVAILABLE? No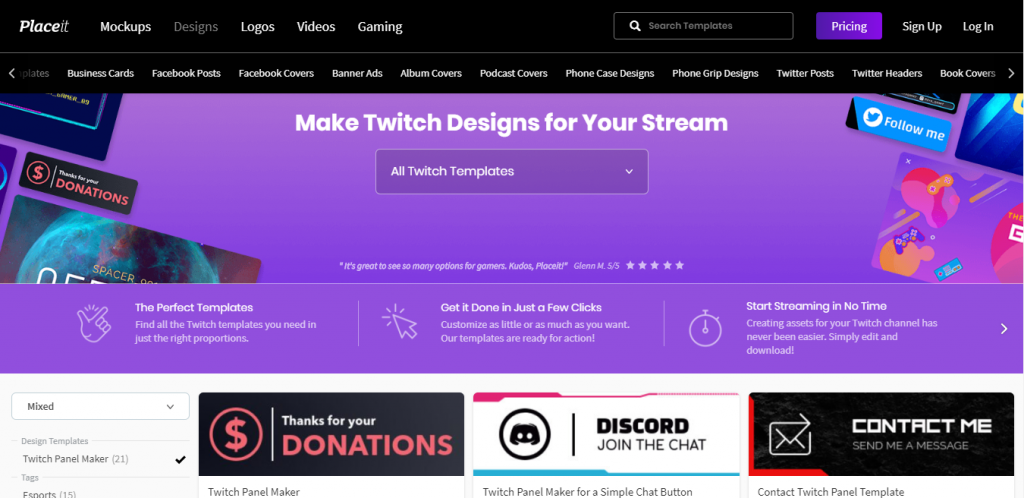 Placeit is a website where you can use their custom Twitch panel tool to create your own design without the hassle. It's great if you have no access to graphics editing programs like Adobe Photoshop. However, designing and downloading one panel costs $2.95 each, which is pricey if you need to make several.
Fortunately, if you would like to create many, you can opt for the $14.95 monthly subscription to create and download as many logos, panels, overlays, and graphics you might want. Annual subscriptions are also available for a discount.
Sample Placeit.net Panels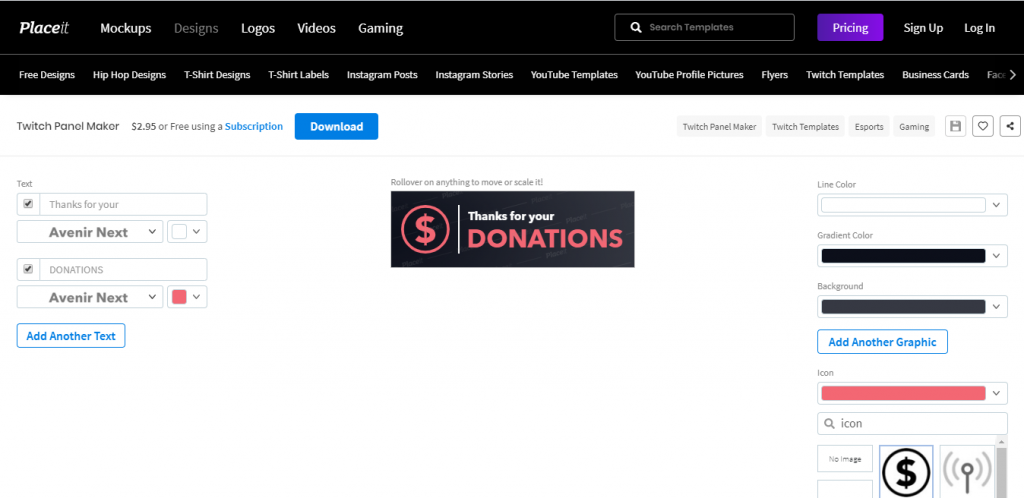 A sample of a design/style you can use to customize and create your own panels is the Twitch Panel Maker style. You can change many aspects of it to get exactly the colors, icons, and text that you need.
VisualsbyImpulse.com
FREE PANELS AVAILABLE? Yes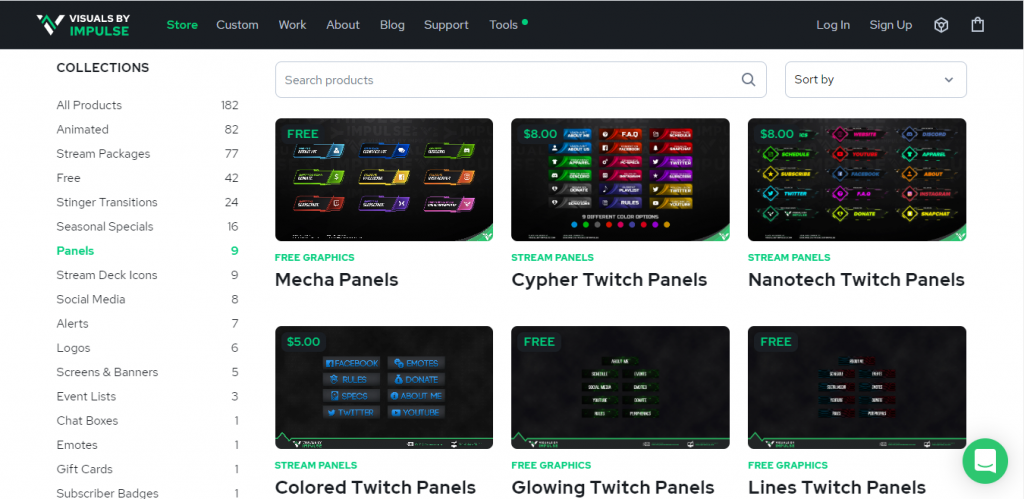 VisualsbyImpulse.com offers plenty of panel designs available for you to purchase at affordable prices. They also have many free Twitch panel options that you can choose if you would rather not spend any money.
The various graphics that they have on this website are great for creating a cohesive look for your stream overall. The best part is that they have a FREE tool to create and customize your own panels as well (in the screenshot below).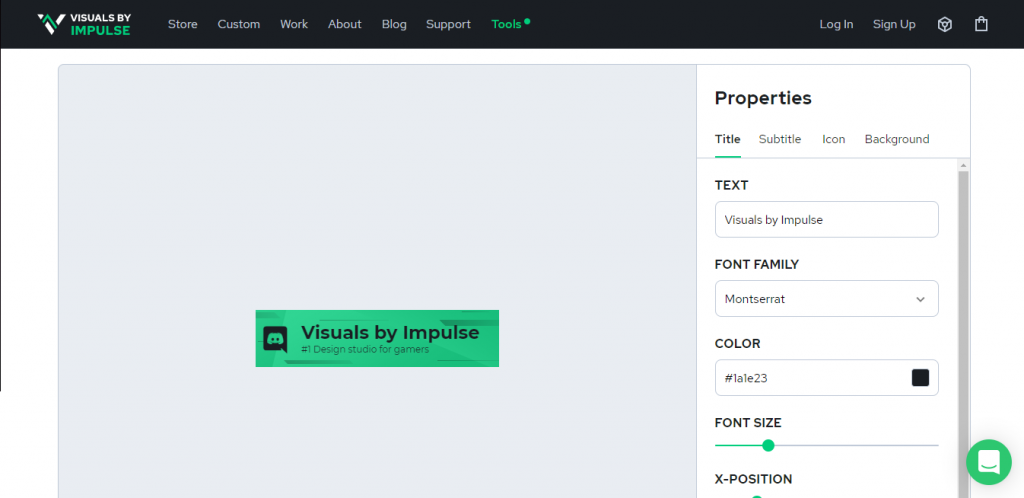 Sample VisualsbyImpulse Panels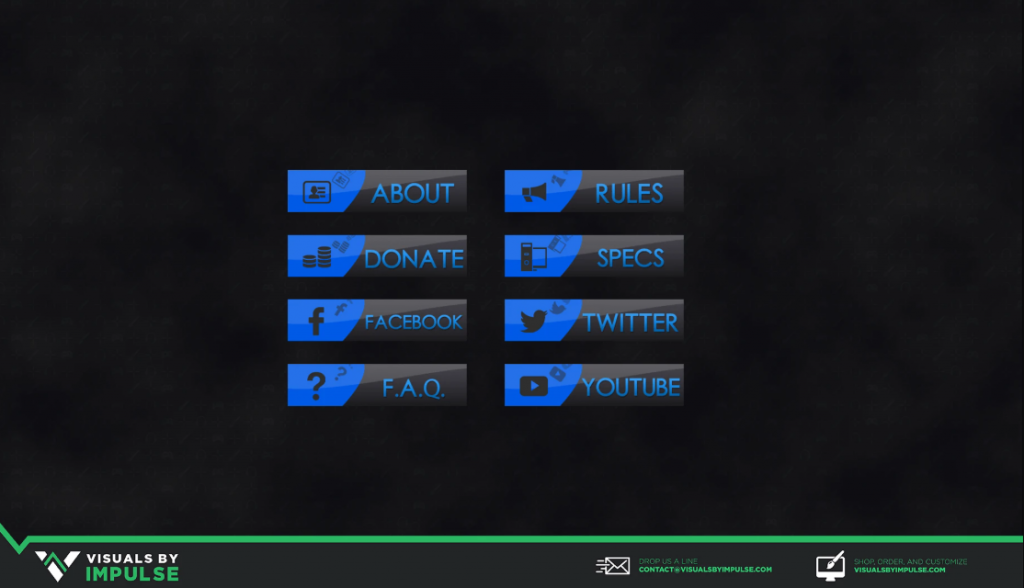 One sample set of panels you'll see on VisualsbyImpulse is this BlueTumbler set, available for only $5. Not a bad choice at all! However, if you'd rather have panels that are more to your style of choice, then you can simply use their free panel maker tool.
Kudos.tv
FREE PANELS AVAILABLE? Yes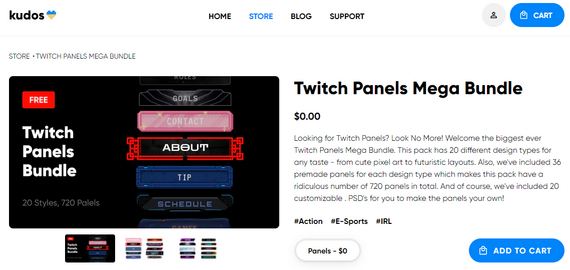 While Kudos doesn't sell Twitch panels as a standalone product, all of their stream packages come with stylized and editable panels for a very fair price.
They also have a huge bundle of free panels here. With over 700 Twitch panels to choose from you're likely to find something that'll look great on your channel!
Sample of Kudos Panels
Streamplaygraphics.com
FREE PANELS AVAILABLE? No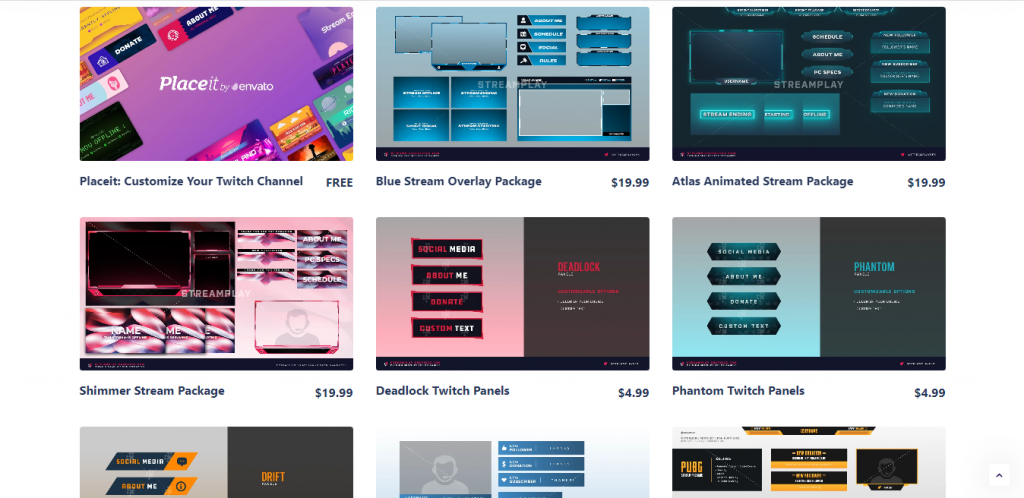 Streamplaygraphics.com is another excellent place from where you can get all your streaming needs. Here, you'll find every component necessary to build a brand and create a cohesive look for your channel.
If you're looking for panels, you'll find them priced very affordably. Some sets go for as low as $3.99. If you'd rather get panels in a stream package, you can get them as low as $9.99 or as much as $19.99.
On this website, you can also find many different streaming guides to help you set up your channel. And if you ever want to make a little extra cash on the side, they have an affiliate program as well (just in case you want to recommend them to your friends).
Sample Streamplaygraphics.com Panels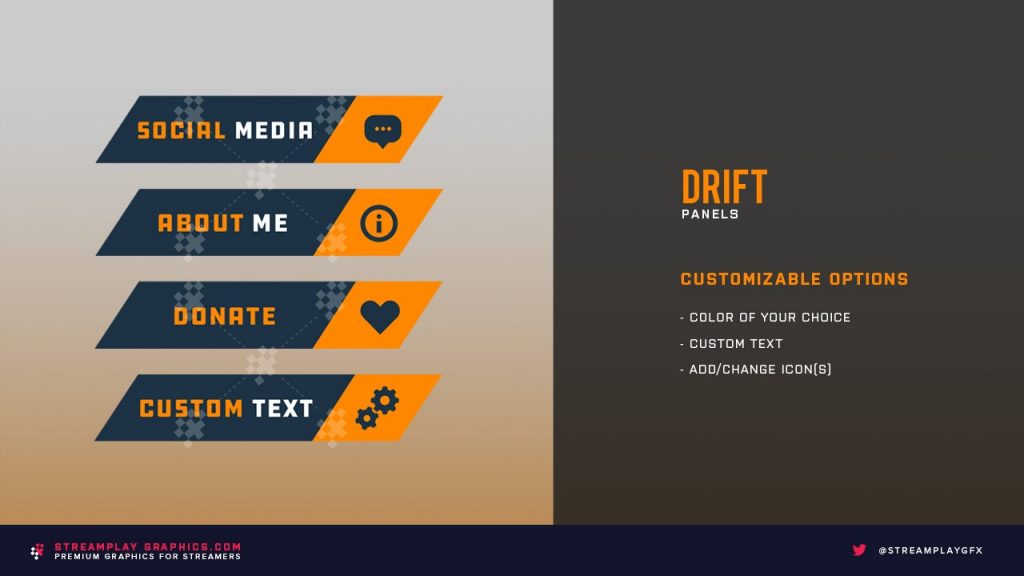 On Streamplaygraphics.com, you can see many panel sets, one of which is Drift. You can purchase the panels and customize them yourself through the included raw file. At a cost of $4.99, you get a set of panels to help get you ready to stream!
Standard Twitch Panel Sizes
As you create your Twitch Panels (or purchase them), there are standard panel dimensions you need to use:
Minimum width: 320 pixels
Suggested height: 100 pixels
Maximum height: 300 pixels
Possible Uses for Twitch Panels
You can pretty much use Twitch panels for whatever you like. However, many streamers use them for similar purposes. Take a look at some of the things you can use panels for below:
About/Information About You
Donate
Subscribe
Emotes/Badges
PC Specs
Streaming Schedule
Amazon Wishlist or Similar
Sponsors and Partnerships
Social Media
Commands
FAQ
Rules
Giveaways
Which site looks the best to you? Leave a comment below.
And if you know of any other sites that have panels available for streamers let us know! 🙂