As a streamer, adding alerts to your Twitch or YouTube stream is usually one of the first things you do once you start taking things a bit more seriously.
Setting up Twitch alerts, while easy once you learn how, can be confusing at first since there are so many different ways to add new notifications to your stream.
In this guide I'll go over your options for adding alerts to your stream using OBS Studio, and give you a quick "how to" for each.
Here's What You're Going to Learn
After you've gone through this guide, you'll know how to add new follower notifications to your stream, as well as any other alert you want for new subscribers, donations, etc.
This tutorial will show you five different methods for setting up alerts using some of the best software for streaming, so that when you get a new follower, subscriber, or donation while you're streaming it'll pop up on your stream for your viewers to see.
Need to decide which stream alert app is best for you? Watch this video!
Streamlabs
Streamlabs used to be called TwitchAlerts when they first started out, since their core feature was giving streamers the ability to display alerts on their stream.
They've added a bunch of other features since then, but for this guide we're focusing on the Alert Box widget, which will allow you to get notifications on your stream.
Streamlabs has the following alert notifications for you to choose from:
New follower

New subscriber

New donation

Host

Cheer/Bits

Raid

Redemptions

Merch
*The Redemption and Merch notifications are for features that are specific to Streamlabs.
Here's How to Set Up the Streamlabs Alert Box:
1. Login to the Streamlabs dashboard by connecting your Twitch, YouTube, or Mixer account.
2. On the left sidebar, find the Alert Box under the Widgets menu and click on it.
3. Choose which alerts you want displayed on your stream by unchecking the notifications you don't need.

4. Now click on the specific alert settings tabs you want to use and play around with the customizations to make necessary edits for your stream.

5. When you're finished making the alert edits, make sure to hit Save Settings (found at the bottom), then scroll to the top of the Alert Box page where you'll find the Widget URL.
*The Widget URL is what you'll be adding to your OBS Studio to make the alerts show up on your stream.
Scroll down to the end of this guide where I show you how to add the URL to OBS.
For a more in-depth guide on how to customize and set up alerts in Streamlabs click here.
StreamElements
To get alerts on your stream using StreamElements we'll need to work within their overlay scene editor where they have all their stream widgets incorporated.
StreamElements has the six standard alert types (follower, donation, subscriber, cheer, host, and raid), and can be customized using different images/videos, text, and even custom CSS.
Here's How to Set Up the StreamElements Alerts:
1. Login to your StreamElements dashboard, then click on the My overlays link found in the left sidebar menu.
2. Next, click on the blue CREATE NEW OVERLAY button.
3. In the window that pops up, name your overlay and choose your resolution (you don't need to input "what game is this overlay for?" if you don't want to), then hit Submit.
4. Click the pencil icon on your overlay widget that says, "Go to overlay editor" when you mouse over it.


5. Click on the Widgets option in the top left menu, then find the AlertBox widget and click ADD.
6. Now on the left hand side you'll see your list of alerts where you can deselect any of the alerts you don't want displayed on your stream.


7. Click on any of the gear icons next to a specific alert type to make any customizations to your alerts.
8. When you're done editing your alerts, click Save, then Launch (bottom left). Then copy the URL so we can add it to OBS.
TipeeeStream
TipeeeStream is definitely the least popular of the bunch – at least in North America (they seem to be marketed more towards the EU crowd).
But they do have a pretty good functioning alert feature so it's worth mentioning how to set up alerts using TipeeeStream.
Here's How to Set Up TipeeeStream Alerts:
1. Login to the TipeeeStream dashboard, then click the Alert Box link found in the left sidebar menu.
2. Click on the, "Add an Alert Box widget" button.
3. You'll now have a bunch of options to edit each individual alert.
4. When you're finished editing your alerts, make sure to save your changes, and most importantly, make sure each activation switch is turned on for all the alerts you wish to use.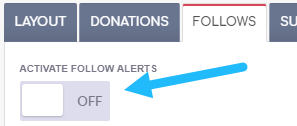 5. Copy the embed link so we can add it to OBS Studio.
Muxy
Muxy's a veteran in the stream alert game. When people would ask what alternatives there were to TwitchAlerts (now Streamlabs), Muxy would usually be the first name to pop up.
They have a clean, minimalist, and easy-to-use dashboard and pretty much the same functionality as Streamlabs – in terms of stream alerts that is.
Here's How to Set Up Muxy Alerts:
1. Login to your Muxy account, then click the Alerts menu link found on the left sidebar.
2. Click Create New Alert Package.
3. You'll now have a section where you can edit, add, or delete alerts. By default, Muxy sets you up with 4 alerts.
4. Click on each alert, and edit the settings to how you want, then hit Save Changes.
5. When you're finished customizing your alerts, copy the, "ALERT PACKAGE URL" found at the top of your alerts page. We'll use this URL to add your alerts to OBS.
Player.me
Not a lot of people talk about Player.me but, like StreamElements, they have a pretty slick scene creator – which includes the ability to add alerts and even overlays to your stream.
You can add your own custom alerts or use one of their templates that have pre designed graphics.
They have all 6 standard Twitch alerts, plus a Super Chat alert, and Sponsor alert for YouTube streamers.
Here's How to Add Alerts Using Player.me:
1. Login to your Player.me account, then click the My Overlays link found under the CREATE menu on the left sidebar.
2. Click the Add Overlay button and choose the In-Game overlay type.
3. If you have your own custom alerts, then choose, "Create my own". Or if you want to use one of their premade alerts, then select a theme that you like.
4. After you've selected an option, mouseover your new overlay window and click the edit button (pencil icon).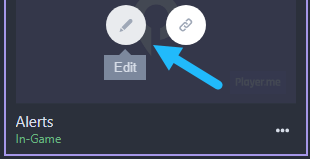 5. In the new scene editor window, you can now add alerts widgets or edit existing alerts depending if you selected a premade template or not.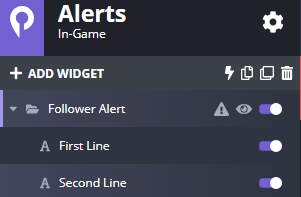 6. Once you're done customizing your alerts, click Save, then click LAUNCH, then click the Copy Overlay URL.
Adding Your Alert URL to OBS
Each of the five alert options above give you a unique URL that you need to use in order for your alerts to work properly during your stream.
In order to set up your alerts with OBS we'll need to add your alert specific URL to OBS Studio, using the Browser option.
Here's How to Add Your Alert to OBS:
1. In OBS Studio, right click in the Sources box of the scene you want your alerts to show up in.
2. Mouseover, Add, then click Browser and name it something like, "Stream Alerts".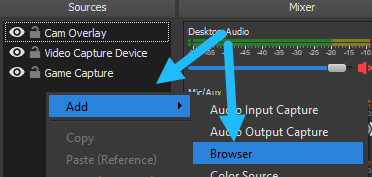 3. Now paste the URL that you got from your alert app into the URL section.
4. Adjust the Width, Height, and FPS to your liking, and make sure to check, "Shutdown source when not visible". Or you'll still hear your alert notification sounds when you hide your alert browser source.
5. Click OK, and now you'll have your alerts added to OBS. You can move and resize the browser source around to place it wherever you want the alerts to show up on your stream.
Which Alert Site Should You Use?
I'm going to be putting together a separate article that'll go deeper 


into which stream alert app is best for certain streamers.
For the alert functionality, they all more or less do the same thing.
Some have more customizability which will appeal to some streamers, while others will appreciate something more simple that other apps offer.
I personally use Streamlabs, but after exploring some of the other options I did notice some nice features that other apps have that Streamlabs doesn't.
Like most things in life, it all really comes down to preference. What I like in a streaming app, might not be what you like.
So for now, I'd suggest giving each alert system a shot, then choose which one you like the most.
Or if you'd prefer being told what to do, then use Streamlabs.
Thanks for reading! If you want to be updated on when I release the guide on which alert app is better then follow the Streamsentials twitter here.
And if you have any questions or comments about anything related to setting up your alerts on Twitch or YouTube then please leave a comment below.
Have a good one 🙂