If you've spent any significant time on Twitch (whether as a viewer or a streamer), then you've probably already seen all sorts of custom Twitch emotes around. Emotes are no doubt a fantastic and fun addition to any channel and streamer's community.
But if you would really like to give more value to your viewers when they sub, it's important to get high quality emotes that capture the essence of your stream and your personality.
It's also important to come up with great emote ideas that capture any inside jokes that you and your viewers may have. Alternatively, you can also create emotes that follow certain popular themes or "emotions".
That way, your subscribers can use the emotes to express themselves anywhere and everywhere.
Yes, there are many Twitch emote makers and template services online that you can use to make emotes. There's nothing wrong with using those services, of course.
But, if you really want to give your subs something uniquely valuable, then you'll want to get bespoke custom Twitch emotes for your stream.
If you're wondering where exactly you can get bespoke emotes from, this quick guide will help you!
1. Fiverr
It's impossible to mention custom graphics without also thinking about Fiverr, the gig platform where you can hire all sorts of freelancers.
Here, you can purchase bespoke emotes as cheap as $10 each, although prices can go all the way up to $60 each. One of the best things about Fiverr is the fact that you can see reviews for the providers on this platform.

This makes it easier to find someone trustworthy, especially since they also tend to include samples of their work on their posted gigs.
Working with someone from Fiverr can be really easy, as long as you know how to look for the right person.
2. Etsy
Etsy is an incredibly popular marketplace for custom and handmade work. Many artists list their products on this website – you'll find anything and everything from handmade candles and crafts to graphics and digital products.
In recent years, more and more emote artists have started using Etsy as a platform for offering their services.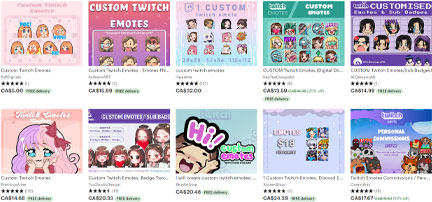 Compared to the other options on this list, prices on Etsy tend to be quite more varied. Working with an emote artist here, however, gives you the convenience of purchasing through Etsy, an established platform where you can see reviews of previous purchases.
On average, you can find emotes ranging from $10 each to even $60 each. There is something for every budget!
3. Streamplay
Another website you can get your custom Twitch emotes from is Streamplay.com. Streamplay is a fantastic website to check out if you want any sort of graphics for your stream. Here, you can find overlays, Twitch panels, Twitch alerts, and more – even sound effects for your alerts.


Streamplay also offers custom graphics in case you want everything made to your specifications. You can order just about anything you need, which is fantastic if you want to fully customize your stream instead of purchasing templates and existing packages which other people may also use.
Getting custom emotes from Streamplay costs $30 per emote, though it may cost more depending on the complexity of your desired design.
4. VisualsByImpulse
Much like Streamplay, VisualsByImpulse also offers all sorts of stream-related graphics and assets. Here you can find webcam overlays, transitions, alerts, panels, and more. VisualsByImpulse also offers custom design.


They proudly mention that they have created over 8,400 custom designs in the past.
Emotes from VisualsByImpulse are slightly pricier, starting at $35 each. However, they do offer discounts for orders of 6 or more.
5. Twitter
You'd be surprised, but good 'ol Twitter is actually a fantastic place for finding emote artists who have their commissions open. Search for emote artists and you'll find many of them whose profiles you can visit.
You can DM for inquiries, including talking about prices, delivery times, rights, and more.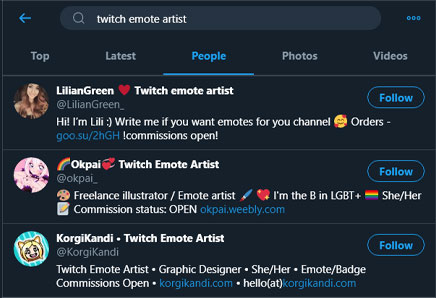 The only issue about working through Twitter, however, is that it can be difficult to know whether the person you are hiring is trustworthy or not.
Transactions will be between the two of you, with no real protections afforded to you. Plus, looking for emote artists through Twitter can be tedious as you will have to ask for samples/portfolios and personally DM anyone you may be interested to hire.
Tips for Finding Your Perfect Emote Artist
When you start looking for the perfect artist for your new custom emotes, it's important to start by looking at their portfolio. Their portfolio is a great way to see samples of their work and whether their art style suits your tastes and needs.
On top of looking at their portfolio, it is also important to:
Compare their rates with other similar artists so that you can find a good deal within your budget
Ask about lead time so you know when to expect your new emotes
Clarify usage rights after delivery so that you are 100% sure when you use your new emotes for graphics and merchandise
Of course, iron out any further details you can think of, such as whether they will be adding your emotes to their portfolio or not. Knowing what to expect from your deal makes it easier for your deal to go smoothly.
Quick tip: When hiring an emote artist, try not to lowball the artist on their fees. Their cost of their expertise, skill, time, and tools will all be worth it in the end!
Things to Remember When Getting Custom Twitch Emotes
Every emote starts from an idea. It could've been from an original concept or from one inspired by another streamer's emotes. From this seed of an idea, it's easy to hire an emote artist to bring a fully-realized emote to fruition.
However, there are a few things to remember when you are getting your custom Twitch emotes made, such as:
There are 3 main sizes you will need for your emotes: 28×28 px, 56×56 px, 112x112px
You will want to save your emotes in .PNG format for transparency purposes and image quality retention
Remember that emotes will get shrunk down to a tiny 28×28 px size and any tiny details will disappear. Design emotes to have fewer, simpler details that will stand out more
Avoid using copyrighted material, especially straight up copying other streamers' emotes
Ask your emote artist whether you can get your emotes in a larger resolution (300×300 px or 500×500 px) so that you can use them in future stream graphics, promos, and merchandise
Ensure that your emote artist is passing on the appropriate copyright licensing and rights so that you can use the graphics you paid for in the future (especially in the case of merchandise)
Keeping this in mind will help make the process of getting your custom Twitch emotes easier and smoother all around. That way, you can ask your chat to spam your emotes in no time!
And there you go! You now know some of the top places on the web to get your next emotes for your Twitch channel.
Happy chat spamming 🙂