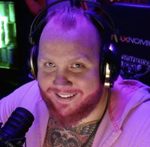 TIMTHETATMAN Runs the #TatManArmy over on YouTube. He mainly streams Call of Duty and a variety of other games.
He's the big bald guy with a divot on his head. He's the duo god with DrDisrespect. He's the seagull sound effect guy. He's TamManTheTatTim… Er… TimTheTatMan.
Well, however you know him, Tim's one of the biggest streamers out there, with a following of over 4 million subscribers on YouTube after switching from Twitch, where he had seven million-plus followers.
Let's look at how this king of the battle royal shooters adorns himself when on stream and check out his equipment loadout.
TimTheTatman's Gaming PC Specs
TimTheTatman's Stream Setup
What Mouse Does TimTheTatman Use?
HyperX Pulsefire Haste – TimTheTatman Edition

When you have a special edition of something, you'd better use it. The 'HyperX Pulsefire Haste – TimTheTatman'- Edition is a great example. Adorned with his signature yellow and black, this mouse combines affordability with precision.
The ultra-lite honeycomb design weighs only .13 lbs and sports a resolution of up to 16,000 DPI and 450 IPS speed to boot. It helps give Tim accuracy, comfort, and style for only $39.99. (Now that's a deal.)
What Microphone Does TimTheTatman Use?

TimTheTatman is not a quiet guy. In fact, it is quite the opposite. When you've got a big booming voice, you want it to get captured in all its raucous glory.
Although it is not a traditional condenser mic, the Audio Technica BP40 offers a rich, natural, condenser-like sound from a large-diaphragm dynamic design. When he's vibing in his chair, the mic still picks up every callout, rage, and meme-worthy moment with ease.
TimTheTatman's Microphone Arm

TimTheTatman employs a 'Road PSA1' to hold onto his microphone he PSA stands for Professional Studio Arm, by the way). Using a dual-axis swivel mount, the' Rode PSA1' goes wherever Tim goes during his streams. Whether that's hunched over the desk, flapping his arms like a seagull, or standing back and screaming his head off, he'll have the mic positioned perfectly.
What Monitor Does TimTheTatman Use?

Monitor. Speed. Matters. Every time we bring it up, we back it up with proof. TimTheTatman knows this since he's sporting the LG Ultragear 27GL850-B. This bad boy fits in a 2560×1440 display across 27 inches on a G-SYNC screen at 144Hz with a response time of only 1ms, and when you're playing at as high of a level as Tim is, you want to get every little advantage you can. (Wait, that was the wrong clip compilation.)
What Headset Does TimTheTatman Use?
HyperX Cloud Alpha – TimTheTatman Edition

As part of his collaboration with HyperX, Tim uses the HyperX Cloud Alpha headphones. By now, we know it's gonna be a TimTheTatman addition, of course.
HyperX's design reduces distortion by separating bass frequencies from the mids and highs to provide more accurate, smoother in-game audio. Boasting a plush signature HyperX memory foam, the Cloud Alphas are a lightweight, comfortable headset perfect for long sessions. (Head dents not included.)
What Keyboard Does TimTheTatman Use?
HyperX Alloy Elite 2 – TimTheTatman Edition

You've got to love having your name on everything. Tim's keyboard is a part of his collaboration with HyperX, producing the 'Alloy Elite 2' – TimTheTatman Edition.
The mechanical keyboard has dedicated media keys, a large volume wheel, and HyperX's own HyperX Mechanical switches. All of this is built on a solid steel frame. In all honesty, you'll probably do more damage to yourself if you try to smash this keyboard. (Also, it helps you stay cool, so you don't get that nasty keyboard slippage going.)
What Camera Does TimTheTatman Use?

Tim is a Professional Gamer and a Professional Streamer, so he needs a professional camera. The 'Panasonic Lumix G7' captures all the big, bald action in 4K. This 16-megapixel, mirrorless camera is also capable of transmitting information over Wi-Fi, so he doesn't have to worry about wires, and we all know Tim hates wires.
What Mousepad Does TimTheTatman Use?
HyperX Pulsefire Mat – TimTheTatman Edition

To help him glide around at the speed of sound, Tim uses a limited edition version of the 'Pulsfire Mat'-by HyperX, sporting his name all along it. The 'Pulsefire Mat' combines a dense woven cloth for a smooth and consistent glide and a rubber base to grip the table and keep the bounce pad in place.
What Audio Mixer Does TimTheTatman Use?

You can't have an XLR mic without a mixer. Duh. To help mix his voice into the perfect combination of loud, bombastic, and, well… just plain ol' Tim, he uses the TC-Helicon GoXLR. This multi-channel mixer provides studio-quality pre-amps and built-in Voice FX for reverb, echo, pitch shifting, and more; in a simple, stylish interface.
What PC Case Does TimTheTatman Use?

You can't have a body without a skeleton, and the skeleton that holds all of his computer's guts together is the 'NZXT H710'-black (that was a weird analogy – I apologize). This subtle and elegant design has plenty of ventilation for air or water cooling and top-of-the-line cable management baked right into its design. He can look at all the good stuff without worrying about ugly wires.
What Chair Does TimTheTatman Use?
Herman Miller x Logitech G Embody

Sitting upon his throne, the king of shit-talking kids in Fortnite sits on a 'Herman Miller x Logitech G Embody. This expertly crafted chair provides real ergonomic support and high mobility in a stylish design. It features copper-infused foam to help prevent heat build-up because nobody wants sweat stains on their chair.
What Motherboard Does TimTheTatman Use?

Supporting PCI-E Generation 4 lanes and DDR4 RAM, this cutting-edge motherboard provides all the functionality for what you would find with the highest end of parts. With a 10 Gig LAN connection and Wi-Fi 6e support, TimTheTatman can stream in super high quality without a single dropped frame. (Unless his internet goes out, but we won't blame the motherboard for that.)
What Graphics Card Does TimTheTatman Use?

Come on. Was there really going to be any other choice? This is the graphics card of choice for every big streamer. The RTX 3090 is the most powerful, widely available graphics card in the world, bar none.
Capable of shredding games at 4K and a streaming threshold of only the highest quality, Tim isn't missing a single detail in any game he plays unless he wants to. (Not sure why he would want to, though…)
What CPU Does TimTheTatman Use?

Intel has long been considered the top of the mountain regarding video game processors. Video games are very single-threaded focused, and the 10900K is capable of boosting up to 5.3 GHz.
This 10th Gen processor is the top-of-the-line for gaming. Plus, with ten cores and 20 threads, the 10900k is capable of multi-threaded tasks like streaming, recording, and anything else he's getting up to when the cameras are off. With an unlocked processor, Tim can ride the bleeding edge of technology and overclock this bad boy while he's at it.
Up to Date Gear for TimTheTatMan's Setup
Our goal for this page is to keep everything that TimTheTatMan uses for his streaming and gaming PC up to date.
If you see any of his gear that needs updating then please drop a comment below, and we'll have it added.
You may also be interested in checking out these streamer setups below: