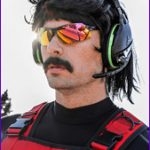 If you're looking for Dr DisRespect's setup he uses for gaming and streaming then you've come to the right place!
He is a terror in any game lobby. He is the epitome of violence, speed, and momentum. He is 6 ft 7 inches tall with a 37-inch vertical and the two-time 1993, and 1994 back-to-back Blockbuster video game champion. He is the bombastic and eccentric king of streaming, Dr. Disrespect.
Let's take a look at the equipment load out for this video game character come to life.
Microphone
What Mic Does Dr DisRespect Use?
Dr DisRespect uses the Neumann U 87 Ai Large-Diaphragm Condenser Microphone.

CPU
What Processor Does Dr DisRespect Use?

Dr DisRespect uses the AMD Ryzen Threadripper 3990X Processor.

What Mouse Does Dr DisRespect Use?
ROCCAT Kone Pro PC Gaming Mouse – Dr Disrespect Edition

When you are the personification of perfection and the Slick Daddy himself, you don't just use any Mouse. You need the perfectly shaped Mouse sporting your name. You need something lightweight. You need a 19 K DPI Optical sensor equipped with Precision tuning for the most accurate and perfect experience possible. That, dear reader, is the ROCCAT Kone Pro PC Gaming Mouse – Dr. Disrespect Edition.
What Mousepad Does Dr DisRespect Use?
ROCCAT Sense Immortal Mousepad – Dr Disrespect Edition

Did you think we were done rocking with ROCCAT? Dead wrong, buddy. The sense Immortal mouse pad is an extra large extra in charge mousepad that is just as smooth slick, and precise as the doctor himself.
Featuring a splash-proof top and non-slip base, you'll never worry about a single rage-induced drink spillage again. And with a 5.1 mm cushion, it's perfect for those long gaming sessions as well. Stay comfortable, kings.
What Microphone Does Dr DisRespect Use?
Neumann U 87 Ai Large-Diaphragm Condenser Microphone

You need to understand something. The doctor is not just a streamer. He's a songwriter. And artiste. capable of topping The Intergalactic top 40 with bangers such as Alleyways, Red Skies, and collaborations like Give 'Em the Love.
So that means you need a classic 1967 design that has stood the test of time! You need 10-decibel pre-attenuation to scream to the loser you downed, "just how much of a weak wretch they are!" with perfect audio. And for those quieter moments, the low-frequency cutoff cuts out the undesirable mud and rumble at the source.

If you want to be giving out firm handshakes, you need a strong arm. And the RODE PSA1 Pro is as strong as it gets. Using a dual-axis swivel mount, the' Rode PSA1'keeps the mic's aim steady, ready, and firm. Listen, you need a mic with reach when you're 6'7" and over two hundred pounds of power, and the PSA1 Pro puts your mic where you need when you need it..
What Monitor Does Dr DisRespect Use?
SAMSUNG Odyssey G7 Series 27-Inch WQHD 1440p Gaming Monitor

If you don't know how important a good monitor is, what are we dooiiing!? Listen, champions, you need a monitor with ultra thin bezels and wide viewing angles, ok? You gotta see everything in super high definition. You need your screen refreshing at two hundred and forty hertz to give you a smoother experience than the two-time's aim, alright? We're talking Quantum Dot technology for vivid, immersive colors. You want an immersive experience, right? Of course, you do!
What Headphones Does Dr DisRespect Use?
Turtle Beach Stealth 700 Gaming Headset – Dr Disrespect Edition

Champions when you've got a full set of luscious black locks you want to put a crown worthy of a king on. And that's exactly what the Turtle Beach stealth 700 gaming headset does. And you know you have to get the Dr DisRespect Edition. You can't be charging your stupid headset every couple of hours, no you need something that's going to last you 40 hours or more. And you can't have your sound coming in all slow and garbled. You need that immersive sound a lag-free, wireless, experience. This is premium, okay? Premium headsets only in the Champions Club.
What Keyboard Does Dr DisRespect Use?
ROCCAT Vulcan TKL Pro Keyboard – Dr Disrespect Edition

When you're click-clacking with the best of them, your need yours to be the best of them. You need an actually award-winning keyboard. Do you want to be like the two-time? Then you need to start surrounding yourself with championship-caliber equipment. We're talking durability: 100 million keystroke life cycle level durability. We're talking fast: Optical sensor fast, okay? Speed of light! We're talking ergonomic design so that you aren't getting injured. Durability on top of durability. And you want options, you want versatility: That's why it comes with mixer-style media controls on top of everything. Firm handshakes all around.
What Webcam Does Dr DisRespect Use?
Logitech Brio 4K Ultra HD Webcam

13 megapixels
Mic range of up to 4 feet
Detachable universal mounting clip fits laptops, LCD, or monitors
USB connectivity: USB-A plug-and-play
Said it before, and we'll say it again: 4K-all-the-way for a crisp, and ultra-HD experience. This piece of tech is rocking 13 megapixels over here! And when you're streaming professional quality gameplay in high definition, you know The Doc is getting captured at ninety frames per second. This is the tippy top of the mountain here.
What Chair Does Dr DisRespect Use?

When you're the best you sit like the best because you shit on the rest. SIDIZ's T80 Ergonomic Chair isn't some cutesy racecar wannabe chair. This is an ergonomic and professional design. We're talking high-comfort foam and a mesh back so that feels like you're sitting on clouds. Because when you're a god among gamers you are in the clouds. You getting lumbar support everybody needs a well-supported lumbar. and you can tell this thing any which way you want to get that Perfect Design firm handshakes and good posture all around gamers.
What Motherboard Does Dr DisRespect Use?
ASUS ROG Zenith II Extreme Alpha Motherboard

up to five M.2 drives, USB3.2 Gen2x2 and AMD StoreMI
color OLED display and ASUS-exclusive Aura Sync RGB lighting
Includes two additional RGB headers and two addressable headers
Comprehensive thermal design
Motherboards are the very basis of a computer. The skeleton. The core.  And just like getting a six-pack a 6'7" frame, you got to be built different and built better. So that means you need to be faster. Like M.2-drive faster and have five of them  4 terabytes of storage. Because it's violence, speed, momentum. That extends to networking. Wi-Fi 6 capability and high-speed ethernet connections are mandatory on this motherboard.  It's a tank with a comprehensive thermal design to keep everything as cool as possible, just like The Doc is cool under pressure. And you know you got to light the stadium so you might as well put some individually addressable RGB on there as well. For that extra cherry of elite quality on top.
What Graphics Card Does Dr DisRespect Use?

If you don't know just how powerful and RTX 3090 as you can go ahead and leave. Because you need to understand it doesn't get better than this. It is the pinnacle. This is the very tip top of the tip top. If you could describe the two-time champion with a video card, it would be the RTX 3090. A card that crushes at 4K, ultra settings at 60fps. This is a tank. With a Ferrari engine. Strapped to a rocket.
What Processor Does Dr DisRespect Use?
AMD Ryzen Threadripper 3990X Processor

Listen, if you wanted an inferior card, you could go with something else. But if you want to be a champion, you need to rip threads the same way you rip heads in Warzone. You need 64 cores and 128 threads to absolutely crush it in the processing department. To stream in the highest of high quality while gaming an unprecedented quality. There is good. There is great. There is high end. And then there is the 3990x.
What Audio Interface Does Dr DisRespect Use?
Steinberg UR28M Audio Interface

You're only as strong as your weakest link. And this is no wink Link in the doctors audio. providing phantom power to 2 channels with two full preamps this audio interface takes no prisoners. Capable of dialing in his voice to the perfect quality, the UR28M is Studio quality in a desktop environment. Perfect for producing more bangers on stream and on The Intergalactic Top 40.
What Voice Processor Does Dr DisRespect Use?

When you're producing music and avoiding stream snipers you need to change it up a bit. So when the docks changing into one of his other characters or when he's trying to take care of his voice perfect for whatever hot single he's about to drop, he's got a voice processor capable of getting the job done. When he needs to go up, it gets his voice high as a kite. When he needs the perfect reverb for harmonies, he's gonna get it perfect the first time.
Updates on Dr DisRespect's Setup?
If any of the gear we listed above is out of date, then please let us know in the comments below!
We want to make sure we have all of Dr DisRespect's setup up to date so you can use the same gear he uses for his streams.
You may also be interested in checking out these streamer setups below: