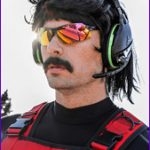 If you're looking for Dr DisRespect's setup he uses for gaming and streaming then you've come to the right place!
The gear you're about to find below isn't for any ol' chubby cheek'd blonde banged punk kid. This is the real deal.
If the two-time back-to-back champion uses these, then you know you're getting quality peripherals for your gaming setup. Use the Table of Contents below for quick access. Or don't – see if we care.
Updates on Dr DisRespect's Setup?
If any of the gear we listed above is out of date, then please let us know in the comments below!
We want to make sure we have all of Dr DisRespect's setup up to date so you can use the same gear he uses for his streams.
You may also be interested in checking out these streamer setups below: