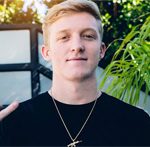 TFUE (aka Turner Tenney) – Pro Fortnite player and Twitch streamer. Uploads multiple Fortnite content videos on YouTube weekly.
Trying to find the same setup that Tfue uses for his gaming and streaming PC? You've come to the right place!
Below you'll find an up to date list of all the gear Tfue is using while playing Fortnite at the highest level, live on Twitch.
For fast access you can use the table of contents on the right, then once you've found what you're looking for simply click on the product images to get more info.
Tfue's Streaming PC Specs
Keeping Tfue's Setup Up to Date
Leave a comment below if you notice if any of Tfue's PC setup has changed, and we'll get it updated asap.
Thanks!
You may also be interested in checking out these streamer setups below: