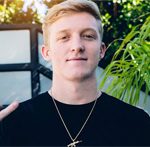 TFUE (aka Turner Tenney) – Pro Fortnite player and Twitch streamer. Uploads multiple Fortnite content videos on YouTube weekly.
Turner "Tfue" Tenney is one of the most popular streamers worldwide with over 11 million followers on Twitch and nearing 12 million on YouTube. His fame exploded after his competitive Fortnite career, and he's done a fantastic job of creating enriching content for fans.
Tfue uses a dual computer system for gaming and streaming, allowing him to split the workload, and his entire setup is pragmatic with a touch of flair. From ergonomic consideration to high-performance parts, it's no wonder he's among the best of the best.
Tfue's Streaming PC Specs
What Mouse Does Tfue Use?
Finalmouse Legendary Diamond Edition in Silver

Tfue uses the Finalmouse Legendary Diamond Edition in Silver. This is one of 50 that were ever made, and it's estimated worth sits at $100,000.
Tfue was sent on a wild hunt to retrieve the mouse, and it's no wonder he safeguards the thing. On top of literal diamonds embedded in the mouse, it's lightweight and one of fastest mice out there.
Unfortunately, all mice from this model are sold out, but if you ever see one available–snatch it up.
What Microphone Does Tfue Use?

The Shure SM7B is a common sight on a streamer's desk, and there's a reason Tfue uses one. The mic has a great reputation for capturing accurate sound and eliminating background noise.
Beyond the typical pop filter, the Shure SM7B uses electromagnetic shielding to ward off the hum you get from monitors and other equipment. Perfect if you're running two PCs while you stream.
Tfue's Microphone Arm

Tfue pairs this perfectly with a Rode PSA1 mic arm. The arm is a streamer favorite, and it handles quick adjustments with both ease and silence.
Someone would run right into the desk, and the spring suspension would compensate perfectly to keep things going full stream ahead.
What Monitor Does Tfue Use?

Tfue uses Alienware AQ2521H monitors, and he can comfortably fit 3 on his large custom-built desk.
This monitor is largely considered mid-tier, but with 1080p resolution and a 360 Hz refresh rate, it's not far from great.
The 24.5 inch screen is perfect for competitive gaming such as Tfue's go-to's, and the native G-Sync is a staple for most rigs.
What Headset Does Tfue Use?

Tfue doesn't use a traditional gaming headset, and he instead dons a Sennheiser HD 800 S headset.
This is studio-grade technology that professionals aim for for sound accuracy. While they're pricey, they have a comfortable-yet-functional cup design that directs sound waves to create a more natural listening experience.
This results in long hours on a game and a directional sound advantage, and they're well worth the investment of any pro.
What Keyboard Does Tfue Use?

His preference for custom keyboards finally paid off, and Tfue now uses the NovelKeys NK65 Tfue Edition in his setup.
This VIA compatible keyboard features a 65% layout, a hot swappable PCD, silk yellow switches, and PBT dye-sub keycaps. Like all things Tfue, the keyboard's design is a combination of sleek simplicity and colorful highlights.
While it's currently sold out, the NovelKeys website does a fantastic job of outlining their production timeline and restock periods.
What Camera Does Tfue Use?

Tfue gets his professional video quality with a Sony Alpha A6600. This mirrorless camera has a fast autofocus and smart auto tracking that works great with live streaming, and you get the same crisp look you see in Tfue streams.
It's a well-known tool for professional video quality that doesn't require one to sell their soul, and has a great reputation in parking with staples like the Elgato Cam Link.
What Mousepad Does Tfue Use?
NovelKeys Tfue Mega Pink Deskpad

The NovelKeys Tfue Mega Pink Deskpad is another product of the NK x Tfue collaboration, and it looks perfect under that custom keyboard.
The collab also offers smaller desk pads in pink and purple, but the Mega Pink is perfect for full coverage and wide-arching maneuvers you need for FPS games.
What PC Case Does Tfue Use?

While we seem to focus on the next best thing for a gaming setup, Tfue's NZXT H510 ELITE case proves us wrong. This is an older compact mid tower case that might lack airflow options you see in newer models, but it's still going strong.
The timeless, sleek lines of the design keep it in trend, and it features great cable management and tool-less access that you wouldn't give up easily.
What Chair Does Tfue Use?
Herman Miller x Logitech Embody

Herman Miller's collaboration with Logitech to create a functional and stylish gaming chair paid off for many, including Tfue. The resulting Embody sits at many a streamer's desk, offering them ergonomic benefits without cramping their style.
The design focuses on helping players maintain posture, regardless of position, and keeping their blood and oxygen stimulated. The result? Greater focus when you spend 7 hours straight streaming Fortnite or COD: Warzone.
What Audio Mixer Does Tfue Use?

Tfue uses a TC-Helicon GoXLR for audio mixing. While there are plenty of studio grade options out there, the GoXLR is designed with streamers in mind.
The GoXLR provides the phantom power his Shure mic needs to work, and it allows him to control the sound separately from other channels. Beyond this, Tfue can use the mixer for recording samples, voice distortion, and sound effects.
What Motherboard Does Tfue Use? (Gaming PC)
MSI MPG Z590 Gaming Carbon WiFi

The dual PC setup Tfue uses for gaming and streaming involves two machines set up for their specific tasks.
In his gaming PC, Tfue uses an MSI MPG Z590 Gaming Carbon WiFi motherboard. This specific WiFi design can be hard to track down, but those who have it believe in its worth.
The motherboard works with both 11th and 10 gen Intel processors and has quite a list of impressive features.
The VRM is surprisingly powerful, especially at this price range, and the motherboard creates a good foundation for balancing features and budget. It has plenty of ports, minimizes frills, and therefore little complaints floating around.
What Graphics Card Does Tfue Use? (Gaming PC)

The gaming computer relies on the EVGA GeForce RTX 3090 FTW3 to shred through gameplay and leave behind high-quality visuals for everyone to enjoy. The RTX 30 series uses second and third-generation NVIDIA technology for fantastic resolution and high FPS performance.
While Tfue might upgrade other parts in the near future, the RTX 3090 FTW3 is near-future-proof. The 24 GB of VRAM definitely won't be a problem, and this is still a highly-sought after graphics card that's hard to find on shelves.
What CPU Does Tfue Use? (Gaming PC)

The 10th generation Intel Core I9-10900K isn't the most novel technology, but it goes with the theme of "if it isn't broken, don't fix it". This was originally designed as a drop-in replacement for the 9900K, but its high performance still wrestles with games without issue.
The I9-10900K has lower overclocking headroom than most like to see, so Tfue might revisit his gaming CPU in the near future.
What Motherboard Does Tfue Use? (Streaming PC)
ASUS ROG X570 Crosshair VIII Hero

Tfue uses the ASUS ROG X570 Crosshair VIII Hero on his streaming PC. Like his gaming PC, this motherboard has plenty of USB ports (exactly 12 on the back). It also features two LAN ports, including an ultra-fast 2.5 GHz port.
While plenty of people use this motherboard on their dedicated gaming rig, some find the cooling performance too limiting.
Regardless, this motherboard is more than reliable enough to tackle Tfue's streams.
What Graphics Card Does Tfue Use? (Streaming PC)

You can't go wrong with an NVIDIA GPU when it comes to encoding, so it's no surprise Tfue's streaming rig uses an EVGA GeForce RTX 3060. NVIDIA cards come with an onboard NVENC encoder that most consider the better choice.
The card works fine for gaming, but it makes sense for Tfue to use the most powerful GPU in his gaming rig. Here, it provides reliable support to keep his stream going strong.
What CPU Does Tfue Use? (Streaming PC)

Tfue uses the core-rich AMD Ryzen 9 5950X in his streaming PC. While this isn't the best for a gaming engine, many rely on this Ryzen tech for stability and reliability on their work computer. It's no different in Tfue's situation.
THe 5950X is a productivity machine that bridges the gap between the traditional laptop and high performance gear. It's both powerful and efficient, and Tfue was smart to trust it as the backbone for his streaming setup.
Keeping Tfue's Setup Up to Date
Leave a comment below if you notice if any of Tfue's PC setup has changed, and we'll get it updated asap.
Thanks!
You may also be interested in checking out these streamer setups below: