In this guide you're going to finally figure out which capture card is the best for you and your specific streaming setup.
Keep scrolling below to find our recommendations on the best capture cards for streaming.
Capture Card:
Current Price:
Resolution:
Pros:
Cons:
Elgato HD60S
CHECK PRICE
1080p 60fps
Zero latency for real-time display.

Easy to set up.
System requirements on the higher side.
Elgato HD60
CHECK PRICE
1080p 60fps
Create uncompressed master copies of your recordings.
USB 2.0 interface creates delay between webcams and in-game footage.
AVerMedia AVerCapture HD
CHECK PRICE
1080p 30fps
Produces clear picture quality for a lower price.
Only capable of streaming at 30 frames-per-second.
Magewell Video Capture
CHECK PRICE
1080p 60fps
No extra software needed - super easy to use.
Can get hot when using over long periods of time.
1. Elgato Game Capture HD60 S
The top pick for streamers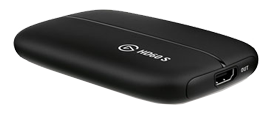 The Elgato Game Capture HD60 S is by far the most popular card among professional Twitch streamers, and for good reason. The setup is simple, and the HD60 S is designed with streamers in mind.
The included Elgato software is intuitive, and includes some preset overlays and custom options for setting up your stream.
This card integrates seamlessly with the major streaming sites like Twitch and YouTube with built in live streaming presets.
This makes the HD60 S ideal for users who aren't familiar with third party broadcasting software like OBS, or who want the simplest streaming experience possible.
Elgato upgraded the USB connection for this newest generation of the HD60, using a USB 3.0 connection to eliminate the latency issues that cause a delay between your webcam and in-game footage. So the HD60 S is a great option for those looking to include a webcam frame in their stream.

The system requirements for the Game Capture HD60 S are a tad on the high side and there is no support for older operating systems like Windows 8.
Also, most users recommend using third party software such as OBS if you're streaming on a Mac because the functionality of the included Elgato MacOS software isn't as good as it's PC counterpart.
So, if you're streaming from an older computer or a Mac, make sure your system meets the requirements of the HD60 S.
PROS
No stream delay, great for webcams.
Excellent compatibility with most streaming services.
Simple setup and easy-to-use included software.
CONS
High system requirements.
No support for older operating systems and consoles.
2. Elgato Game Capture HD60
Best value capture card for streaming

The Elgato HD60 comes with the same easy setup and intuitive software interface as it's big brother, the HD60 S, but delivers 1080p streaming at 60 frames per second at a much more affordable price point.
The Game Capture HD60 also includes more onboard hardware encoding capability than the HD60 S, which enables you to create uncompressed master copies of your videos.
This makes the HD60 ideal for streamers who want to edit their recorded live footage with After Effects or Apple Motion once the stream is done for the day.

What you lose with the drop in price is the USB 3.0 connectivity. USB 2.0 is a bit slower, which delays the in-game video a bit.
So, if you're using a good webcam, you'll need to use the software or OBS to eliminate the delay between your camera feed and game footage.
Additionally, the HD60 doesn't have the built in streaming presets for Twitch and other streaming websites, so you'll have to do a little more setup on your own.
PROS
The same ease-of-use and simplicity as a higher priced card.
Master copy creation for those who want to edit video later.
CONS
USB 2.0 interface creates delay between webcams and in-game footage.
No built-in streaming presets for Twitch.
3. AVerMedia AVerCapture HD
Cheap capture card for streamers


The AverMedia AverCapture HD is definitely the way to go if you're streaming on a budget.
The AverCapture HD is capable of streaming in any resolution you could want, and sports a surprisingly high capture bitrate for a price-point card.
At 60mbps, the AverCapture HD actually has a higher bitrate than some higher priced cards.
This produces extremely clear picture quality.
The AverCapture HD is only capable of streaming at 30 frames-per-second.
However, this isn't so bad if you're using an older gaming rig that isn't producing much over 30 FPS, or you have a moderate internet connection that might not support uploading at 60 FPS.
Even though the AverCapture HD packs a lot of performance for a card at this price, the included software from AverMedia and the drivers aren't as user-friendly as some of the other cards in this review.

The AverCapture HD is compatible with the most common third-party broadcasting software like OBS and XSplit, so there are options available if the AverMedia software doesn't quite suit your taste.
An additional note, for Mac users, OBS or Xsplit is a must, since the included program doesn't support streaming on Mac, only recording.
PROS
Excellent performance for the price.
Very high bitrate capture for outstanding image quality.
CONS
AverMedia software and drivers are a bit clunky.
Limited Mac support.
4. Magewell USB 3.0 HDMI Video Capture
If price isn't an issue for you


Magewell is a bit like the Apple of the capture card world: the hardware is incredibly simple, it's super easy to setup and use, and has a sterling reputation for reliability and
stability (if you're an Apple hater, please read this as a metaphor).
The Magewell USB 3.0 has the highest rating on Amazon of any capture card in this post, and more than a few reviewers say, "it just works." (Sound familiar Apple lovers/haters?)
The USB 3.0 also has impressive compatibility, with equal support for PC, Mac, and Linux. For Linux users, this card is the way to go.
No other capture card manufacturer offers the seamless Linux compatibility that Magewell does. Likewise for Mac users, the USB 3.0 provides the fullest functionality.
On the flipside, the compatibility, ease-of-use, and reliability of the Magewell 3.0 comes with a hefty price tag, weighing in as one of the most expensive capture cards marketed to gamers.
Also, since this card is truly plug-and-play, there are no customization options within the encoding codec itself.

You'll need to be familiar with OBS, Xsplit, or other third party streaming software if you want to produce a custom stream with the Magewell USB 3.0.
Lastly, the USB 3.0 won't work with a USB 2.0 chipset. Some USB 3.0 capture cards will still function with a USB 2.0 connection, just much slower.
The Magewell 3.0 simply doesn't work if it's connected to a USB 2.0 connection.
For console gamers, this card will require a streaming PC to record and stream live footage.
PROS
Incredibly simple setup and use.
Bombproof stability.
Excellent compatibility, best option for Linux users.
CONS
Requires third party software for stream customization.
No backward compatibility with USB 2.0.
Our Pick for the Best Streaming Capture Card
The primary difference between the more expensive and the less expensive cards is ease-of-use.
In terms of specifications and capabilities, the top capture cards are essentially the same. But, a higher price tends to buy a more streamlined user experience.
If you're streaming a lot and would like to use your stream to create some revenue, it might be worth it to shell out a few extra bucks for a higher end card.
For a streamer, time is literally money, so simplifying your setup process could be a legitimate benefit in the long run.
So our top pick for the best capture card for streaming is the Elgato HD60 S.
Best Capture Cards Recap
Elgato HD60 S


Our top pick
For streamers running Windows 10, or streaming on a modern console, the Elgato HD60 S is definitely the sweet spot in terms of performance for the price.
___
Microsoft LifeCam Cinema HD



Highest rated
For Linux users, the Magewell card is the practically the only way to go, because the other manufacturers don't offer Linux support.
___
Elgato HD60


Best value
For those streamers who would like to edit and add effects to their recorded stream footage for uploading to their Twitch or YouTube channel, the Elgato HD60 provides the greatest utility for this, since uncompressed video is best for manipulating using a video editor.
___
AverMedia AverCapture HD



Best cheap option
For console gamers playing on older consoles, like a PS3, the AverMedia AverCapture HD is the best option, because it has the best backward compatibility.
___
Your Thoughts?
Thanks for reading our recommendations on the best capture cards for streaming!
If you have any questions, suggestions, or comments on anything related to the capture cards we talked about then please feel free to leave a comment below.