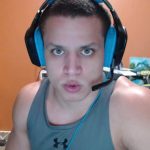 Tyler1 (aka Tyler Steinkamp) is a popular and reformed streamer for Twitch. One of the biggest personalities of the League of Legends community.
Love watching Tyler1 streams and want to know what his PC specs are?
Or maybe you're more interested in what he uses specifically for his stream setup. Either way, you'll find all his PC and streaming gear below!
Updates on Tyler1's Computer Specs and Streaming Setup?
Let us know in the comments below if you noticed any of Tyler1's setup being out of date and we'll have it updated asap.
You may also be interested in checking out these streamer setups below: