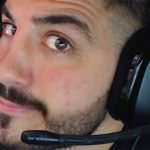 Nickmercs (aka Nick Kolcheff) is a Twitch streamer, primarily playing Fortnite. Known for his controller play, instead of mouse and keyboard. Current member of FaZe clan.
Looking to replicate the same setup Nickmercs uses for his gaming and streaming rigs?
Check out everything below and you'll find just what you're looking for. Whether you're wondering what controller Nickmercs uses, or even headset, scroll down and check it out!
Nickmercs Gaming PC Specs