You would think that finding a good set of headphones without a microphone would be easy, but it seems the opposite is true.
A quick online search has you tripping over anything but, especially when you're looking for headphones with gaming in mind.
This becomes an issue when streaming. These integrated mics aren't necessarily the best quality, and if you're already using a standalone mic for streaming then these are redundant.
You want to invest in quality sound in your ears, not a hard-wired microphone you won't use anyway.
Enter this list of the best headphones for streaming without a mic.
Not only are all of these options verified mic-free, but they serve you sound quality that your old gaming headset could only dream to provide.
Before we dig into the list, here are two options that may entice you the most.
Budget-Friendly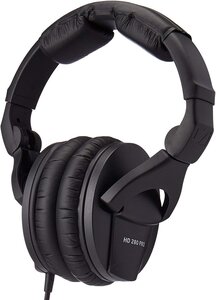 If you're just getting started or don't want to dive into a major investment, look into a pair of Sennheiser HD 280 PROs. These offer you great range and comfort without taking a bite out of your wallet.
These are also a good choice if you need a pair that can do it all, serving as your go-to pair for your phone as well. They fold down well and have rotating ear cups that make them easy to store and take along for your daily tasks.
Best Overall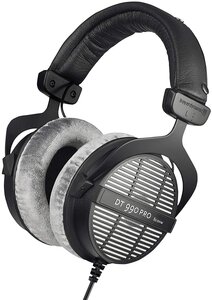 If you just want to know what's the best on this list, we cannot recommend the DT 990 PRO from beyerdynamic enough.
These have it all, including visual appeal, comfort, and superb sound quality.
We'll get into the specs later on, but you should know that these headphones have incredibly soft velour earpads and unparalleled sound strength.
Top 8 Headphones Without a Mic for Streaming
In no particular order, we've highlighted some of the best headphones available on the market right now that don't have a mic attached.
1. Audio-Technica ATH-AD700X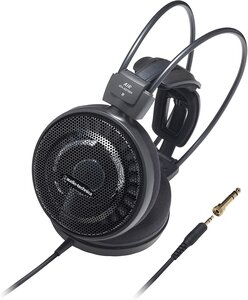 Starting off strong with Audio-Technica's ATH-AD700X. These headphones do the hard work of ensuring your comfort, utilizing a lightweight honeycomb and open-back design to keep air flowing and limit the pressure on your ears.
You might not even notice you have them on.
What might throw you off is the self-adjusting 3D wing support. Instead of a headband, you get two wings that automatically fit to the shape and size of your head.
While they work great to reduce pressure, users with a smaller head might find them uncomfortable.
The ATH-AD700X has a precise sound that works perfectly for competitive gaming, and FPS players should find the directional sound a major bonus. While you lose out on lower end noise, such as explosions, the flat sound actually benefits most competitive conditions.
| SPECS | |
| --- | --- |
| Impedance | 45 ohm |
| Frequency Response | 20 - 20,000 Hz |
| Audio Sensitivity | 100 dB |
| Ear Placement | On-ear |
| Connectivity | Wired (3.5mm); ¼ inch adapter |
| Open/Closed Back | Open |
Pros:
Little pressure on ears
Lightweight
Self-adjusting wing support
Positional sound with clear treble and mid
Cons:
Support less comfortable for smaller-sized heads
Non-detachable cord
2. AKG Pro Audio K72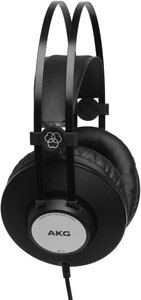 The AKG Pro Audio K72 is a great choice for streamers shopping on a budget.
The lightweight design pairs well with the closed-back details, and you'll find you can wear them for hours without needing a break.
There are no tricky sizing mechanics to deal with, meaning there is nothing to break down over time and no precise sizing for you to fall in between.
You should expect no audio leakage from these headphones, and you can safely use them around an especially sensitive mic.
The acoustic chamber keeps a closed set for your stream, and the neutral sound ensures your indomitable focus for even more victories.
| SPECS | |
| --- | --- |
| Impedance | 32 ohm |
| Frequency Response | 16 - 20,000 Hz |
| Audio Sensitivity | 112 dB |
| Ear Placement | Over-ear |
| Connectivity | Wired (3.5 mm) |
| Open/Closed Back | Closed |
Pros:
Self adjusting headband
Closed sound
Adequate cable length (3m)
Earpads large enough to cover ear properly
Cons:
Earpads not upgradable
Larger size/not collapsible
Non-detachable cord
3. SENNHEISER HD 599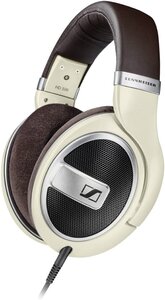 These might be the most aesthetic headphones on the list, and they're perfect for anyone looking to tap into a vintage streaming vibe.
The Sennheiser HD 599 features a soft, padded headband and velour covered earpads for optimal comfort.
The brown on both of these features pairs nicely with the ivory colors and matte finish on the headphones, and the metallic details provide just enough flash.
This would all be moot without key performance details like transducers that use aluminum voice coils. This allows for high efficiency, and you'll notice extremely low distortion and amazing sound.
You get a well-articulated bass with warm mids and highs, going beyond flat sound to provide better dimension.
| SPECS | |
| --- | --- |
| Impedance | 50 ohm |
| Frequency Response | 40 - 26,000 Hz |
| Audio Sensitivity | 106 dB |
| Ear Placement | Around-ear |
| Connectivity | Wired (3.5 mm); ¼ inch adapter |
| Open/Closed Back | Open |
Pros:
Sennheiser has an amazing warranty program (that you probably won't need)
Great visual effect
Incredibly comfortable
Directional sound without lack of dimension
Replaceable cable
Cons:
Aesthetics won't fit every vibe
Lack noise canceling capabilities
4. Audio-Technica ATH-M50X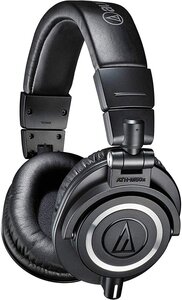 Another great choice from Audio-Technica is the ATH-M50X. These are one of the best choices in their price range, and they offer the clunky, padded feel that many know and love.
On top of that, this design is collapsible, and you can easily take them along or store them without taking up much real estate.
You get three detachable cables with your headphones, including a coiled option and two different straight cables.
The 90-degree swiveling cups fit your head well, and the seemingly tight clamping force breaks in after a few uses for a perfect fit.
The closed-back design provides great noise isolation, and you can focus on the task at hand when wearing them.
| SPECS | |
| --- | --- |
| Impedance | 38 ohm |
| Frequency Response | 15 - 28,000 Hz |
| Audio Sensitivity | 98 dB |
| Ear Placement | Over-ear |
| Connectivity | Wired (3.5 mm); ¼ inch adapter |
| Open/Closed Back | Closed |
Pros:
Collapsible
Multiple cord options
Great noise isolation
Cons:
No carrying case
Leather can get sweaty and slide
5. Sennheiser Professional HD 280 PRO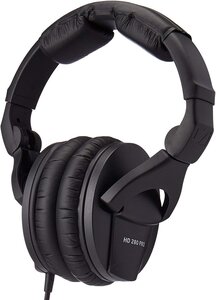 The HD 280 Pro from Sennheiser beats out the 200 in a few areas. You get a greater frequency response and greater sensitivity, but this comes at the cost of a higher voltage requirement.
These offer greater noise attenuation for a cleaner audio performance, all while keeping comfort at the forefront.
You should be able to wear these for longer streaming sessions without issue. The soft earpads don't clamp down heavily, and rotating ear cups enhance the fit.
Beyond this, the headphones fold down for space saving storage and travel.
| SPECS | |
| --- | --- |
| Impedance | 64 ohm |
| Frequency Response | 8 - 25,000 Hz |
| Audio Sensitivity | 113 dB |
| Ear Placement | Over-ear |
| Connectivity | Wired (3.5 mm); ¼ inch adapter |
| Open/Closed Back | Closed |
Pros:
Accurate across full range
Durable for use and travel
Comfortable fit
Cons:
Non-detachable cable
Better suited for studio use/listening
May leak (even with closed-back principle)
6. beyerdynamic DT 770 PRO 80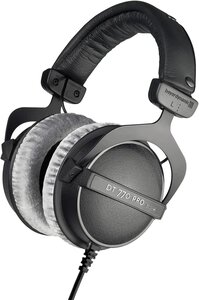 The DT 770 PRO is another streaming staple from beyerdynamic, proven worthy by streamers such as Devin Nash in the past.
You have 32, 80, and 250 ohm options, but this section focuses on the 80.
Starting with comfort, velour enthusiasts will be happy to see the plush silver earpads.
These, along with the leather headband, are replaceable if you ever have issues, but they mostly offer supreme comfort.
The closed-back design prevents leaks and cancels sound well, and this enhances the benefits offered by their flat response. If you're looking for complete immersion and directional sound, these are the choice for you.
| SPECS | |
| --- | --- |
| Impedance | 80 ohm |
| Frequency Response | 5 - 35,000 Hz |
| Audio Sensitivity | 96 dB |
| Ear Placement | Over-ear |
| Connectivity | Wired |
| Open/Closed Back | Closed |
Pros:
Comfortable design
Near zero sound leak
Tried and tested by the greats
Cons:
Non-detachable cable
Reduced depth of audio
No swivel on ear cups can be uncomfortable
7. beyerdynamic TYGR 300 R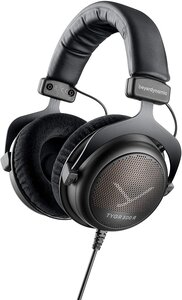 The TYGR 300 R by beyerdynamic is marketed to gamers, making them a perfect choice for streaming without a mic.
The design is aimed to be optimized for gaming, ensuring high wearing comfort over longer periods and detailed sound.
The open-back puts spatial sound at the forefront, preventing fatigue you might experience from sharp heights.
While it limits the levels of higher frequency sounds, you don't lose out on detail.
These headphones also offer a bit more bass for gamers than other studio-quality headphones, which might be your deciding factor.
The durable beyerdynamic design is evident with replaceable pads and headband padding, allowing you to customize them as you see fit or replace as needed.
They have a low weight and low clamp pressure that allows you hours of use.
| SPECS | |
| --- | --- |
| Impedance | 32 ohm |
| Frequency Response | 5 - 35,000 Hz |
| Audio Sensitivity | 96 dB |
| Ear Placement | Over-ear |
| Connectivity | Wired (3.5 mm); ¼ inch adapter |
| Open/Closed Back | Open |
Pros:
Durability and customization
Comfort
Better soundstage
Cons:
Resolution isn't the best
Cups better suited for smaller ears
Not optimal for noise cancellation
8. Beyerdynamic DT 990 Pro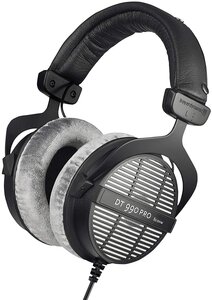 If you're interested in choosing the option that many other streamers swear by, you can't go wrong with the beyerdynamic DT 990 PRO.
You would be in good company with streamers like Ninja boasting about these headphones capabilities.
The DT 990 Pro makes sure you have options, letting you choose between 80 and 250 ohm impedance. We're focusing on 80, but you can certainly amp it up with the upgrade.
The velour earpads are a favorite of many, and you can choose between gray and black (or both, seeing as they are replaceable).
The ear cups fit securely on your ears, and the vented design limits warmth and fatigue while letting you in on your environment.
The sleek design feeds those that are aesthetically minded without compromising on performance.
You get a studio-grade sound without the feel of wearing headphones, letting you immerse in your stream without constant readjustment.
These do feature a flat sound with brights that may seem high, but you'll find that this works well for streaming, especially if FPS or other competitive games are your go-to.
| SPECS | |
| --- | --- |
| Impedance | 80 ohm |
| Frequency Response | |
| Audio Sensitivity | |
| Ear Placement | Over-ear |
| Connectivity | Wired |
| Open/Closed Back | Open |
Pros:
Weightless feel thanks to airflow
Soft ear cups
Great dimensional sound
Clamping breaks in fast
Rotating ear cups
Cons:
Not soundproof
Highs may seem sharp at first
Things to Consider When Buying Headphones Without a Mic for Streaming
As much as we would like to say you can just pick the headphones that stand out the most, you need to keep a few things in mind when making your decision.
Here are the factors you should weigh the most when looking at headphones without a mic for streaming.
And if you're having second thoughts, you can always check out these headsets for streaming that come with mics attached.
Open-Back vs Closed-Back
An open or closed back design will affect how the headphones feel, immersion, and how the headphones feel over time.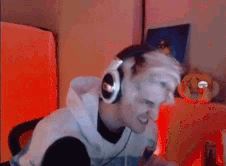 Open-back headphones enhance your spatial sound stage, and they can act like two-way speakers. While this isn't optimal for listening to music or binging the latest episode of your favorite show, it actually works great for gaming.
If you are a parent or just hate it when people sneak up on you while streaming, open-back headphones let you take in the sounds of your environment without diminishing your in-game sounds.
They aren't perfect, though. Sound leaking is more common with open-back headphones, and you shouldn't count on them to keep quiet enough not to bother others in the room. This probably isn't a problem if you're streaming, but it can affect your ability to use them outside of these instances.
Another issue here is that your microphone might be able to pick up on the leaked noise and cause an echo on your stream. You can probably address this with a GTX or RTX card in the moment, but there are no guarantees.
You should make sure this isn't an issue before introducing the new headphones next time you go live.
Closed-back headphones keep privacy at the forefront of their design, but you lose out on the ability to hear what's going on around you (unless you're working with a cheaper pair of closed-backs, but that's probably not what you're looking for if you're here).
This design aims to cancel out background noise, and it should be sufficient at preventing sound leakage. It's easier to immerse yourself in your stream and (almost) forget about the world around you.
Closed-back headphones have their faults, and they may not be as comfortable as open-back designs. They can get warm around the ears with extended use, affecting your ability to game all night comfortably.
Many of these headphones also lack some audio depth, and this is merely a side effect of the design. While they're better for isolation, you run into the issue of unnatural, amplified lower frequencies.
While it comes down to personal choice, we recommend pinning down which design sounds best and works best in your streaming environment.
Comfort
Comfort is another thing that comes down to what you prefer. For example, some people do fine for hours in velour ear cups, while others find the soft texture off-putting.
When you're considering comfort, look at:
Whether the headphones suit your head size and shape
Whether the ear cups fit properly around or on your ears
If you can deal with the clamping during longer streaming sessions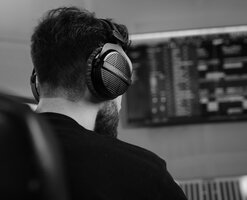 Make sure the materials used work well for your expectations. You should be able to wear the headphones for as long as you need and move as much as you need with few (ideally no) complaints.
Consider both over-ear and on-ear options. Over-ear headphones (circumaural) have cups that fit over the ear completely to block out noise, while on-ear simply sit on the ear.
The latter has the least pressure, but it also is poorly suited for noise isolation.
Another detail to consider is whether the parts intended for your comfort are replaceable. You might fall in love with the ear cups or headband padding on headphones, but this can easily turn to disdain if they wear fast and you can't replace them.
Sound Quality
Sound quality can be measured, but it's also subjective.
To start, avoid headphones that complain about distortion regularly. While there may be an occasional faulty unit, you don't want something feeding shrillness or static into your ears constantly.
Consider what you expect from headphones in regards to streaming. Most people claim they want bass-heavy dynamics, but this can fail to bring through positional sounds like footsteps.
For streaming, we recommend finding headphones with a flat, balanced sound.
You should also look at how the headphones present their surround sound.
Virtual surround sound uses two speakers and software to imitate the positional sound. Most gaming headphones use virtual surround sound, and most live streamers find this adequate.
True surround sound uses speakers and ear cup position to accomplish this. These headphones are often bulkier and cost more, and they're not quite worth the investment.
Other details you can look at (if reviews aren't enough) are:
Frequency range
Signal-to-Noise Ratio (SNR)
Spurious-Free Dynamic Range (SFDR)
Distortion Ratio (SINAD)
Percentage of Total Harmonic Distortion (%THD)
Don't worry if you're not a total audiophile with complete understanding of these specs. When it comes to streaming, performance means much more than numbers.
Connection Type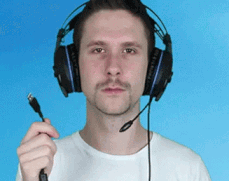 Before getting your heart set on any one pair of headphones, make sure they are compatible with:
Your computer/any other hardware you use
Your streaming platforms
Any other software you run your sound through
While wireless headphones have exploded in popularity recently, they may not be the best choice for streaming.
You risk signal interference during your stream, and the battery always seems to die at the most inconvenient time.
Pay attention to the type of cord offered by your headphones. This is usually the first component to go out, and hard-wired cords are a pain to replace (even if you're savvy with fixing tech).
Consider whether using the ¼ inch jack is a priority for you. Even if you can go without, this type of connection offers a better connection guarantee and is less likely to go out over time.
Ohms (Impedance Rating)
While there are plenty of fancy numbers you can get by without understanding when shopping for headphones, the impedance rating isn't one of them.
You'll usually see this noted as the impedance rating, but anything listed in Ohms refers to this.
This tells you how much power your headphones need to deliver their sound, and making sure this matches with your setup is important to get the right level of sound and avoid ruining your headphones (and ears).
Most of your entry-level consumer grade devices have low impedance (under 32 ohms), and they work fine with most devices and daily use.
You can find a few high-quality options in this range, so it's important that you don't plug them into your mixers at max effort.
Mid-impedance headphones run from 32 to 100 ohms, and they work well with several pieces of equipment.
No one wants to witness their drivers vibrating to death and possibly melting. Not to mention the damage this could do to your ears.
You can get away with plugging them direct to your computer, but you really need an audio interface or mixer for streaming to get the most out of them (especially those on the higher end).
Your high-impedance options require more voltage and you may even need a standalone device dedicated to the headphones. Some of the options on our list get up to 250 ohms, so make sure you're paying attention when making your choices.
The impedance rating doesn't necessarily dictate the quality of the headphones. Some brands use designs that favor high impedance (we're looking at you, beyerdynamic), while others offer the same quality while requiring less voltage.
This mostly determines what you need to operate your headphones safely, and what level of sound you can expect. You probably won't run your headphones at max power, but you need to be able to give them enough for proper use.
The Final Verdict
Finding a pair of headphones is hard enough without limiting your search to those without a mic, but you have options. Take the time to figure out what your expectations are, and the rest should fall into place.
We believe all the headphones on this list have a chance of being your favorite, but if you're still feeling stuck you cannot go wrong with the DT 990 Pro.
WINNER