In this review you'll find out which headset is the best for your stream.
Whether you're looking for the top of the line headset, a wired or wireless headset, or something budget friendly, we've identified the 5 best headsets for streaming, which you'll find below.
If you're in a rush, check out the chart for a quick summary, or use the table of contents to skip to any of our top headsets in the list.
Headset:
Current Price:
Wireless:
Pros:
Cons:
ASTRO A50
CHECK PRICE
Yes
Super comfortable for long sessions.

Audio and mic quality are remarkable.
Not for the price conscious.
Sennheiser Game ONE
CHECK PRICE
No
One of the better options for streaming and music listening headphones.
Not the most comfortable of headsets.
SteelSeries Arctis 7
CHECK PRICE
Yes
Impressive audio quality with lag-free wireless response.
Might not be the best for console streamers.
Hyper X Cloud Alpha
CHECK PRICE
No
If you want the most comfort, get these.
Mic quality isn't the best.
Logitech G430
CHECK PRICE
No
Good entry sound quality if you're on a budget or just stream casually.
Cheap build quality make you worry about the longevity of this headset.
1. ASTRO Gaming A50 Wireless Headset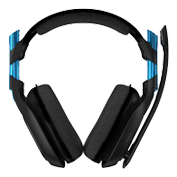 The top pick for streamers
The ASTRO Gaming A50 Wireless Dolby headset is the top of the line option for streamers, gamers and audiophiles, with remarkable sound quality, a comfortable and durable build, and impressive highly precise microphone.
Although it sits at the highest end of the price range for headsets, its remarkable quality is sure to please anyone who enjoys extended streaming and who wants a gaming headset that exceeds every expectation.
Audio clarity on the headset is excellent across every frequency, with a noticeable and distinct bass, smooth and clear mid-range and strong highs. This makes it a perfect option for your primary music headset and saves you the need of having to purchase separate headphones for that purpose.
The microphone also captures your voice clearly and transmits it without any breaks. With 5.0 GHz wireless technology, there won't be any worries about lag issues during intense competitive play.
The headset also comes with Dolby 7.1 Surround Sound, with speakers engineered for special placement for a more realistic gaming or movie watching experience, along with a variety of EQ presets to choose from with its accompanying software.
Unlike other headsets, the Dolby 7.1 Surround Sound works quite well with a variety of games, including several first-person shooters, giving you an accurate and more immersive experience. It can be easily turned off directly from a headset button if you happen to prefer regular sound.
It is also extremely comfortable despite its extended battery life and durability – a feature that most streamers need when dealing with multi-hour gaming sessions.

It comes with helpful extras like a magnetic charging dock that keeps the charge levels up when it's not being used, although a 15-hour battery life means that you won't have to charge it often.
As an added bonus, it can double as a streaming headset for your PlayStation 4 or Xbox One, with two separate A50 models available depending on which console you own.
It's certainly at the higher end of headsets in terms of cost, but the build quality is what you would expect from a headset in its price range with premium plastics and cloths that are strong yet lightweight.
If you're willing to splurge to get a top of the line wireless headset that you can use for both PC and console streaming, you're sure to be impressed by the ASTRO Gaming A50 headset.
PROS
Impressive audio quality from lows to highs.
Durable and lightweight for extended wearing.
Comes with convenient charging station.
Compatible with your Xbox One or PS4 console and PC.
CONS
Most expensive out of the group.
2. Sennheiser Game ONE Wired Gaming Headset
Best wired headset for streaming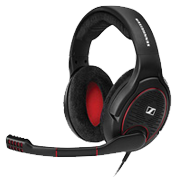 Sennheiser is known for being the headphone company of true audiophiles, with aural precision that few manufacturers have been able to match.
The Game ONE by Sennheiser is one of the few gaming headsets that has matched the impeccable audio quality that the company is renowned for with its standalone headphones.
For those who wish to use their headsets for both streaming and music listening, the Sennheiser Game ONE is a perfect choice. It offers a responsive mic, excellent build quality and unrivaled clarity.
Mids, highs and lows sound crystal clear, allowing you to hear music the way that it was intended. The microphone quality of the Game ONE also impresses, transmitting your voice cleanly and clearly.
Choose between a flashy black or white design with red metallic highlights. The headset comes with a fashionable carrying case as well, making it portable. The plush ear cups are breathable and comfortable – suitable for extended streaming sessions.
The open acoustics design doesn't isolate you from external noise, however many audiophiles say that it results in a cleaner and more spacious sound.
The Game ZERO, also by Sennheiser, has almost identical tech specs, other than the fact that it is a closed acoustics design that isolates external noise.

With the unique combination of being an audiophile's headset as well as a perfect option for gaming and streaming, we recommend the Sennheiser Game ONE as one of the best options.
Although its price is on the higher-end (click to check current price), it can be found at a significantly lower price at many top retailers.
The Sennheiser Game ONE is ideal if you are looking for one of the best streaming headsets that will be just enjoyable for music listening as it is for streaming and don't mind the lack of wireless or 7.1 surround sound capability.
PROS
Excellent and precise Sennheiser audio quality.
A responsive and high-quality microphone.
Comfortable for extended wearing.
CONS
Lacks wireless capability.
Lacks surround sound option.
3. SteelSeries Arctis 7 Lag-Free Wireless Gaming Headset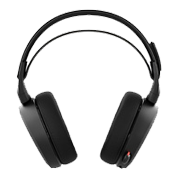 Best value headset for streamers
For streamers who prefer a wireless headphone design and don't want to pay the price of the Astro A50, the SteelSeries Arctis 7 Lag-Free Wireless Gaming Headset is a top pick for several reasons.
There are always concerns with latency issues when using any type of wireless peripherals. This headset addresses that with 2.4 GHz wireless that is rated as "lag free". A 3.5mm cable comes with the headset in case you prefer to plug it in.
Combine its lag-free wireless response with a high-quality noise cancelling microphone and impressive audio quality with a clear mid-range and 7.1 DTS-X surround sound, and you have a headset that will fulfill all of your streaming needs.
Perhaps the best feature of the Arctis 7 is the fact that it's one of the most comfortable headsets around.
A unique "ski-goggle" design puts the weight of the headset on a stretchy piece of fabric, making it hardly noticeable even when you wear it for several hours.

The 7.1 surround sound feature is software driven and not the most accurate compared to other headsets like the Astro A50, so you might not find that feature all that helpful for movies or gaming.
However, it can be turned off, and its regular audio quality is perfectly suitable for gaming purposes.
The background noise cancelling feature on the mic might not work as perfectly as you would imagine if you're in a noisy setting, but overall clarity and voice quality is superb.
The SteelSeries Arctis 7 is truly packed with features for the price, making it a great "bang for the buck" model. It starts at a lower price than the previous two headsets with significant discounts at many retailers.
PROS
An ideal "bang for the buck" headset for streaming.
One of the most comfortable headsets around.
Responsive "lag free" wireless, with wired option available.
CONS
7.1 Surround Sound is not very accurate.
Background cancellation on the mic doesn't work very well.
4. Hyper X Cloud Alpha Wired Headset
New headset for streamers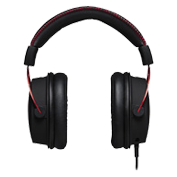 As one of the premium headset offerings by Hyper X, the Cloud Alpha has a striking design and impressive audio features.
Designed for gaming like the other headsets on this list, the Cloud Alpha is also made for maximum comfort when streaming for long periods of time.
The headset features a closed back design to isolate external noise and keep any audio from leaking out, which can be ideal when you have others in the room.
In terms of audio clarity, the mid-range is excellent with a bass boost option and precise lows. Dual chambers separate the bass from the mids and highs for an improved bass response.
Higher frequencies aren't as clear and can sound somewhat muddled, which isn't as important for gaming as it is for music listening. It also lacks accompanying software to fine tune the EQ settings, which is a downside.

Its microphone quality is also sufficient; although it's not quite as good as the other options on this list, it will get the job done for streaming on your PS4, Xbox, or PC.
The build quality is what you would expect from a mid-priced headset (click for current price), with premium materials including an aluminum frame and premium memory foam.
If you plan on listening to music with this headset and are the type who notices small imperfections in headphone quality, it leaves something to be desired, and it may not be all that enjoyable for extended music listening sessions.
However, for streaming and gaming it certainly fits the bill and will perform just the way you need it to.
PROS
Designed for comfort with premium materials.
Dual chambers result in smooth bass response.
Clear microphone that does the job for streaming.
CONS
Not great for music listening.
Lacks accompanying software.
Lacks wireless capability and 7.1 surround sound.
5. Logitech G430 7.1 Wired Gaming Headset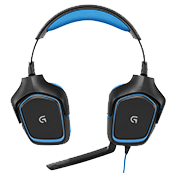 Best cheap headset
As the top budget friendly option on this list, the Logitech G430 7.1 Gaming Headset doesn't have the same level of audio clarity and microphone responsiveness as the other options, but it can work as an excellent starter headset for streaming.
As perhaps its top selling feature, it is very comfortable to wear with its plush ear cups and adjustable headband.
The microphone lacks noise cancellation and isn't as sensitive as you would hope, but it can be tweaked to pick up your voice fairly clearly if you are in a quiet environment.
Music sounds good but not great on the Logitech G430, meaning that you might want to swap it out for your speakers or better headphones when going through your Spotify playlist.
The 7.1 surround sound option probably isn't worth bothering with as it can add an echo to most of what you hear and lacks in direction accuracy.
A bit of EQ tweaking can solve some of these audio woes, but the quality won't ever be on par with a higher end headset.
There are also some issues with durability; this headset doesn't have the same premium materials that make it more resilient to constant usage.
For example, the plastic joints are prone to breakage, and you might find yourself having to replace it sooner than you would like.
Coming in at the lowest price among our list, and significant discounts at many retailers, this is one of the cheapest headsets for streaming that you'll find.
However, with the lack of features and build quality that the higher end mics have, this may only be a good choice for very casual streaming.
PROS
Comfortable and lightweight for extended streaming.
The most budget friendly option on the list.
CONS
Audio quality is subpar in comparison to other gaming headsets.
7.1 Surround Sound feature isn't worth using.
Microphone lacks noise cancellation.
Our Pick for the Best Streaming Headset
As a streamer I think you can agree that there are two main qualities you need to be focusing on when looking for the best headset.
Sound quality (especially for shooters where footsteps come into play).
Microphone quality.
Obviously the sound quality should be your number one priority. But something often overlooked by streamers is how their mic sounds to their viewers on the other end of the stream.
There are a lot of great streaming headsets out there that have microphones with top-notch clarity …and a lot that are complete trash.
From the 5 headsets we reviewed in this list we'd recommend the Astro A50's as our best choice for streaming due to its crystal clear audio quality from both the earphones and microphone.
If you're a streamer who prefers to use a standalone mic for voice, and a headset just for the incoming audio. We have a separate guide for the best streaming mics here if you're interested in that.
Best Headsets Recap
Astro A50

Our top pick
For a top of the line option with amazing audio quality, responsive and clear mic, and console compatibility, you can't go wrong with the Astro A50.
___
Hyper X Cloud Alpha

Gets the job done
The Hyper X Cloud Alpha is a solid and well-built headset but a step down in terms of audio and mic quality, making the Arctis 7 or Game ONE likely preferable for just a few dollars more.
___
Sennheiser Game ONE

For streaming & music
The Sennheiser Game ONE is comparable to the Arctis 7 in microphone and build quality. It is a perfect wired headset option for audiophiles who care about music quality and don't mind the lack of wireless.
___
Logitech G430


Cheapest option
The budget friendly Logitech G430 won't have premium audio, great microphone responsiveness or top tier build quality. However, at its lower price point, it is an entry level headset that can function well enough for basic streaming needs.
___
SteelSeries Arctis 7



Best value
If you aren't looking to spend nearly that much on a wireless headset but are still concerned about audio and mic quality, the SteelSeries Arctis 7 is an excellent all-around choice.
___
Your Thoughts?
Thanks for reading our recommendations on the best headsets for streaming!
If you have any questions, suggestions, or comments on anything related to the headsets we talked about then please feel free to leave a comment below.
We also have a list of the best headphones for streaming without a mic if you already have a standalone microphone.