There are a bunch of reasons you might want to learn how to private stream on Twitch or other platforms.
You can use it to test your stream setup and quality without the pressure of anyone watching. Or just as a more personal stream for your friends or followers.
There is one snag though. Technically, there is no way to stream privately on Twitch.
So how do you get around this?
This article will outline every way of making a private stream for your friends or followers. Including the one secret method that every top Twitch streamer knows about. And a few clever workarounds you might not have thought about.
How to Setup a Private Stream on Twitch
Twitch does not currently offer private streams in any capacity. Any stream you set up on your main account will attract viewers by the usual methods, and there's no way to fully block access.
The following sections will outline a few workarounds to this. Take a look at the options and choose the one that works for you. Do bear in mind though that none of these workarounds will make your stream 100% private.
1. Using a New Account
A quick way of making a "private" stream is to make a new Twitch account and start a stream with no information, tags, categories, or anything that can be searched. Send the direct link to your viewers to find the stream.
Is this technically a private stream? No. The stream can be found in searches or suggested by the algorithm. However, it works just like a private stream would.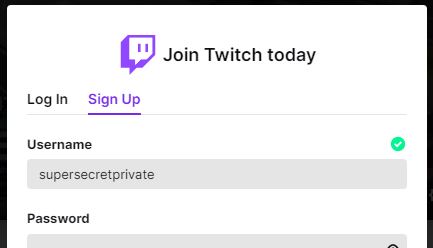 A new streamer does not find it easy to get viewers. It can take months or years to build up a name for yourself and reach even five or ten regular viewers.
By starting a new account, especially without information viewers can use to find you, you have a near 100% chance of being able to use your stream privately. Even if it isn't private.
2. Subscriber Only Streams
A sub-only stream creates a stream that can only be accessed by subscribers to your channel. It's not a private stream, but will offer an intimate atmosphere to only a few viewers, which is maybe what you are looking for.
Simply set up the stream as usual but select "Subscribers Only" in the "Edit Stream Info" section.
Creating a sub-only stream comes with a few conditions you have to meet. You must be a Twitch affiliate or partner, and you also need 90 unique broadcasting days along with no violations of Twitch's community guidelines.

3. Using a Different Streaming Platform
If you're dead set on using a fully private stream, then your best bet is to look at alternative platforms.
A lot of viewers will know or at least understand that Twitch doesn't offer private streams, but might be happy to spend a couple of minutes setting up the private stream somewhere else.
The full info on different platforms is in the next section. The best platforms for a private stream are YouTube Live and Discord, which both give you full control of your viewers with a minimum of hassle.
How to Stream Privately on Other Platforms
Twitch might be the behemoth, but it's not the only big name in the streaming world. Let's take a look at some of the other platforms you can use to get your content out there and how easy or hard it is to stream privately.
1. Streaming Privately On YouTube Live
Streaming privately on YouTube is a piece of cake, just schedule the live stream as "unlisted" rather than the default "public".
The stream will now not show up in searches and can only be accessed through a link that you can share with your viewers.
2. Streaming Privately On Discord
Discord is a recent entrant to the streaming world. While the process of rolling out a full streaming platform is ongoing, the current setup does allow for private streams.


You will need to create a Discord server and add your viewers to it. Then join a voice channel and look for the Go Live button to share your screen or game.
3. Streaming Privately On Facebook Gaming
Facebook Gaming does not have any specific settings for private streams, but it's easy to make a private stream using the same platform. Simply create a Facebook page and invite the viewers to that page. Create a live stream and you're good to go!
4. Streaming Privately On Steam
Another newbie on the streaming scene is Steam. You can broadcast using the Steam application which offers an option to stream privately.
You need to go to "Settings" and then to "Broadcasting" where you will find a drop-down menu labeled "Privacy Settings". The option you want is "Friends can request to watch my games" and then you can set up the stream for just one friend and not for your whole list.
What Happened to Password-Only Streams On Twitch?
Twitch used to offer a hassle-free method of setting up private streams where you could set a password to gain access. Share your password with whoever you want to run a private stream with and bam, it's done.
Why did Twitch remove password-only streams? The speculation is that private streams can include "adult" content that they might not want on their platform. In addition, fewer people in streams means fewer people watching and less revenue.
So for these reasons, it seems unlikely we'll see a return to password-only streams in the future.
Important Tip for Streaming Privately
When you are streaming, privately or otherwise, do make sure to follow the platform's community guidelines. Just because you are streaming privately, doesn't mean that the platform isn't responsible for the content.
You can read the Twitch Community Guidelines here and other platform's guidelines are available on their respective websites.