Lighting is an often overlooked part of putting together the perfect stream setup. The truth is that lighting plays a large role in establishing a consistent and professional quality for your stream – without proper lights, your stream suffers.
Let's take a look at some of your best lighting options for streaming.
| Light | Current Price: | Remote Control? | Pros: | Cons: |
| --- | --- | --- | --- | --- |
| Elgato Key Light | CHECK PRICE | Yes | Has the largest range of Color temperature | Higher investment compared to other options |
| Godox LEDP260C | CHECK PRICE | Yes | High quality and easily transportable | Requires a stand to attach to |
| Neewer Super Slim | CHECK PRICE | No | Large customizability and decent color temperature | Doesn't come with power adapter, needs new batteries |
| LED Ring Light 6" | CHECK PRICE | Yes | The most affordable choice for new streamers | Limited in functionality and strength |
| Emart 60 LED | CHECK PRICE | No | Can be hand-held and easily placed | Color temperature isn't adjustable, only on a high setting |
1. Elgato Key Light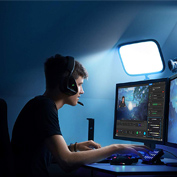 The top choice for streamers looking to keep their camera lighting consistent and high-quality.
The Elgato Key Light isn't messing around with its strength; a metal frame and whopping 2500 lumens are invested into the light to pack a punch. The light can be used flexibly for streaming, video creation, photography or filming.
The Elgato Key Light isn't messing around with its strength; a metal frame and whopping 2500 lumens are invested into the light to pack a punch. The light can be used flexibly for streaming, video creation, photography or filming.
Being the most expensive light on this list, you might be hesitant to make the purchase. However, for a growing stream, the highest-level products are important to ensuring the best for yourself and your viewers.

The color temperature goes from 2900 to 7000 K, both the lowest and the highest on this list. This large range means the light can fit for anyone at any time. The stand and mount let you place the light either on a monitor or desk, further embracing its flexible nature.
The light is controlled through an app by Corsair. After the initial set-up, changing temperatures and other features is extremely easy. You can adjust settings without having to stop your stream and moving around the knobs on a different light.
PROS
Versatile temperature range
Easy set-up and feature changes with app
Durable material and structure of the light
CONS
2. Godox LEDP260C
A light with versatile capabilities and large area coverage.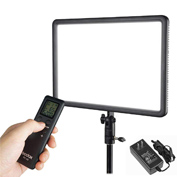 If you're looking for a larger and more room focused light, this is the choice for you. The Godox LEDP260C is great for lighting a room from any angle, making you look great in the process. It's also great at focus lighting an area, like your streaming station!
The Godox is high powered and has a variable color temperature of 3300 to 5600 K, making it a solid choice for both warm and cool lights. You're able to keep the lights dim during the day and bright at night with a wireless remote control.
On the other hand, the Godox requires that you have a mount ready to put the detachable handle on. The nice thing about this is that you can adjust the screen however you like and angle it wherever you needed.

Because the screen is made from plastic primarily, there is the potential for the light to get hot. However, this also means that the screen is easily transportable! You can take apart and move this screen easily as it is lightweight.
The light can be powered with the AC adapter that comes with the purchase or with the batteries inside. If you ever find yourself streaming anywhere other than your room, you have the right tool.
PROS
Lightweight and easily transportable
Solid temperature range and remote
Large radius of coverage for your room
CONS
Runs the risk of getting hot
Requires a mount or place to put the handle
3. Neewer Super Slim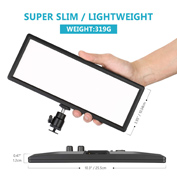 A worthwhile light that preforms very well for a lower price.
The Neewer Super Slim is a nice in-between of the Godox and the Elgato Key Light. It is a solid middle ground light than has lower flexibility and capabilities than the other two. With a lower price than the Godox and similar capabilities, the Neewer Super Slim might be great for you if you're on a budget but looking to upgrade your set up.
The Neewer Super Slim has a color temperature range of 3200 to 5600 K, making it technically more versatile than the Godox. However, the screen size and spread of lumens make the light slightly inefficient, leading to less lighting.
Aside from this, The Neewer Super Slim is powerful and gets the job done. It provides clear, consistent lighting that will easily improve the quality of your stream. Unfortunately, longer streamers might want to steer away from this light.

The Neewer Super Slim comes with chargeable batteries that need to be charged every few hours, meaning that you won't be able to light your stream while charging. If you want permanent lighting, you'll need to purchase the power adapter from Neewer.
A mountable stand comes with the light, which is a plus. The light itself is also mountable with a universal set-up that works with handhelds, cameras and stands. The Neewer Super Slim is versatile for other uses if you ever want to IRL stream!
PROS
Affordable price for powerful components
Consistent lighting for a stream
Can be easily mounted and used for different purposes
CONS
Doesn't come with adapter, meaning charge time for your light
No remote so changes must be made behind the light
4. LED Ring Light
The perfect first streaming light without too much commitment.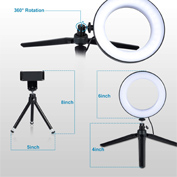 If you're looking for the best bang for your buck, this little circle of light is a wonderful purchase. It has the lowest set of qualities out of all of the lights, but for 20 dollars, you can hardly find a better starting light.
This LED ring light also comes with a remote and USB to power it, making it perfect for your streaming set up. The lower strength and levels of color temperature are almost a strength since the light must be so close to you.

It also comes with the widely used M ¼" interface for easy lodging onto any mount. If you don't want to get one, the LED ring light for streaming comes with its own mini tripod for desk usage.
I personally have used this light before upgrading and it lasted me until I bought a new one. Any lighting for your stream will help you look better, so if you're pinching pennies this is a great start.
PROS
Extremely low on the price end
11 lighting modes with different temperature defaults
Remote control
CONS
Extremely basic and not very customizable
Doesn't light up a large area at all
5. Emart 60 LED
An overall average lighting set that brings two for the price of one.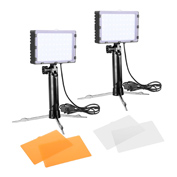 If you know you want a 3300 or 5500 K color temperature and strength for your lighting set up, this is the best deal you'll get. If you want more variation and potential for different times of the day, you're out of luck.
The Emart 60 LED comes with two lights, meaning you can create some awesome lighting if you test the placement around your room. Making sure you have enough space for the light is essential to creating the best dynamic for your stream.

Because there are only two lighting settings, you have two filters that create a warm and cool light setting for your lights. These are surprisingly adjustable and can create some interesting effects for your stream!
However, the lights are rather powerful. They also need to be close in order to be fully effective, meaning that if you're streaming for a long time you'll have a lot of light to handle at once. Your eyes might strain or at worst become damaged if you want these lights to be your primary streaming lights.
PROS
Two lights mean more spacing and customizability
Low pricing for strong lights
CONS
Need to be close in order to be fully effective
Not very customizable in terms of strength and temperature
Not good for long-term and consistent use, can cause eye strain
Our Pick for the Best Lighting for Twitch Streamers
The Elgato Key Light is without a doubt the best light you can get if you have the price range. It had the largest amount of customizability, easiest set-up and an app with more features than you could imagine needing.
The best part about this light is that it is designed as a streaming light, and the 2500 lumens mean that rather than intense light from one area you get a spread of light that doesn't strain your eyes. Since we're already streaming, the best thing you could do is invest in a light that won't hurt you in the long term.
Best Lighting Recap
Elgato Key Light

Our top pick
Great for someone who is serious about streaming and wants all the customizable options they can get. Made specifically for streaming but can be used elsewhere if needed.
___

Neewer Super Slim
Best budget light
Affordable and consistent lighting for your stream. Excellent for angled lighting and a strong contender for quality and budget.
___

Emart 60 LED
Lighting versatility
Two lights for the price of one means great angles. A contender for someone looking at more than just stream lighting.
___


Godox LEDP260C
Powerful light control
A versatile lighting set-up. Great for illuminating rooms with an easily transportable screen.
___


LED Ring Light 6″

Great starter option
The ultimate affordable lighting. Perfect for a new streamer or someone who wants to experiment with lighting.
___
Your Thoughts?
Thanks for checking out top picks for the best lighting options for your stream!
Please leave a comment below if you have any questions or want to suggest other lights for us to review.