Tfue is no doubt a fan favorite. Despite his at times controversial statements and complications with FaZe, he's stuck around as Twitch's resident top Fortnite streamer.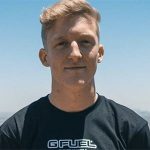 Quick Facts
| Net Worth: | $6 Million Dollars |
| --- | --- |
| Real Name: | Turner Ellis Tenney |
| Age: | 21 Years Old |
| Birthday: | January 2, 1998 |
| Height: | 6 ft 1 in |
After Fortnite skyrocketed in viewership, players and streamers alike were looking to become the next Ninja of Twitch. The popularity, donations and endless fans made being a top Fortnite streamer a dream come true for anyone in the industry.
This is where Tfue comes in. Like many Fortnite streamers, Tfue started off playing other games in the battle royale genre like H1Z1 and PlayerUnknown's Battlegrounds. Not longer after joining FaZe was he considered to be the best player at Fortnite. That skill and consistency is a big part of what brings people to watch him.
So, what else is there to know about Tfue? Here's an introduction to the best Fortnite player today.
-> Check out Tfue's Gaming Setup here
---
Who is Tfue?
As mentioned, Tfue is a fascinating player. It is hard to dispute his reign in Fortnite, especially when it comes to solo competition. When you're good at one shooting game, your skill can usually transfer over to other shooters.
Tfue's skill when playing other games still shocks the community, but he primarily sticks to Fortnite to stay in top shape.
Outside of his skill in the game, Tfue has had some rough times during his increase in popularity. Both his Twitter account and YouTube channel where hacked, leading to leaks and disruption in content.
Fortunately, his friends and fans supported him. On his first day streaming after he got his YouTube channel back on September 5, 2018 Tfue managed to pass Ninja in viewers, an insane feat at the time.
Tfue's popularity boils down to his skill and attitude. He is skilled yet entertaining at the same time, relatable to plenty of viewers.
What is Tfue's Net Worth?
From 2014 to the present, Tfue is worth around 6 million dollars. This income comes primarily from his Twitch and YouTube channel, along with sponsorships and advertisements.
In May 2019, Tfue and FaZe had a dispute over the pay and inventive of Tfue. The whole thing is messy, with different claims being made from both sides. If the lawsuit ends up in favor of Tfue his net worth could easily rise closer to 7 million dollars.
How Old is Tfue?
Born on January 2, 1998, Tfue is 21 years old as of today. His talent and value to the community are unsurmountable accomplishments that only few have done.
What is Tfue's Real Name?
Tfue's full name is Turner Ellis Tenney. He also has two siblings, Jack and Alexandra Tenney.
Jack has had his own rise to glory recently, but more on that later.
Where does Tfue live?
Tfue has had a surprisingly large number of moves, from his hometown of Indian Rocks Beach, Florida to Los Angeles where he lived in the FaZe gaming house. After the legal disparity between FaZe and Tfue he moved in with close friend Cloak in New Jersey.
Who is Tfue's Brother?
Before Tfue blew up as a streamer and gamer, his brother JOOGSQUAD was the family popular YouTuber who supported him along the way. JOOGSQUAD isn't the reason Tfue is successful, but he did things like donating $5,000 to Tfue to help him get a new car.
How Tall is Tfue?
Tfue's on the taller side being around 6 ft 1in.
What does Tfue Mean?
Rumor has it that Tfue is meant to be a play on tofu, hence why it sounds so similar in pronunciation. Tfue doesn't talk too much about his name so its possible he just thought of it one day and has stuck with it since!
So there you have it! All your questions about Tfue answered.
If anything is outdated, please leave a comment below to let us know and we'll fix it asap.
Thanks 🙂