Alongside the rise of Fortnite Battle Royal came the rise of stars like TSM Daequan. Part of the first TSM Fortnite team, Daequan is known for his skill and ability to crack jokes.
Quick Facts
| Net Worth: | $600,000 Dollars |
| --- | --- |
| Real Name: | Daequan Loco |
| Age: | 25 Years Old |
| Birthday: | May 12, 1994 |
| Height: | 6ft 1in |
He and the rest of the TSM Fortnite squad are lovable streamers who are friends before they are content creators.
Although Daequan has a lovable personality, he is a fierce competitor in Fortnite. Before he decided to take a prolonged break from the game and streaming, he was considered one of the best players in the game.
He was consistently seen as the best shotgun user in the game, especially during early seasons where shotguns were the best guns you could get.
-> Check out Daequan's Gaming Setup here
What is Daequan's Net Worth?
From 2017 to the present, Daequan's net worth sums up to around 600 thousand USD. While being a smaller number compared to some other streamers, Daequan has only been around in the gaming and streaming business for two years, far less than people like Ninja or Shroud.
Much of Daequan's net worth comes from his Twitch channel, including donations, subscribers and advertisements. He is also under TSM, one of the largest esport industries in the North America. Through TSM he acquires further sponsorships and benefits that other streamers might not have.
How Old is Daequan?
Born on May 12, 1994, Daequan is currently 25 years old. He was born and raised in Florida.
How Tall is Daequan?
Daequan is on the taller side, coming in at around 6ft 1in.
What is Daequan's Real Name?
Daeuqan's real name is actually Daequan Loco. Like many streamers, having a recognizable name, sometimes your actual name, has benefits for publicity and fans.
Where does Daequan live?
Daequan lives in Los Angeles, California inside the TSM Fortnite house. He lives with teammates Myth and Hamlinz.
Who is Daequan's Girlfriend?
Although it isn't officially recognized, Daequan is reportedly dating a girl named Exie.
What does Daequan look like without his hat?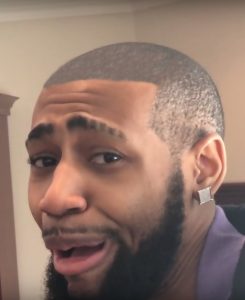 If you've been dying to see Daequan without a hat, you can now rest easy.
Final Thoughts
Followers of Daequan are usually large supporters of TSM. The brand and recognition of TSM is enough to make its members recognizable, but that also means more haters. Coming from a large brand means pressure to preform and act a certain way to please fans.
Luckily, along with the rest of the TSM Fortnite team, Daequan has never had to be anything but himself on stream. He jokes and plays like he wants to, earning him respect. Daequan is a successful streamer and competitor with backed by one of the biggest esports brands. What other reason do you need to support him?
And there you go! You now know everything you need to about Daequan!
What's your favorite part about him, what makes him your favorite streamer? Let us know in the comments 🙂