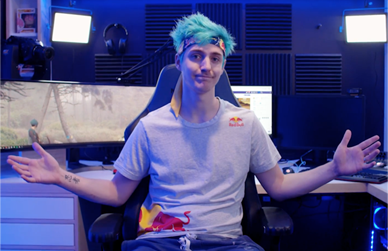 An obscure online video gamer bursts through the unknown and surprises even himself.
His following on social media is unprecedented. He has been around in the gaming circle for a while but his fame has suddenly skyrocketed to the point that even Drake wants to be friends with him!
Who is this gamer? Where did he come from? And what makes him so popular?
This is none other than the internet's favorite gamer 'Ninja'.
This young gamer has taken the internet by storm and is earning millions (and playing with Drake) all from the comfort of his home.
Who is Ninja and what makes him special? Let's find out.
Who Is Ninja?
'Ninja' aka Richard Tyler Blevins is an American internet personality who shot to fame on the streaming website Twitch.
As of 2018's latest numbers, Ninja's account is the most followed account on the social media site. He is best known for live streaming as he plays the game "Fortnite", a popular online video game.
In a year's time, Ninja has managed to boost his followers manifold and is one of the most famous names of the online gaming community.
For a complete list of Ninja's gaming setup, click the link.
How Old Is He?
Born on 5 June 1991, Ninja turned 27-years-old in 2018. He is one of the few 20-somethings that has made it big in the online gaming scene. The kind of growth Ninja's online presence has seen is unprecedented.
Where Does He Live?
Ninja was born in Detroit, Michigan but spent much of his childhood in the suburbs of Chicago, in a small town called Grayslake.
He continues to be based out of Illinois, United States of America, but presumably has to travel often.
When Did Ninja Start Streaming?
Ninja's journey has been a long and exciting one. He first emerged in the online gaming circles as a professional Halo player.

His first professional match was at an event at the MGL in Orlando in the year 2009. It would be another two years before Ninja's name would start gaining traction in the online gaming space.
In 2011, when Halo: Reach was launched, Ninja began to gain popularity. The following year, he won his first Halo championship while playing Halo 4 at the Halo 4 Exhibition. He was a member of a team named Warriors.
However, none of the accomplishments in Ninja's early days would have prepared him or anyone for the kind of popularity he would gain in 2018. He began streaming in 2017 and found a steady audience when he started streaming PlayerUnknown's Battlegrounds.
But it was really once he switched over to Fortnite that the larger world wide web began taking notice of this 20-something gamer.
How Many Twitch Subscribers Does Ninja Have?
At last count, Ninja has over 48,000 Twitch subs.
He is currently the most followed account on Twitch, with a list of 12, 301, 763 followers at last count.
Again, this is a number that is increasing every day. Both his subscriber base and list of followers are numbers that have broken internet records.
But the real question is, what is making these numbers grow so exponentially?
Why Is Ninja so Popular?
Let us come to the crux of the matter. Ninja plays Fortnite on Twitch, like many other gamers who live stream the game on their Twitch and YouTube accounts.
So what is it that sets him apart and how is his account blowing up while others are not?
For starters, Ninja plays Fortnite which is the most popular game on the internet right now. Just by virtue of playing a game that is being spoken about, Ninja's name gets attached as well.
Besides, he is one of the best Fortnite players out there at the moment. That skill may have definitely bolstered Ninja's subscriber base too.
Second and more recently, on 15 March 2018, Ninja was joined by rapper Drake to live stream a match of Fortnite. Drake, reportedly, is also a fan of the game and was in fact, the one to initiate the pairing.
That stream alone gained concurrent views as high as 635,429. What may have also helped Ninja's case is the fact that Drake publicized the match on his social media accounts where he has a following of nearly 37 million.
Later that night, Drake and Ninja were joined by rapper Travis Scott and wide receiver for the Pittsburgh Steelers, JuJu Smith-Schuster. The Twitch subscriber reportedly gained 90,000 more subscribers in the days following this epic match.
What Is Ninja's Net Worth?
Ninja reportedly makes over $500,000 every month from playing Fortnite on Twitch in the comfort of his bedroom. His net worth is numbers that one can only begin to calculate.
But, of course, this dramatic boom in revenue is something Ninja too has begun to experience in the past year. There are reports that his net worth has already reached $6 million!
Is Ninja Married?
If any gaming fans are harboring a crush on the Fortnite star, alas there is bad news. Ninja tied the knot with girlfriend and manager, Jessica Goch. The two live together in their Illinois home, along with their two Yorkies.
Final Thoughts
Ninja's story is nothing short of fiction. Who would have thought that a video gamer trying his luck would make it so big and would also be raking in the kind of money Ninja is?
Of course, Ninja's celebrityhood has not been devoid of controversies. During a live stream in early 2018, Ninja shocked fans and viewers by uttering a racial expletive while rapping along to the song '44 More'.
Following a backlash, Ninja issued an apology on his Twitter. Ninja has also been suspected of gaining followers inorganically because of Twitch's agreement with Epic Games, but there is no tacit proof of this.
All said and done, he is one of the biggest names in the gaming world and from the looks of it, he is here to stay!